Dean S. Ammer, PH.D. (1926-1999)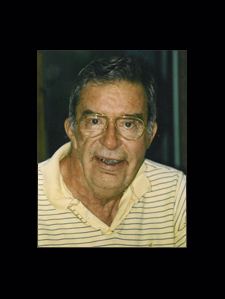 Dean S. Ammer, Ph.D., is regarded by many as the father of healthcare materials management. A prolific author, he wrote frequently about the issues confronting the healthcare industry.
As a professor at Northeastern University (NU) in Boston, Massachusetts, he served first as Acting Director in 1961 and then Director for the Bureau of Business and Economic Research from 1962 onwards, taking the BBER towards even larger projects involving long-term international economic studies, automation studies and the publication of a monthly newsletter for businesses involved in the NU Cooperative Education program. The Bureau was created to "...make studies and conduct research into the problems of New England business development, expansion of the New England market for New England industry...and investigations into special problems of individual business concerns..." (NU Review, Nov/Dec. 1939, Vol. 1, No. 2).
Dr. Ammer developed his concepts for improving hospital purchasing and materials management from his work and early leadership to the BBER in the early 1960s. His efforts, writings and speaking engagements led to considerable management interest in purchasing effectiveness. In particular, he framed materials management as an organizational concept offering significant potential benefits to hospitals. He predicted that materials management would be viewed as a profit center for leading healthcare providers, and that new corporate positions would be created for materials managers. These supply chain executives would become a key part of the leadership for their organizations.
Dr. Ammer established and published "Hospital Purchasing Management" for many years as part of the activities of the Hospital Purchasing Institute, Inc., a healthcare consulting company he formed. The rationale for his Institute was based on the concepts of materials management advocated by Dr. Ammer. Specifically, his vision was that materials management should provide for the integration of related materials functions including purchasing, receiving, inventory control and management and distribution to provide cost-effective delivery of materials and services to customers throughout the organization.
Dr. Ammer's education was in industrial engineering and economics. These fields gave him a solid foundation for his evaluation of trends and impacts on rising healthcare costs and provided the basis for one of his early books entitled:Hospital Materials Management – Neglect and Inefficiency Promote High Costs. Industry response to this treatise led Dean to actively promote hospital materials management as a profession. Dr. Ammer advocated that hospitals should centralize their purchasing, distribution and warehousing functions in a manner comparable to that followed by other industries to achieve operational efficiency. He recommended that hospitals should use standardized inventory control and receiving operations as a means to becoming more effective and efficient.
Although he died in late 1999, Dr. Ammer's publications and influence are still quoted today as many of his early works captured the attention of hospital administrators as foundations for optimizing supply chain management performance.
The following are some of the books Dr. Ammer published:
Readings and Cases in Economics
Dean S. Ammer, ed.
Publisher:  Boston, MA, Ginn and C ompany,  1966, 1974
LCC: 66-11294
Manufacturing Management and Control
Dean S. Ammer
Publisher:  New York, NY, Appleton-Century-Crofts, 1968
LCC: 67-24332
Materials Management
by Dean S. Ammer
Publisher: Homewood, Ill., R. D. Irwin, 1974.
ISBN: 0256015562   LCC: TS161
Materials management and purchasing
Dean S. Ammer
Publisher: Homewood, Ill. : R. D. Irwi, c1980.
ISBN: 0256021465
Purchasing and materials management for health care institutions
Dean S. Ammer
Publisher: Lexington, Mass. : Lexington Books, [1975]
ISBN: 066995604X   LCC: RA971.33 
Related articles authored by Dean S. Ammer include the following:
Materials management: more today than yesterday.
Hosp Mater Manage. 1987 Dec;12(12):9-10. No abstract available. 
PMID: 10285408
Looking five years ahead.
Hosp Purch Manage. 1984 Mar;9(3):3-5. No abstract available. 
PMID: 10273482
THPM interview: Dean Ammer, father of hospital materials management.
Top Hosp Pharm Manage. 1981 Aug;1(2):69-82. No abstract available. 
PMID: 10317212
A quiet revolution has taken place in the small hospital.
Hosp Purch Manage. 1978 Sep;3(9):2. No abstract available. 
PMID: 10237532
Should purchasing and distribution be separate?
Hosp Purch Manage. 1978 Sep;3(9):12. No abstract available. 
PMID: 10237528
How much will purchase prices go up in 1978-'79?
Hosp Purch Manage. 1978 Feb;3(2):7. No abstract available. 
PMID: 10306048
Santa Claus will probably be coming.
Hosp Purch Manage. 1977 Dec;2(12):2-3. No abstract available. 
PMID: 10305079
Legalize the back door with 'stockless' purchasing.
Hospitals. 1976 Jan 16;50(2):87-90. No abstract available. 
PMID: 1245334
Give your suppliers a 'blank check'.
Hospitals. 1976 Jan 1;50(1):107-8. No abstract available. 
PMID: 1245317
Back-door selling boosts hospital operating costs.
Hospitals. 1975 Dec 16;49(24):70-2. No abstract available. 
PMID: 1193565
Set safety stock to achieve optimum stock-out policy.
Hospitals. 1975 Dec 1;49(23):59-61. No abstract available. 
PMID: 1193562
ABC analysis focuses attention on the items that really count.
Hospitals. 1975 Nov 16;49(22):73-4. No abstract available. 
PMID: 1183959
Materials management. Simple monitoring system can prevent crippling errors.
Hospitals. 1975 Nov 1;49(21):67-8, 70. No abstract available. 
PMID: 1183950
Survey of hospital purchasing.
Hosp Prog. 1974 Sep;55(9):54-7. No abstract available. 
PMID: 4854551
Periodic ordering for inventory control.
Hospitals. 1974 Jun 16;48(12):101-6. No abstract available. 
PMID: 4832286
The economic outlook for hospitals in 1974.
Hosp Prog. 1974 Jan;55(1):44-8 passim. No abstract available. 
PMID: 4809820
Materials management-purchasing: shared effects of group purchasing.
Hospitals. 1973 Sep 16;47(18):81-2 passim. No abstract available. 
PMID: 4783760
Research study reveals economic problems of hospital clinical laboratories.
Hosp Manage. 1971 Jul;112(1):26-9. No abstract available. 
PMID: 5570041
Recognizing economic indicators.
Hosp Prog. 1969 Oct;50(10):25-9. No abstract available. 
PMID: 5823607
Gains in personnel productivity: only means for upholding care quality?
Med J Aust. 1969 May 10;1(19):143-6. No abstract available. 
PMID: 5795970
The side effects of planning
Harvard Business Review, May-June 1970
What businessmen expect from the 1970s
Harvard Business Review, January-February 1971
In His Own Words

Memories of Dean pprovided by his wife Christine Ammer
What attracted and motivated Dr. Ammer to join the healthcare supply chain management field when he did?
Dean decided to apply his experience with industrial materials management to the healthcare field.
For what one contribution would Dr. Ammer like to be most remembered?
That's a difficult question. Professionally I'd guess that he was most proud of teaching folks how to control costs without sacrificing value.
What is the one industry challenge Dr. Ammer would have liked to have seen solved in his lifetime?
Dean was always concerned about the high cost of medications and felt the drug industry should be better controlled. I suspect that this remains an ongoing challenge.