Jack R. Anderson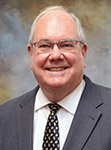 Status: Active
Career span: 48 years and counting

Current title: CEO, Material Resource Center Inc., Westerville, OH
Innovative, leading-edge, pioneering accomplishments befitting a Hall of Fame career:
Jack Anderson learned his craft and trade to serve in the healthcare and other industries through his work at ServiceMaster Inc., a customer-driven organization in which few healthcare Supply Chain leaders worked during their career. At ServiceMaster, Anderson's work extended beyond the scope of a Purchasing Manager to include identifying companies to acquire, setting up a manufacturing operation in Japan, and private-label product contracts before that became common in the healthcare industry.
For and with group purchasing organizations (GPOs), Anderson developed a broader portfolio of and negotiated contracts for GPOs expanding their operations in terms of  categorical, geographical and volume (number of members and SKUs). Increasing volume allowed GPOs to negotiate better contracts, and provide better value to the hospitals that were members or affiliates. Anderson also developed a regional GPO into one that operated in more than 30 states servicing 700 hospitals.
He consistently saved clients' money, at least 15 times the consulting fee, in multiple healthcare environments – acute, long-term and senior living.
For hospitals, systems and consortiums in other countries, Anderson helped set up their operations and negotiate a number of contracts, bringing those clients almost instant return-on-investment (ROI).
For the hospitals for which he worked in line management, Anderson deployed many of the same skillsets referenced above and delivered saving in the millions of dollars.
Anderson also co-founded and served as second President of the first healthcare society that maintained a clear focus on the broader healthcare materials management concept: The Health Care Material Management Society (HCMMS).
He was one of the earliest adopters to set up a surgical case cart system and automatic replenishment system (1975).
Anderson created and developed the group purchasing program for the American Health Care Association, the investor-owned nursing home association, comprising 35 state associations. He also organized the group purchasing program for the American Association of Homes and Service for Aging (AAHSA), the not-for-profit long-term care association.
Anderson founded regional HCMMS chapters in New England and Southern California and advised chapter organizers in Chicago and Arizona.
He was instrumental in some of the first hospitals to utilize exchange carts and PAR systems (1975); centralized distribution for supplies, equipment and linen; gathered trash and linen (everything except food and drugs); and set up desktop delivery for office supplies (1976).
Anderson was and remains a pioneer and advocate for a lot of the concepts still used in supply chain management in hospitals, GPOs, and systems today.
Focus on mentoring, education, and/or advocacy to advance other supply chain professionals and executives, and the profession as a whole:
Anderson was considered a mentor of many – clients, hospital co-managers and staff, GPO members and professional society members. The organization he co-founded produced several conferences annually, providing members with access to quality education about old and new concepts, at very competitive costs and accessible locations. Anderson also contributed articles for peers to learn from and to challenge him on.
Demonstrations of leadership:
Anderson was the senior Materials Management Director at a number of hospitals where he developed the vision for and set up materials management concepts, systems and operations. He also served as President of one of the early materials management professional societies. And he was recognized by a number of international healthcare provider organizations that engaged him to assess, develop and operationalize the types of contracts, concepts, information technology and systems that would improve performance and save money.
Anderson created the group purchasing efforts for the American Health Care Association, a group of investor-owned nursing homes comprising 35 state associations. He also organized the group purchasing program for the American Association of Homes and Service for Aging (AAHSA), the not for-profit, long-term care association; founded regional HCMMS chapters in New England and Southern California and advised chapter organizers in Chicago and Arizona.
Anderson convinced the faith-based congregation of which he was a member to allow him to lead them through a Facility Planning Project, just like the ones he used for his hospital clients. The church chose the best option; affordable, functional and not over-built.
Innovation in practice:
Anderson served as a materials management leader within some of the first hospitals to utilize exchange carts, PAR systems and case carts (1975); and exchange carts in 1976, along with desktop computer-based office supply deliveries. He oversaw centralized distribution for supplies, equipment and linen, gathered trash and linen (everything except food and drugs) at his facilities.
He has led his consultancy, Material Resources Inc., for more than 30 years; provided the functional design of a materials management information system (MMIS), now marketed by Premier; initiated a church expansion by encouraging all constituents to follow a facility planning process; and co-founded HCMMS, one of the earliest healthcare materials management professional societies.
Anderson's innovations were in many facets of supply chain management in a variety of settings and multiple market segments. He took full advantage of the opportunities presented to him to try out and usher in new concepts an d ideas, whenever and wherever they would bring demonstrated value to whatever type of client or employer with whom he worked. Anderson's corporate motto was to share the mission and his vision for supply chain; he strove for and succeeded at providing service to clinicians so they could care for the ever increasingly injured and severely ill patients, and continues to do that in the best possible way for the lowest total costs.
Managing professional relationships and services:
Anderson co-founded the Health Care Material Management Society, by and large, to fill a perceived gap in the industry and profession regarding education, networking and occupational research the profession needed to succeed. Anderson set the bar high, and when merger opportunities arose for HCMMS specifically, he worked diligently to try to orchestrate a winning deal for all parties involved. The Association for Healthcare Resource and Materials Management (AHRMM) absorbs the Health Care Resource Management Society (HCRMS) in 2001.
Expanding the membership of a GPO is a politically challenging task, one at which Anderson demonstrated he could deftly navigate and negotiate around and through the internal politics of the hospitals by clearly showing the way to gain value at those times via that model.
He also initiated an expansion of a church by encouraging all constituents to use a formal facility planning process that ultimately succeeded.
Commitment to ethical and moral standards and integrity:
Being in a high-profile position in a hospital, a GPO or a professional society for as many years as Anderson has clocked, one would be convinced that if there were any skeletons in a closet, it/they would have been revealed by now. Based on the testimony of Anderson's peers and references he operates ethically and fairly.
IN HIS OWN WORDS…
What are your impressions about Bellwether League Inc.'s mission and philosophy, and how do you feel about becoming an Honoree?
Bellwether Honorees created our profession and defined standards of performance.  I am very pleased to join the group.
What attracted and motivated you to get involved in the healthcare supply chain management field when you did?
I began my career in industry and felt that I could apply things I learned to healthcare.  Plus, I got to move from a Chicago suburb to Cape Cod.
For what one contribution would you like to be most remembered?
A passion for cost reduction, and from delivering superior, effective services to earn the cooperation of clinicians, physicians and others to help achieve these savings.
If you were to encourage someone – either outside of healthcare or just out of school – to enter healthcare supply chain management and strive to be a future Bellwether League Honoree, what would you tell him or her?
We are in a most worthy profession, and it is a privilege to be a member of the healthcare team.
What is the one industry challenge you would like to see solved during your lifetime?
While we refer to our information systems as ERP, they are, in fact, not.  We purchase today what we used yesterday, not what we will actually need tomorrow.  We need to connect to the hospital's various scheduling systems that can project these requirements.
What do you feel are some of the things that the healthcare supply chain does that's right – for the patient, for the organization and for the profession … and why?
With rare exceptions, we are an honest and ethical group.  The Supply Chain operates to resupply our customers with little, if any, intervention from caregivers. Clinicians and physicians are involved in supply and equipment decisions.
In two sentences or less, what defines healthcare supply chain leadership?
Adaptable: From negotiating expensive physician preference items to scouring the work for overpriced PPE to provide essential protection and make this transition on the fly.
If you traveled back in time to when you started in healthcare what would you tell yourself?
It's not rocket science. It is transparency, communicating and rigorous service delivered with a smile.