Christopher J. Bale (1949-1996)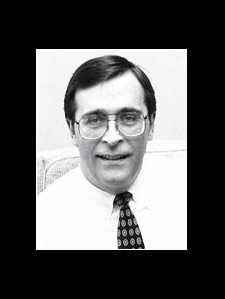 Years in healthcare industry:
25 (1971-1996)
Advancing the Profession through Performance
Three top accomplishments:
1. Pioneered healthcare supply chain journalism through work on Medical Products Sales (MPS), thenHospital Purchasing News (HPN). Bale also served as editorial director McKnight Medical Communications, also overseeing McKnight's Long-Term Care News (neeToday's Nursing Home) and Pharmaceutical Representative.
2. Launched Home Care Consumer magazine.
3. Introduced "OR Purchasing News" as a supplement within HPN – recognizing impact of the operating room on supply chain, and opportunities for improvement.
Introduced new concepts and ideas within supply chain operations:
Bale brought current journalistic standards to reporting on the industry. Through interviews and articles, Bale sought to educate the industry on supply chain. Bale was one of the first journalists to report on stockless purchasing, electronic data interchange, group purchasing and a variety of other healthcare supply chain topics typically covered by practicing professionals in peer-reviewed and professional journals.
Served as a mentor.
Mentored a generation of healthcare supply chain journalists (including competitors) through example – honesty, thoroughness, curiosity, generous spirit and a desire to educate and improve the industry. The professionals he mentored went on to create and/or serve on a number of industry publications and online media outlets that continue today.
Participated in strategic and tactical committee decisions.
Bale was heavily involved with the Health Industry Distributors Association (HIDA), the Healthcare Manufacturers Marketing Council (HMMC) and the Independent Medical Distributors Association (IMDA), helping to develop educational content and manage the shows.
Work Experience:
Like his father before him, and that of the late Bill McKnight (Bellwether Class of 2009) who eventually hired him, Bale considered pursuing a career in hospital administration before turning to journalism.
After graduating Notre Dame in 1971, Bale began working for Snyder Associates, which provided editorial talent to McKnight Medical Communications, then publisher of Purchasing Administration (later Hospital Purchasing News andHealthcare Purchasing News) and Medical Product Salesman (later Medical Products Sales) magazines.
In 1985, Bale moved to Chicago to become editorial director of McKnight Medical, and later senior vice president of the company.
Bale left McKnight in 1994 and started his own company, Balecom International, doing business as Bale Communications, where he continued to cover the healthcare supply chain.
As part of Bale Communications, Bale was named communications director of the Independent Medical Distributors Association in 1995. He was a regular contributor to Medical Industry Information Report magazine, and was involved in the launching of a new newsletter on integrated delivery networks called IDN Strategies. He was to have been the next executive director of the Healthcare Manufacturers Marketing Council, an organization of senior executives in medical products firms. His last speaking engagement was before the Health Industry Manufacturers Association in San Francisco in December, where he addressed the topic of small suppliers in today's supply chain.
Professional/Humanitarian activities
Bale was involved with HIDA, HIMA (now AdvaMed), HMMC and IMDA. He also hosted panel discussions at AHRMM and participated in McKnight Medical's own short-lived educational conferences and trade shows.
Bale also was extremely active in his parish, St. Mary Parish, Buffalo Grove, IL.
At Bale's funeral one long-time friend pointed out that "When you were with Chris, you were just a little bit smarter and funnier than you were anywhere else." Bale's laugh was loud, long and legendary.