Clara Barton (1821-1912)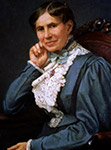 Status: Deceased
Career span: 46 years
Last title: Founder and First President, American Red Cross and National First Aid Society
Innovative, leading-edge, pioneering accomplishments befitting a Hall of Fame career:
Clara Barton was an educator, advocate and nurse (self-taught) but she also served as one of the earliest civilians to work with supplies and logistics for the military. Her efforts to support the troops and later two prominent disaster relief agencies that she founded make her a pioneering healthcare supply manager in her own right.
As a child Barton learned how to be a caregiver by tending to her brother David after he suffered an accident and teaching herself valuable nursing skills. As a teenager Barton started her professional career as a teacher and writer. She learned about the lack of a public school in Bordentown, New Jersey so she opened a free public school there that grew to serve more than 600 students. After the town raised funds to build a new school building to accommodate the growth, the school board elected a man to serve as principal because "they saw the position as head of a large institution to be unfitting for a woman." They demoted her to "female assistant" where she worked in a harsh environment that created serious health problems for her. As a result, Barton resigned, and she had moved to Washington, D.C. in the early 1850s. By 1854, she secured employment at the U.S. Patent Office as a clerk where she faced gender persecution from her male colleagues for holding a similar title, status and salary as they did for the federal government. Political opposition within the James Buchanan Administration demoted her to "copyist," before she was dismissed in 1857.
When Abraham Lincoln succeeded Buchanan, Barton returned to the federal Patent Office, hoping to pave the way for more opportunities for women to serve in federal government.
At the onset of the Civil War in 1861, Barton sought to help Union troops by collecting and distributing supplies to wounded troops transported to Washington after involvement in a riot in Baltimore. Barton took supplies to the unfinished Capitol Building to help the soldiers of the 6th Massachusetts Militia that were caught up in the fighting. (When the 6th Massachusetts arrived in Baltimore they had to change trains in order to continue south to Washington. The citizens of Baltimore were largely secessionist and fighting ensued when the troops tried to transfer between the trains.) By 1862, Barton used her own living quarters as a storeroom and recruited a few friends to help distribute medical supplies and other provisions to the battlefield. She offered emotional  support to the soldiers, and kept  their spirits high, by reading to them, talking to them and writing to their families, in addition to caring for their physical needs.
What's noteworthy is that her storage and distribution methods for supplies met with opposition from the War Department and among field surgeons. Still, Barton gained permission from Quartermaster Daniel Rucker and others, including Sen. Henry Wilson of Massachusetts, for her cause and operations.
Arguably, Barton demonstrated a sense of entrepreneurship and a mastery of "just-in-time" supply chain operations practiced by IDNs today with consolidated service centers. After the first Battle of Bull Run, Barton placed an ad in a Massachusetts newspaper for supplies. This would be the forerunner to crowdsourcing and Kickstarter today. She would collect donated supplies, stock distribution stores, clean field hospitals, apply dressings and serve food to wounded soldiers in close proximity to battle sites. She demonstrated quick-thinking ingenuity on the fly, too. According to the NPS Antietam website, the doctors were using corn husks at Antietam, but Clara showed up with bandages.
According to Elizabeth Brown Pryor's book Professional Angel, Barton claimed she was appointed superintendent of nursing for the Army of the James. However, Pryor notes that "whatever Butler told her unofficially, no such position was ever created, recorded or officially approved by the War Department." What we do know, according to Pryor, is that she was offered a job at the corps hospital near Point of Rocks, VA, and she would be in charge of diet and nursing, but directly beneath the surgeon who supervised the hospital. Pryor goes on to state that "her duties, though supervisory within the hospital, were by no means so broad; many other nurses of equal rank labored with that army."
When the Civil War ended in 1865, Barton spent the next four years or so working for the War Department to locate missing soldiers and either reunite the living with their families or give the dead proper burials. She also gave lectures around the country, sharing her war experiences, and earning widespread recognition. Along the way, she met Susan B. Anthony, associating with the women's suffrage movement, and with Frederick Douglass, associating with the civil rights he led at that time.
Barton's earnest efforts took such a toll on her physical and mental health that her doctor ordered to take time off and go somewhere to rest. So she traveled to Europe in 1869, but her vacation was short-lived. In Geneva, Switzerland, Barton met up with representatives of a relief organization called the International Red Cross, which was helping troops during the Franco-Prussian War of 1870-1871. Barton provided civilian relief in Strasbourg and then Paris. In fact, her supply distribution efforts fortified the people of Paris, earning her two prominent post-war honors and decorations – the Golden Cross of Baden and the Prussian Iron Cross.
After returning to the United States, Barton launched a movement to recognize the IRC and lobbied to establish an American branch of the International Committee of the Red Cross. Her efforts were rebuffed by President Rutherford Hayes who felt that the nation would not experience another war like the Civil War, which obviated the need for such an organization. Barton remained resolute, convincing Hayes' successor Chester Arthur that an organization called the American Red Cross Society could respond to and provide relief during any crises and not just war, including natural disasters, forest fires, hurricanes, etc. It worked.
After nearly a decade of lobbying, the American Association of the Red Cross (AARC) was founded in 1881with Barton as its first president. She was 59. Under Barton's watch for the next 23 years the AARC provided assistance and relief for victims of major disasters, including the Johnstown Flood in 1889 and the Galveston Flood in 1900, as well as aiding refugees and prisoners during the Spanish-American War. During this time, Barton also represented the AARC in Armenian territories and Cuba where she helped to provide relief, humanitarian aid and hospital management.
Unfortunately, an internal power struggle within the AARC prompted Barton to resign her position in 1904 at the age of 82. Her assertive leadership style and idealistic humanitarianism ran counter to the male-dominated scientific and organizational experts who espoused different ways to manage, operate and structure a charitable organization in the emerging Progressive Era. Still, Barton continued giving speeches and lectures, and wrote her autobiography. She also founded the National First Aid Society. In 1912, at the age of 90, Barton died from pneumonia.
Barton exemplifies Bellwether status for bucking popular gender-based fads, thinking and trends in the service of caregiving. She demonstrated that women could care for others, create, develop, establish and manage businesses, travel the world to promote and in support of a worthy cause, and attract recognition and honor for efforts that would last beyond a lifetime.
In a nutshell, Barton:
Coordinated the acquisition and distribution of medical supplies, at times using her own quarters as a central storeroom, to care for Union soldiers during the civil war
Gained permission from military quartermaster Daniel Rucker to operate on the front lines during the Civil War as a nurse and "materials manager" where she distributed supplies to the front lines and provided direct patient care
Founded the American Red Cross, modeling it after the International Red Cross in Switzerland, expanding ARC's reach with help from President Chester Arthur's administration to provide relief and humanitarian aid during any American disaster be it wars, floods, hurricanes, earthquakes, etc.
Offered much needed advice to Duchess Louise of Baden regarding their hospitals during the Franco-Prussian War.
Founded the National First Aid Society (later absorbed by the ARC) after she left the ARC.
Aside from the above accomplishments, Barton also recorded the following accomplishments;

A self-taught nurse, she nursed her brother back to health after a near-fatal fall from a barn when she was 11 years old.
She received her teaching certificate at the age of 17. Her parents encouraged her to become a teacher in hopes that it would cure her of her timidity. Ironically, it was her assertiveness later in life that led to her leaving the organization she founded but fueled her legacy.
She established and launched the first free public school in New Jersey that served more than 600 students.
In response to overwhelming inquiries from distraught families as to the whereabouts of missing soldiers, Barton petitioned President Lincoln to allow her to begin responding to the questions. After being granted permission, she helped establish and run the Office of Missing Soldiers. Despite being significantly under-resourced, she and her team helped locate 22,000 missing men and helped properly bury 33,000 soldiers and prisoners of war.
Focus on mentoring, education, and/or advocacy to advance other supply chain professionals and executives, and the profession as a whole:
Clara Barton simply had a heart for people, a head for organizing and managing and the fortitude to face and stand up to opposition rooted largely in societal beliefs about gender roles. She helped to set up a school and multiple hospitals, consulted with politicians and relief organizations around the world and, of course, established the American Red Cross and the National First Aid Society. Barton trained hundreds and her work affected thousands, if not tens and hundreds of thousands of people during her lifetime. In fact, disaster relief and humanitarian aid to this date owe her a debt of gratitude for paving the way.
The American Red Cross arguably serves as a pinnacle of supply chain expertise and operations on display. The ARC has earned its reputation as a first responder and first supplier.
A considerable portion of the ARC's humanitarian response includes supplies, food, clothing, etc. When the supply chain matters the most, ARC is there.
Moreover, ARC provides basic life support training, first aid, water safety, etc. ARC represents Barton's legacy standing strong nearly 140 years after its establishment.
Demonstrations of leadership:
Leading healthcare field facilities during a war is a daunting task. Barton's leadership saved limbs and lives on battlefields in the U.S. Barton's ability to take supplies the "last mile" to the front lines earned her the respect of military leadership and should earn her the same from contemporary supply chain experts for paving the way.
After touring Prussian hospitals, Barton also advised Prussian royalty on potential improvements to their healthcare system during the Franco-Prussian war.
Leadership in providing care and supply in two wars and the establishment of two well-known and respected disaster relief and humanitarian response organizations (ARC and the National First Aid Society) showcase Barton's leadership.
Further, her overcoming odds and lobbying of the military quartermaster and three American Presidents – Lincoln, Hayes and Arthur – of the need to care for and supply troops as well as for the general public satisfy the Bellwether definition of leadership.
Innovation in practice:
Barton created and managed/led the first free public school in New Jersey.
Barton arguably influenced the profession of nurse-materials manager – a clinician who controls the supply chain – by providing care for troops and storing and distributing medical supplies and food needed.
Barton arguably established a form of just-in-time distribution by maintaining supply storage areas close to the battlefield or place of consumption/point of use, so to speak.
Her association with the International Red Cross motivated her to establish an American Red Cross lobby two presidents to justify it and expand the concept's aims, vision, mission and motives to win approval.
She admirably conducted herself corporately outside the home at a time when few women worked outside the home in a patriarchal society…
The most glaring example of innovation? Her mindset and legacy shaped the future and continues today – unabated.
Managing professional relationships and services:
Barton's life story represents a transformation of mind, motivation and spirit. She started as a shy and timid little girl who morphs over time into a caring, but driven, assertive and authoritative activist and pioneering leader. The professional relationships she managed ran the gamut. Those who benefited from her knowledge, skills, talents and attitude were both appreciative and supportive of her; those who were "threatened" by her gender sporting an "uncharacteristic" assertive nature made things challenging and often difficult for her to the point of forced resignation, firing or resolute rebellion against myopic attitudes. There were times it seems the fight wasn't worth it to her so she left the New Jersey school she founded and the U.S. Patent Office and much later the American Red Cross. However, there were other times that she chose to face the opposition head-on, matching wits with military and political leaders in the U.S. and abroad.
Critics labeled Barton egocentric, but their perception of her personality may have been flawed because her life's work and service were not self-centered and she wasn't wealthy or power-hungry. What she did she did for the good of the people at large, and she recounted and shared those stories with a public that grew to admire and respect her. If anything, her "egocentricism" most likely was misapplied to her by people who either outright declined/refused to see the motivation behind her decisions and the urgency of her movement or simply allowed their own self-interests to cloud their judgment and concern for others.
Commitment to ethical and moral standards and integrity:
Barton built to serve and not to be served. All of her accomplishments are rooted in her devotion and nature to serve others and be others-focused and not for her own personal gain. Some called her the "Angel of the Battlefield" because angels give and don't take.
Further, she reportedly never took a salary for her work with the ARC and sometimes used her own funds to support relief efforts.
Barton opened doors and paved pathways to a new and growing field of volunteer service.