Edward Becker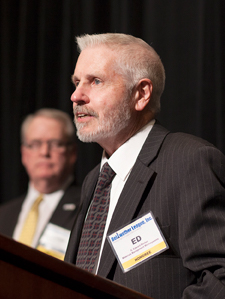 Leading-edge, pioneering accomplishments befitting a Hall of Fame-level career:
During a period of time when computers were basically unknown to the sterile processing profession, Ed Becker understood the importance of computerization in this arena. He envisioned a system that could help automate processes and documentation while improving accuracy and service to the Operating Room. Becker tested his concepts while serving as a director of materials management and then served as a consultant in the sterile processing field for six years before founding Materials Management Microsystems Inc. (Microsystems) in 1991 to implement his ideas. The result was Sterile Processing Microsystem (SPM), which remains Microsystems' core product. During the past 24 years he has continued to develop and refine Microsystems' products and to lead his company to a well-respected position within the healthcare sterile processing field and currently serves hundreds of hospitals throughout the U.S. and Canada.
The concept of utilizing computers in support of sterile processing functions and to develop a robust information system for sterile processing was a groundbreaking achievement. In a profession that had been traditionally referred to as the "department in the basement" or as "dishwashers," Becker brought an awareness of the importance of the profession and the technology needs of the department to light. Recognizing that many others have contributed to the development of the sterile processing profession, Becker's company has teamed with a number of other businesses to jointly serve his customers' needs better. The ultimate beneficiary of the work that Becker has done, and continues to do, is the patient. His life has been one of service to the sterile processing profession directly, but, as every sterile processing professional will agree, sterile processing is there to help ensure quality patient care.
Innovative thinking that contributed to the advancement of the profession:
The use of tracking in sterile processing in order to support the processes of sterile processing was visionary. The system that Becker designed enabled sterile processing departments to function more like businesses and to be more conscious of quality and efficiency, thereby improving support to the OR and patient care. Initially, Becker's system required a clerk to manually document work performed in the system based on sterile processing technicians' handwritten records. However, it soon became apparent that barcode technology would enhance the system by enabling the direct entry of data by technicians, thus eliminating the need for handwritten records and clerical entry. This was an early first step of innovation. Individual instrument tracking and interfaces with sterilizers, washers, and surgery scheduling systems have been additional innovations. Becker and his team are always looking to improve the system, working closely with current customers and business partners to develop and implement good ideas.
Microsystems users utilize SPM software to electronically document sterile processing activities, and when customers go "paperless" they are able to save money on storage and are able to locate needed information more quickly. SPM interfaces with surgery scheduling systems so that instrument sets are kept in sync between the two departments, and sets required for surgery cases are available to the sterile processing department. This enables SPM to prioritize the processing of needed instrumentation and helps ensure that surgery's needs are met and that cases can proceed on schedule.
Demonstrated ethical standards and integrity:
Becker is soft spoken and a good listener. He pays attention to his customers and works diligently to incorporate their suggestions into his company's products. He is free to give advice and share his professional knowledge. His company's culture is family-oriented, and his employees know and trust him. He is slow to anger and quick to compromise. He is ethical financially and has gone out of his way to honor both his employees and his customers in that arena.
Hallmarks of leadership:
At the time Becker was considering starting Microsystems, he worked for Kowalski-Dickow Associates. Becker discussed this with KDA business principals, and they viewed his business plan as a conflict of interest with their company. Becker had no seed money to start a company, but he was committed to his business plan and decided to leave KDA to pursue his own business. KDA allowed Becker to serve part time as a consultant during the first few years, which helped Microsystems weather the startup period. The first few years of Microsystems were rough financially. Becker worked out of a small bedroom and, in tune with the "dress for success" era, dressed up every day to "go to the office" even though there were few customers for the first couple of years. He persevered even though success seemed to be a long shot. After several Microsystems customers came on board, Becker operated a bar-code "labels and ribbons" business out of his basement to serve those customers. He and his family would box up barcode labels and ribbons and send them out. The ribbons were purchased for $5 less than the price for which Becker sold them. He lost money on the deal but did not want to charge his customers any more than he absolutely had to. He gradually hired people to help him as the business began to grow, and he has been able to successfully adjust to the growing needs of the business over time.
Microsystems has expanded from one employee (Becker) to 50 employees over the years. Significant and rapid growth has occurred in the past few years, and Becker has led the company through this period successfully. He has hired people who are more skilled than he is in a variety of areas, and he continues to look for employees who are not only professionally competent, but people who exhibit humility and integrity.
Becker has served as president of Microsystems for 24 years and before that, he served as a consultant for six years at Kowalski-Dickow Associates, and for 13 years in various roles in hospitals, including the University of Michigan Hospital.
Focus on mentoring:
Becker has mentored his children as well as his employees. In fact, two of his children work for Microsystems. Becker works with employees by serving as an example of how to behave as a leader. Several people within Microsystems currently serve in major leadership roles. When Becker retires, the primary leadership roles in the company will be assumed by employees who are well prepared to assume those roles.
Professional influence and advocacy:
Becker's influence is apparent in the sterile processing profession and in hospitals across the country that use the software and services that his company has developed. Although Becker is a quiet man, his customers respect him as a leader and value him, his company, and its employees.
Early on, Becker adapted his program to enable bar-code scanning that greatly enhanced the functionality of his system. Over the years, barcode scanning in the supply arena has gained popularity and added to efficiency in supply chain management. Enabling these efficiencies is integral to the function of sterile processing, as it is to all other aspects of Supply Chain.
Sterile processing has been Becker's primary focus in support of patient care. Through his direct experience working in sterile processing departments, he has been able to understand the challenges that this profession faces on a daily basis and over time. His life work has been dedicated to helping sterile processing departments meet those challenges.
In His Own Words…
What do you think about Bellwether League Inc.'s mission and philosophy and how do you feel about becoming an Honoree?
Our profession tends to be under-appreciated by our employers and the healthcare field that we serve. The work that we do is most often not noticed at all unless there is a problem with a critical supply item or sterile tray being unavailable. Then, of course, we are noticed so that we can assume the blame. Therefore, to have an organization designed to recognize achievement in this under-recognized field is a good thing. I personally feel honored and humbled to be recognized by this group.
What attracted and motivated you to join the healthcare supply chain management field when you did?
I am an industrial engineer by training, and my first professional job was in a hospital as a management engineer, performing projects in many different departments, as needed. I did a number of projects in Materials Management, and was attracted to the field because of its objective nature. You can measure performance very quantitatively, and this appealed to my mathematical bent. I was fortunate to obtain a management position within the Materials Management Department and was responsible for the Sterile Processing function. Each successive job that I have held has contributed to my experience and interest in Sterile Processing, and led to the belief there was a need for a computer system specifically designed to support the manufacturing and inventory control aspects of Sterile Processing.
For what one contribution would you like to be most remembered?
Recognizing the need for an information system to support the sterile processing function in healthcare and having the courage to act on that realization.
If you were to encourage people – either outside of healthcare or just out of school – to enter healthcare supply chain management and strive to be a future Bellwether League Inc. Honoree, what would you tell them?
My area of expertise, Sterile Processing, is in great need of bright young talent to change the focus to problem solving as opposed to fighting fires. There are many issues common to many Sterile Processing departments that are just waiting for people to address; for example, workable approaches for quality assurance and a system to benchmark departmental performance.
What is the one industry challenge you would like to see solved in your lifetime?
In my area of expertise, Sterile Processing, the main challenge is the lack of appropriately prepared professionals leading Sterile Processing departments. Too often, the leaders for Sterile Processing departments are chosen in one of two ways:
A competent sterile processing technician is promoted to be the leader. Generally, this person will be an expert in the sterile processing procedures, but will have no training in management skills, and often has no aptitude for management.
A nurse is assigned the task to manage Sterile Processing. Usually, the nurse will have no previous experience with sterile processing, and training as a nurse does not prepare one for management.
I would like to see a scholarship fund set up for Sterile Processing technicians who are dedicated to the field and willing to study to become the leaders of tomorrow.
How important is effective and innovative supply chain management during tough economic times?
The healthcare system in the U.S. is becoming financially unsustainable. Any way that effective and innovative supply chain management can contain costs while maintaining or improving quality will help the nation deal with this problem going forward.
In two sentences or less, what defines healthcare supply chain leadership?
Striving for the most cost-effective provision of materials that support quality healthcare.
If you traveled back in time to when you just started in healthcare what would you tell yourself?
Trust in God to lead you to your place in life.