Henry A. Berling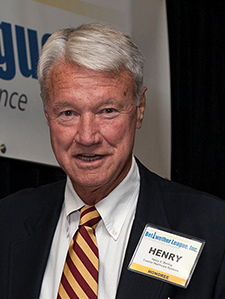 Advancing the Profession through Performance
After nearly 50 years in healthcare, Henry Berling remains the consummate salesman. He was very instrumental in building Owens & Minor into the largest healthcare supply distribution company in the country.  The sale of Berling's father's company in 1966 began a career that lasted 38 years with Owens & Minor. Berling was the architect who selected and negotiated the sale of a number of smaller firms to Owens & Minor over the years.
Some of the notable medical/surgical distributor acquisitions that Berling accomplished in his position as Chief Sales Officer were: Powers & Anderson on the East Coast, Will Ross Co. covering mainly the Texas and Louisiana markets, National Healthcare on the West Coast, Medix Inc. covering much of the Midwest and Great Plains, and Stuart Medical Inc.
It was Henry Berling's acquisition strategy that allowed Owens & Minor to grow dramatically over the years into the company it is today. The company went from a very limited med/surg business in 1966 when Berling started at the company to approximately $5 billion under Berling's leadership!
Likewise, Henry Berling was directly responsible for signing new customers at Owens & Minor. Some of the most notable were:
American Medical International (AMI) – this was one of the very first hospital systems signed in the 1980s.
Voluntary Hospitals of America (VHA) – Berling created the very first Owens & Minor deal with this group purchasing alliance.
Premier – Berling again signed this group purchasing alliance to Owens & Minor.
U.S. Surgical – Berling orchestrated the first distributor-based deal for this company (which now is part of Covidien). Previously, USS only sold direct to customers.
Stanford, Partners Healthcare System, and many other integrated delivery network (IDN) deals were created and negotiated by Berling.
Berling convinced each healthcare organization that Owens & Minor would be a true partner with them in cost reduction, standardization, and most importantly, a partner upon whom they could trust and depend.  Many of the partnerships created by Berling remain in existence – a testament to not only his determination, but the values he and others instilled in the company. Partnership is an often overused term in healthcare today, but Berling can be credited for developing some of the true partnerships between healthcare providers and distributors that have served as models for others.
Owens & Minor grew dramatically across the United States during the years of Berling's direct leadership while building the solid culture it is today. Berling worked closely with Gil Minor (Bellwether Class of 2010) to elevate Owens & Minor's service, stature and status as an industry leader – and they succeeded.
Six months after retiring from Owens & Minor, Berling partnered with a friend to purchase a struggling a small business that manufactured kits and trays for hospitals. Under his leadership and stewardship, this struggling $900,000-a-year business now generates $6 million a year as a niche player. He saved existing jobs and created new ones for people in the area, offering a cost-effective option for hospitals and other healthcare providers.  This represents a success story built by someone who was actually at the end of his career!
Work Experience
Henry Berling has had (and continues to have) an exemplary career in the healthcare supply chain field. He began his career after graduating from Villanova University with a Bachelor's degree in 1965. Berling's father owned and operated A & J Hospital Supply in Richmond, VA.  This is where he began working in the healthcare field, learning the supply and distribution business from the ground up. A & J Hospital Supply was a business that served the hospital, lab, and homecare community.
In 1966, Berling's father decided to sell the business to Owens, Minor & Bodeker Drug Co. (as the company was known at the time). He quickly found himself a member of the company's executive team. This was the initial step that brought Owens, Minor & Bodeker into the medical/surgical supply distribution business. During the next 38 years, Berling played a key role in growing and diversifying the company into the largest healthcare supply distributor it is today.
In those days, Owens, Minor & Bodeker was approximately $1-million-a-year business and operated in the Richmond and Norfolk region of Virginia selling various medical/surgical supplies. It was Berling's early job (and most notable job throughout his 38-year tenure with Owens & Minor) to grow the business through sales and acquisitions.
In 1968, Berling oversaw the company's acquisition of Powers & Anderson, a company serving the East Coast. This gave Owens, Minor & Bodeker an expanded entry into the larger East Coast market. Then Berling helped expand the company again when it acquired the Will Ross Co. division of G.D. Searle. The company now had a presence in the Texas and Louisiana markets. Under Berling's direction, the company expanded again with the acquisition of National Healthcare's med/surg business.
By the mid 1980s, sales at the newly renamed Owens & Minor had reached the $1 billion mark.  By the time Berling retired from Owens & Minor in 2004, annual sales surpassed $4 billion. At the time of Berling's induction into Bellwether League, Owens & Minor recorded $9 billion in sales.
Berling takes great pride in the many successes he has had while leading the sales side of Owens & Minor – being a part of evolving the medical supply distribution business and expanding into many different areas of healthcare. But for all those years, he is equally proud of the accomplishments of his fellow "teammates"' across the management group in how they treated people – both inside and outside the four walls of the company.
As Berling reflects back on his days with Owens & Minor, he recognizes the thousands and thousands of conversations he has had with industry partners and healthcare leaders. The vast majority of people he had encountered in healthcare were always willing to listen and were universally interested in doing things faster and smarter – true values within the Owens & Minor family of executives like Berling. He convinced so many people that Owens & Minor was the team to count on for the services they sought in medical/surgical distribution.
Berling believed then, and still believes today, that "if you treat people well, taking care of your teammates, they would never let you down."  Each executive within the early days of Owens & Minor and continuing today believe their people are their strongest asset, and it was senior management's job to assure they were cared for – just as they would their family.
Yet just when you thought Berling was finished with his long and successful supply chain career with Owens & Minor, he decided six months after retirement in August 2004 to help stabilize and grow a struggling kit assembly business. He partnered with a friend to take over this business (Custom Healthcare Systems) and continues to be active today in its management and growth. He took a struggling $900,000 business and turned it into a successful $6 million enterprise. They assemble kits and packs for many healthcare concerns across the United States.
Berling is very proud of being married for more than 40 years with four grown sons, and 14 grandchildren.  He is active on a number of healthcare industry related Boards and even finds time to volunteer for a number of Richmond-based charities.
1965 – 1966    A & J Hospital Supply Company, Richmond, VA
1966 – 2004    Owens & Minor, Inc., Richmond, VA
1966    Beginning as Salesman and advancing through every sales job at Owens & Minor
1992    Senior Vice President, Sales and Marketing
1994    Executive Vice President, Sales and Customer Development
1995    Executive Vice President, Partnership Development 
1996    Executive Vice President and Chief Sales Officer
2004    Retired
2004 to today   Co-Owner of Custom Healthcare Systems, Richmond, VA
Professional/Humanitarian Activities
Berling has presented frequently about healthcare supply distribution over his many years of leadership at Owens & Minor
He contributed to Owens & Minor University, training all stages of staff in the fine art of sales
He served as a member of the AORN Board for many years
He was a member and board member of various healthcare professional distribution organizations, such as HIDA and others.
He contributed his time and effort to many local humanitarian efforts – most notable was to develop a scholarship fund for a Richmond-based boys school and being a lifelong member of the Boy Scouts Council in Richmond.
He has volunteered for numerous healthcare boards, including Medical Action Industries Inc., Soluble Systems LLC and Lankford Infection Control.
In His Own Words…
What do you think about Bellwether League Inc.'s mission and philosophy and how do you feel about becoming an Honoree?
Bellwether League was founded by professionals who are committed to recognizing figures in the industry who will team with them to make the U.S. healthcare industry the best in the world.
What attracted and motivated you to join the healthcare supply chain management field when you did?
I was raised in the healthcare industry. The family business led me to my opportunity to learn and grow in a great industry.
For what one contribution would you like to be most remembered?
There is no one contribution that I would like to be most remembered for. I believe every contribution I made has been important, and value each one, and hope that every contribution has been able to help and touch at least one person's heart.
If you were to encourage people – either outside of healthcare or just out of school – to enter healthcare supply chain management and strive to be a future Bellwether League Inc. Honoree, what would you tell them?
I would encourage a young person to learn to listen to the environment they are working in and use this as a guide to advancement. Healthcare is the largest industry in the US.
What is the one industry challenge you would like to see solved in your lifetime?
The use of technology.
How important is effective and innovative supply chain management during tough economic times?
It goes without saying [that] when they are tough you learn to adapt and simplify and be creative. As long as there is good communication, it'll work itself out. Supply chain management is at the front lines.
In two sentences or less, what defines healthcare supply chain leadership?
Create a team, give them excellent training and continue to innovate technology.
If you traveled back in time to when you just started in healthcare what would you tell yourself?
This is an opportunity to learn. Change is coming, [so] be a part of it. Learn to feel good about the opportunities.