Lee C. Boergadine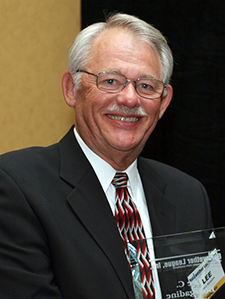 Work Experience – Minimum 10 years of service within the healthcare supply chain (including a hospital or nonacute care facility, manufacturer, distributor, GPO, consulting or service company).
Director of Materials Management: St. Mary's Hospital, Galesburg, IL (8 years)
St. Joseph Hospital, Joliet, IL (3 years)
The Methodist Medical Center, Peoria, IL (5 years)
Yale-New Haven Hospital, New Haven, CT (5 years)
HCA Management Co., Nashville, TN (4 years)
Executive Director-Academy for Professional Development-HSCA (Affiliated with St. Louis University) (4 years)
Senior Consultant-Cardinal Health (Pyxis products), San Diego, CA (6 years)
Work Performance – Specific accomplishments/achievements in their respective organizations, including expense management measures, committee involvement and management leadership.
Steady budget improvement, $42M annual supply budget (lowered expenses $2M in 1 year), Yale-New Haven
Oversaw budget program, $240M annual corporate supply budget, HCA Management Co.
Oversaw 220 managed hospital supply departments, steady reduction, HCA
Trained more than 600 materials professionals through week-long courses, continuing education and 1-3 day seminars nationwide on such topics as DRG education and associated financial concerns to healthcare executives throughout Kansas, Nebraska and Oklahoma. Academy for Professional Development (HSCA)
Faculty at HFMA Annual Institute, Boulder, CO, 3 years
Honored as Hospital Purchasing News' first Material Manager of the Year
Professional Activities – Minimum 5 years of active association participation (e.g., office holder, committee chair or contributor, organizing and running meetings, mentoring others) on the national, regional and local level; performed a minimum of two speaking engagements (national, regional, local, facility) and published at least twice (including writing an article or being interviewed by the trade media) during career.
President, 1983 AHRMM, board member previous two years, Past President board member,
President, Illini Purchasing Association (AHRMM chapter)
Published articles in 1980s in Hospitals Magazine (5), HFMA Journal (1),Hospital Purchasing News (5) several others.
Speakers Bureau — American Hospital Association conducted many seminars and presentations. Lee was very active in public speaking, in terms of advancing the supply chain profession. He spoke on many topics all across the United States and was one of the most sought after speakers in the profession during his time.
Advancing the Profession/Industry Influence – Challenging the norms, contributing to the thought process, pushing the envelope in terms of moving the profession/industry forward. Examples include serving as a mentor either within his or her individual organization or on a national, regional or local level outside of his or her individual organization; internal inservices for the C-suite on supply management; pioneering new concepts and ideas that may or may not become reality; influencing those up and down the corporate hierarchy on the benefits of and promotion of sound supply management.
EHCR Board, an industry wide effort for "Activity-Based Costing," representing Pyxis Corp.
Chairman of the Board, Illinois Heart Association, Springfield, IL
Vice Chairman, American Heart Association, Dallas, TX


Mentored subordinates by rotating through materials management departments to provide experience.
This was Lee's strongest quality — advancing the profession through leadership and example. His speaking on relevant topics, while advancing the profession in the consciousness of the healthcare industry was very much Lee's contribution. He had – and still has – great personal pride in the number of individuals who he mentored over the years. The advancement to prominent positions of those individuals speaks to Lee's skills as well as to his commitment to individuals.
In His Own Words
What are your thoughts about the mission and philosophy of Bellwether League Inc. and how do you feel about becoming part of the organization as an honoree and inductee?
For too long professionals in the field of supply chain management have not only found themselves physically in the basement of their respective institutions but there in the thinking of healthcare executives as well. The Bellwether League will provide a forum to recognize supply chain professionals who have demonstrated in tangible ways what it means to be an effective, caring provider of health care services. To be so honored, and to be in such company with the other honorees, is not only awesome but unbelievable.
What attracted and motivated you to join the healthcare supply chain management field when you did?
Back in the 1960s when I first commenced my supply chain management career, the term of 'group purchasing' was just beginning to be heard. I would go to professional association meetings and all who represented institutions that were part of a 'group' effort sat on one side of the room and all others sat on the other side of the room. I have always liked to be on the cutting edge of concepts and technology and, therefore, supply chain management was quite appealing to me.
For what one contribution would you like to be most remembered?
I always wanted to share the satisfaction that supply chain management gave to me with others. Throughout my career I tried to enable those who worked with me and for me to develop into true supply chain management professionals. Gratefully, several succeeded on their own and became notable supply chain leaders in their own right. I am so proud of each of them and so grateful that I had the opportunity to work with them during my career.
If you were to encourage people – either outside of healthcare or just out of school – to enter the supply chain management field and potentially qualify to be a future Bellwether League Inc. honoree, what would you tell them?
If an individual likes working with people, and likes the opportunity of bringing parties with two divergent views together, then supply chain management is a field worthy of his or her consideration. I always thought that part of my job was to bring suppliers and providers together to work for the common good of the patient. There is no other field that has the opportunity to do this as does supply chain management. So those who are truly 'people' persons would do well to dedicate their life's work in this field.
What is the one industry challenge you would like to see solved in your lifetime?
Although some may feel it unrealistic, I would like to see the healthcare needs of society placed ahead of the 'bottom line' both by suppliers and providers. To be able to provide good sound patient care, make a modest profit, regardless as to whether one is supplier or provider, and to establish and attain a common goal of society's needs being met, would make all supply chain managers' efforts worth while.