Robert P. "Bud" Bowen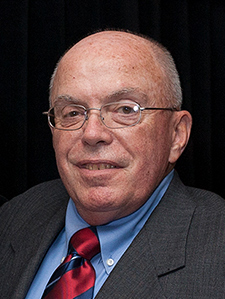 Advancing the Profession through Performance
Robert "Bud" Bowen is an innovative leader and expert in healthcare supply chain strategies. He played an integral role in forging Amerinet's reputation for integrity, customer service, industry-leading pricing and innovation. He led the company's strategic initiatives and industry collaborations to address specific needs of Amerinet's healthcare provider members. As an expert in healthcare group purchasing and supply chain issues, Bowen had been frequently called upon to speak at symposiums for a variety industry organizations, such as HIGPA and NCI. He is also considered a valuable resource for insight on contemporary purchasing issues by health industry trade publications. He is widely respected by his colleagues, customers, suppliers and competitors for not only his business acumen but, very importantly, his honesty, ethics, and integrity. 
Bowen helped to develop Amerinet since its inception in 1986 and has served in progressively responsible positions until his retirement from Amerinet.
During the Senate hearings on GPO activities in 2002, Bowen provided a positive voice for the group purchasing industry. His emphasis on open and inclusionary contracting policies and higher customer service standards are reasons Amerinet was heralded as a prime industry example of ethics and integrity during those hearings. He was regarded for promoting and practicing ethical behavior and corporate integrity throughout his career, something that served him well during the Senate subcommittee hearings on alleged anticompetitive practices by GPOs. During those hearings he emphasized the need for open and inclusive contracting policies and higher customer service standards, eliciting favor on Capitol Hill. The result of his testimony was a better understanding, on the part of Congress, regarding the business model of the GPO industry and correcting the inaccurate portrayal of the industry. As a related consequence, the Safe Harbor provisions regarding administrative fees were maintained.
Bowen developed and implemented marketing strategies to expand the customer base of HARICOMP/Vector throughout New England. This strategy, marketing beyond state boundaries, was "revolutionary" at the time and responsible for the later success of HARICOMP/Vector. Heretofore, group purchasing organizations were developed mainly by hospital associations and were relatively narrowly focused regarding contract coverage. This expansion developed increased competition between manufacturers and GPOs, resulting in lower prices and expanded contract coverage. The expansion, along with the resulting competition, also increased the efficiency of the GPOs to better serve its members. Importantly, these activities occurred during the late 1970s, better preparing both hospital providers and their GPOs for the eventual adoption of TEFRA (1983) and prospective payment.

Bowen played a key role in the formation of Amerinet from four separate regional group purchasing organizations (Vector, Intermountain Healthcare, Health Services Corporation of America and Hospital Shared Services) into the third-largest national group purchasing organization in the country.
He helped to develop and maintain Amerinet's reputation that the organization has established over the years. "We've always operated at a high level of integrity and fairness. We feel it's as important to treat suppliers as well as customers with the same amount of respect that we would want to be treated with."
Bowen directed the development of the original Elite program of Amerinet that was launched shortly after Amerinet was formed. The Elite program took the core concepts of pre-commitment and competitive bidding that were used on a smaller scale at many regional purchasing groups and adapted them to work on a national scale, and became very effective in driving lower prices and better terms.
He also directed the development of Amerinet's Options program. Under this program, Amerinet works with its large IDN members to identify specific contract enhancement opportunities, sometimes even outside the existing GPO contract portfolio, and to lend its skills and resources to develop unique, IDN-specific agreements for the exclusive benefit of that member. This novel model was later emulated by other competitive GPOs.
He also directed the development of Amerinet's presence in the nonacute care marketplace though relationships with Medical Group Management Association (MGMA) and the Ambulatory Surgery Center Association (ASCA).
Bowen created a succession plan for the ongoing success of Amerinet at his retirement by grooming his successor and others of the leadership team.
He served as a mentor to a variety of individuals at HARICOMP, Vector and Amerinet, as well as members of professional organizations, such as HIGPA, AHRMM and HIDA.
Early in his career during his tenure at New England Management Corp., Bowen adapted the programs he learned at American Hospital Supply and implemented them. These would include automation (very novel at the time), just-in-time purchasing (long before the name became popular), rigorous inventory control and product formularies (long before this became a popular concept)
He consistently and successfully adapted to challenges in the marketplace to establish successful strategies at HARICOMP, Vector, and Amerinet.
Work Experience
Private Consultant (2006-present)
Amerinet (1986-2006)
President and CEO (1998-2006)
Executive Vice President, Chief Operations Officer (1988-1998)
Vice President (1986-1988)
HARICOMP/Vector, Providence, RI (1978-1986)
Director of Group Purchasing
New England Management Corporation, Barre, VT (1973-1978)
Interim Nursing Home Management
Licensed Long Term Care Administrator
Director of Purchasing/Materials management
American Hospital Supply, Bedford, MA  (1969- 1973)

Tel-American electronic order entry coordinator
Professional/Humanitarian Activities
American Academy of Medical Administrators (Fellow)

Bud served as first a board member at the local New England Chapter, and then a Regional Representative to the National AAMA Board

AHRMM - Member
Health Industry Distributor Association – frequent speaker
Health Industry Group Purchasing Association, Chairman and Board Member. Recipient of Stan Costello Memorial Award
Health Industry Business Communication Council, Board Member
Health Care E-business Collaborative, Chairman and Board Member
Founding Board Member and Founding Secretary, Bellwether League Inc.
Frequent speaker at industry associations both in United States and Internationally.
Bowen received his Bachelor of Arts degree in Economics from Merrimack College, North Andover, MA.
In His Own Words…
What do you think about Bellwether League Inc.'s mission and philosophy and how do you feel about becoming an Honoree?
Recognition of early pioneers and innovators of all business enterprises is a valuable tool in stimulating and inspiring young professionals to enter the field. I am honored to be named in this light for the field of healthcare purchasing and supply chain management.
What attracted and motivated you to join the healthcare supply chain management field when you did?
My first healthcare-related job out of college was with American Hospital Supply Corp. American's leadership and innovation in supply chain and logistic practices provided me with an incredible knowledge of this emerging industry from the leading company of its time. It would be the equivalent of having your first computer job with IBM. Once in the field of medical product sales and service, my passion to improve the professionalism and business practices of hospitals and other healthcare providers was kindled.
For what one contribution would you like to be most remembered?
Early in my career I was dismayed by the level of disrespect and unprofessional behavior exhibited by many hospital purchasing agents and buyers towards supplier and distributor sales representatives. I promised myself that if I was ever in the position of a hospital or healthcare provider purchasing manager, I would demand that all supplier representatives be treated with the same degree of respect and professionalism that was expected of them. I would like to think that I maintained this core value throughout my career, first as a purchasing/materials management professional, and eventually in the healthcare group purchasing field.
If you were to encourage people – either outside of healthcare or just out of school – to enter healthcare supply chain management and strive to be a future Bellwether League Inc. Honoree, what would you tell them?
Serving as a supply chain professional in a healthcare provider organization provides a unique opportunity to not only achieve personal success and accomplishment, but also to contribute in a very meaningful way to the benefit of society as a whole. Improving the efficiency of the supply chain, and reducing the costs of medical-related products and services, allows more valuable resources to be used directly in the care and treatment of patients.
What is the one industry challenge you would like to see solved in your lifetime?
The healthcare industry is unique in the enormous number of individual products needed to operate a healthcare facility.  It only takes a few thousand parts to build a commercial airliner, but hospitals, even the smallest ones, must manage more than one half million possible products to function. Establishing and maintaining a standardized system of product identification by all manufacturers, distributors and providers will finally allow maximum efficiency to be achieved within the industry.
How important is effective and innovative supply chain management during tough economic times?
Effective supply chain management allows hospitals and other healthcare providers to allocate more resources for clinicians and caregivers, and thereby improve the quality and effectiveness of healthcare delivery.
In two sentences or less, what defines healthcare supply chain leadership?
The ability to establish a vision of the ultimate efficiency in healthcare delivery, effectively communicate that vision to all stakeholders, and successfully manage the process of achieving the goals and objectives.
If you traveled back in time to when you just started in healthcare what would you tell yourself?
The same thing I told myself when I first entered the workforce at the age of 22: To always maintain the ethics, honesty and integrity that was taught to me by my father, who died while I was still in college. He set the bar for me with these values, both in his words, and more importantly, by the way he lived his own life. He defined my life's path for me.