Doug Bowen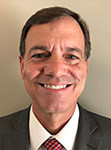 Status: Active
Career span: 35 years and counting

Current title: Vice President, Supply Chain, Banner Health, Phoenix, AZ
Innovative, leading-edge, pioneering accomplishments befitting a Hall of Fame career:
For the 6th consecutive year, Banner Health was named to Gartner's Healthcare Supply Chain Top 25 (includes hospital systems, manufacturers, distributors, and retailers). Banner Health ranked No. 7 overall in healthcare industry in the United States.
Gartner Healthcare Supply Chain Top 25 press release comments:  "Banner Health moved up two spots to No. 7 in this year's Top 25, marking its second consecutive year in the top 10. Banner's rise over the past 10 years is impressive, as it has improved significantly more than any other IDN.
"With 28 hospitals across six states, Banner operates a vertical supply chain strategy that includes a centralized service center model with self-contracting, self-distributing, self-manufacturing, and sourcing some components and raw materials in full container loads.  Banner Health's supply chain mission is to use its clinically integrated supply chain to support a patient-driven value network and to create an industry-leading supply chain focused on cost, quality and outcomes through standardization of product, information and financial transactions."
For the fourth time, Doug Bowen was recognized as among the Top 10% of Banner Leadership in employee engagement on the system-wide VOICE employee survey.
For the past 10 years, Bowen has served as an Instructor of Practice for Arizona State University's Supply Chain MBA program. ASU offers one of the top 5 Supply Chain programs in the United States, led by Dr. Gene Schneller.
Focus on mentoring, education, and/or advocacy to advance other supply chain professionals and executives, and the profession as a whole:
Doug Bowen was fortunate to learn from some great leaders: David Welch, Ed Jones, Jim Olsen (Bellwether Class of 2015) and Michael Louviere (Bellwether Class of 2010); from HCA and HealthTrust Purchasing Group: Ron Bunnell, Dennis Dahlen, Dennis Laraway; Peter Fine from Banner Health; and Dr. Gene Schneller at Arizona State University.
Doug Bowen has mentored several supply chain leaders over the years, including:
Jay Kirkpatrick, Vice President, Supply Chain Operations, LifePoint Health, and past Chair, AHRMM
David Gilfillan, former Vice President, Supply Chain, Iasis
Ann Marr, former Supply Chain Officer HCA North Texas Division
Ric Coons, CEO Parallon Supply Chain Solutions
Tim Miller, Vice President, Supply Chain, Honor Health
Ray Davis, Vice President, Supply Chain, Universal Health Services
Derek Havens, Vice President, Supply Chain, Dignity Health (and Future Famers Class of 2017); and continues to mentor up-and-coming supply chain leaders.
Media links to a list of Bowen's accomplishments and achievements include:
2018: Banner Supply Chain featured in Supply Chain World Global Magazine.
http://www.scw-mag.com/sections/healthcare/1069-banner-health-2
2015: Bowen served as Guest Speaker for Gartner's annual Supply Chain Leader's conference  http://www.supplychainbrain.com/content/index.php?id=5032&cHash=081010&tx_ttnews[tt_news]=32936
2015: Cover story for Inside Healthcare on Banner's Supply Chain integration at University of Arizona Health Network
http://www.nxtbook.com/nxtbooks/phoenix/ih_2015spring/
2014: E&Y Annual Report states, "In Arizona, Phoenix-based Banner Health saved $226 million in five years by aligning supply chain management with efforts to improve quality, remove waste and disseminate best practices."
2013: ECRI Top 1% in Healthcare Supply Chain Award – ECRI noted Banner's extensive work using physician value analysis teams.
2012: Healthcare Purchasing News names Banner as one of the Elite 11 Supply Chain Operations Worth Watching
http://www.hpnonline.com/inside/2012-12/1212-SF-SCOWW.html
2012: Banner Health selected as 2012 Newsmaker by Healthcare Finance News, December 2012
http://www.healthcarefinancenews.com/issue/63421
2012: Banner Health featured in Healthcare Finance News, April 2012
http://www.healthcarefinancenews.com/news/banner-health-cuts-415m-supply-chain
2011: First Place Award Winner for system-wide supply utilization program – IDN Summit – Large Hospital System Category -
http://www.idnsummit.com
2011: Guest speaker at ACHE October meeting on Managing the Clinical Supply Chain
2008: Featured in Healthcare Financial Management Association Magazine, April 2008 http://hfma.org: http://findarticles.com/p/articles/mi_m3257/is_4_62/ai_n25338452/pg_3/
2007: Featured in Hospital COO Magazine, August 2007
http://hospitalcoo.com/issues/2007-August.aspx 
2007: Featured in Modern Healthcare, August 13, 2007 http://modernhealthcare.com/apps/pbcs.dll/article?AID=/20070813/REG/70809009/-1/toc13.08.07 
2004: Featured in Healthcare Distribution Industry Magazine Repertoire, May 2004 http://www.repertoiremag.com 
2004: Featured in Journal of Healthcare Contracting, Summer 2004, as one of the top contracting professionals in the United States
http://jhconline.com/article-summer2004-15people-part2.asp   
Demonstrations of leadership:
In 2019 Bowen served on the Industry Advisory Board for the Arizona State University and U.S. Military Medical Logistics project (ASU-MEDLOG). This project advises the U.S. Military on supply chain strategies to develop a fully integrated supply chain operation (FISCO), demonstrating the importance of supply chain in providing the best care for men and women in the military. Other Board Members include leaders from Intel, GM, Mayo, GHX, Kaiser, ISM and Richard Perrin (Bellwether Class of 2014) from Active Innovations.
As a community service, Bowen served on the Board of Directors for Carter BloodCare, the largest Blood Center in the Dallas-Fort Worth area, 2000-2002. 
Bowen earned his Certified Materials Resource Professional (CMRP) certification from AHRMM in 2010. He remains a current AHRMM member as well as a past member of the American College of Healthcare Executives (ACHE). Bowen earned certification as a Lean Six Sigma Green Belt (LSSGB) from Purdue University.
Bowen has served as Scoutmaster and Troop Committee Chairman for Boy Scouts of America (BSA).
Innovation in practice:
Bowen is a pioneering supporter of the Vertical Supply Chain Strategy using the Consolidated Service Center concept: first with HCA and then with Banner Health.
Bowen is the creator of Supply Chain Value Network, Banner's wholly-owned Regional Group Purchasing Organization (RGPO). He currently works with other health systems to synergistically produce incremental supply and purchased services savings for all of their enterprises.
Bowen was a founding team member with HCA that re-engineered Supply Chain on a national scale to improve service levels and reduce costs via buying direct from manufacturers and using internal distribution. As the Supply Chain Officer for HCA's North Texas Division, he successfully transitioned the delivery and management of the supply chain from a multi-individual hospital perspective to a complex division procurement/distribution center.
Bowen was an early adopter and industry promoter of Electronic Data Interchange (EDI). He designed and implemented a new purchase order (PO) process utilizing autonomous EDI that resulted in company-wide productivity improvements.
Managing professional relationships and services:
Bowen served as the business leader of a team that designed, created, tested and implemented HCA's Supply Chain Information System. The Supply Management And Resource Tracking System (SMART) supports the supply operations for hundreds of hospitals, for more than 25 years.
Bowen also served on the Strategic Advisory Committee (SAC) for Premier for 10 years, and was a speaker at the Health Industry Group Purchasing Association (HIGPA) National Convention in 2003.
Commitment to ethical and moral standards and integrity:
Bowen has a stellar reputation from all parties throughout the industry – including suppliers, GPOs, and other healthcare leaders.
Bowen willingly shares his knowledge and best practices with others in an effort to promote industry improvement. These efforts have been recognized by Gartner in achieving the No. 7 ranking in the Gartner Healthcare Top 25. Bowen is a practical example of doing more with less. Banner's supply chain resources are a small fraction of the other industry leaders, yet he has guided Banner to a Top 10 ranking in the United States.
IN HIS OWN WORDS…
What are your impressions about Bellwether League Inc.'s mission and philosophy, and how do you feel about becoming an Honoree?
I am honored and grateful for this recognition. I am also grateful to the Bellwether League for their efforts to promote and recognize the contributions of the dedicated people that are working hard every day to improve the healthcare supply chain.
What attracted and motivated you to get involved in the healthcare supply chain management field when you did?
While in college, I took a job at a local hospital material management department stocking supplies on the shelves. One day I was re-stocking the Emergency Room supply area when an Emergency Room Physician flagged me down in a rush and asked me for a specific supply product. I was able to locate the product and place it in his hands within seconds. He looked me in the eye and said, "Strong Work!" From that moment on, I knew I could make a career by caring for the caregivers.  
For what one contribution would you like to be most remembered?
I would like to be remembered for being data-driven, disciplined in cost controls, and results oriented. By consistently doing small and simple things, great things can be accomplished by anyone.
If you were to encourage someone – either outside of healthcare or just out of school – to enter healthcare supply chain management and strive to be a future Bellwether League Honoree, what would you tell him or her?
I would say "You Can Do This!"  Devote your time, your talents, and your abilities to this meaningful work and you will be grateful and proud of your decision to serve in the healthcare supply chain. Plan your work, then work your plan. Keep things simple by focusing on two important principles every day: work and learn.
What is the one industry challenge you would like to see solved during your lifetime?
Given the lessons learned from the COVID-19 Pandemic of 2020, I would like to see the healthcare industry pivot from Global Sourcing to Local Sourcing; from single use to extended use; and from disposables to reusables.
What do you feel are some of the things that the healthcare supply chain does that's right – for the patient, for the organization and for the profession … and why?
Healthcare (and life) is about balancing trade-offs, so I really appreciate the AHRMM principles of balancing Cost, Quality and Outcomes. The healthcare supply chain does a really great job of promoting clinical integration so that the caregivers needs, and patient safety, are the first priority in every decision.
In two sentences or less, what defines healthcare supply chain leadership?
"Leadership Matters!" And every Supply Chain Team Member deserves a great leader! A leader that cares more about building the team than exalting themselves is my definition of a great healthcare supply chain leader.
If you traveled back in time to when you started in healthcare what would you tell yourself?
Great strategies and great data do not make a great supply chain. Great people make a great supply chain.