Lynn Britton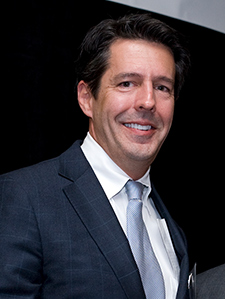 Advancing the Profession through Performance
Introduced/pioneered new concepts and ideas within supply chain operations
At the time of his 2013 induction into Bellwether League Inc. Britton served as President and CEO of Mercy Health, a position he has held for four years of his 21 years in healthcare. Overall, he has 26 years in supply chain operations. Britton was the founding leader and first President of Mercy's supply chain division Resource Optimization & Innovation). ROi is consistently recognized as a industry leader in provider-based supply chain operations.
Britton led Mercy in the selection, design and implementation of a comprehensive electronic medical records system, a $450-million investment that included installing the system and training more than 20,000 Mercy physicians and clinical co-workers. From a supply chain perspective, the uniform electronic medical record remains the key tool for product cost management inside Mercy.   
Britton initiated some of the first service-line decision-making process in the industry.  Most health systems have consolidated decision making for products within a facility but rarely attempted to do so across an organization of more than 38,000 co-workers. The service line committee structure originated when Britton was a supply chain leader, continues in a very similar format today and still operates on the founding principles that collectively we can make better decisions and, via the collective decisions, we can leverage our cost position resulting in best pricing for best products.  
Influenced the C-Suite and/or physicians and other clinicians and/or fellow department heads on the benefits of optimal supply chain strategies and tactics
When Britton was leading the supply chain, he formed an alliance with Mercy's CEO to help integrate the organization through a single supply chain. These efforts led to many other integration efforts that have resulted in Mercy being named the most integrated healthcare system in America.
Britton has been an advocate for leaders who gained their experience in supply chain and currently two of his three executive vice presidents served with him in supply chain before and during the formative years of ROi. Other significant promotions have been made from the supply chain ranks to the point that ROi is considered a key talent generator at Mercy.
His continued career success has help land him in the C-Suite as President and CEO. It does not get much more influential than becoming the top position in Mercy. He has gone from "basement-to-boardroom" in record time.
Served as a mentor either within the organization or on a national, regional or local level
Britton has been one of the best examples in the industry of how a supply chain executive can grow in responsibilities throughout the organization to achieve the highest level of responsibility. He has never forgotten the importance of supply chain as a strategic element of the organization and has consistently advocated for the promotion of supply chain talent at many levels of the Mercy organization. Today there are more executives on the executive team with supply chain backgrounds than any other specific area. 
Britton was recognized in 2010 with Healthcare Purchasing News' S.U.R.E. award for Supply Chain-Focused CEOs that Support, Understand, Recognize and Empower Supply Chain Professionals. This recognition reinforces his continued support and appreciation of the strategic importance of supply chain in the delivery of great care. It also continues to prove Britton's leadership as a supply chain mentor for those at Mercy and others in the industry that know his story.
Britton also received the 2012 CEO IT Achievement Award, one of three CEOs nationally recognized in 2012. The award is presented annually byModern Healthcare and co-sponsored by the Healthcare Information and Management Systems Society. This special program recognizes healthcare CEOs who have demonstrated leadership and commitment based on three criteria: The CEO's demonstrated leadership and commitment in using IT to advance his or her healthcare organization's strategic goals.  The CEO helped achieve measurable results through leadership and commitment to IT in his or her organization. The CEO shared his or her healthcare organization's IT experiences to benefit peers and other members of the healthcare industry.
Excelled as a leader in expense management and quality measures?
Britton's leadership in the formation or ROi has been one of the most effective levels for cost management at Mercy. ROi annually produces a value report that is reviewed and accepted by each facility CFO.  The report consistently reflects savings to Mercy in excess or $35 million annually.
Britton originated Mercy's enterprise pharmacy formulary program that is often referenced as a best demonstrated practice in publication on the topic. The program reduced stock-keeping units by more than 50 percent and actual costs by more than $6 million annually.
Britton has consistently promoted shared services and departmental consolidation to drive lower cost and to improve service quality. Under his various leadership responsibilities, Mercy has created several shared services organizations, such as Mercy Technology Services and ROi, each time resulting in double-digit savings in operating expenses while at the same time improving service as measured by the end users.     
Led and actively participated in strategic and tactical committee decisions
Britton has always been considered a strategic leader in Mercy. Even in his early days with Mercy he had a position at the executive leadership table of the CEO. Additionally, he promoted some of the first service-line committees in Mercy to facilitate unified decision making on products across the organization. Britton progressed from President of ROi to Senior Vice President with Mercy and as such was the key leader that advocated for and led the decision making process to implement one of the first enterprise-wide deployments of an clinical operating/electronic health record system in America.  This decision was not popular because it forced a significant course change away from a prior decision and prep work to go with another vendor.
As CEO today, Britton leads strategic discussion with Mercy but also within the communities served by Mercy. Additionally, he is on the board of directors for several organizations and he provides strategic guidance to other in this capacity.
As the CEO of Mercy, Britton is the most accountable leader in Mercy for strategic decision making but he still has the business understanding to evaluate tactics and to weigh in our execution steps required to meet our goals.    
Contributed to an organization's financial, operational and even clinical success?
Financial – Britton was the first executive in Mercy to consolidate systems to better leverage technology. When Britton became the ministry-wide supply chain leader he had eight different materials systems all with very different methodologies for operation.  Under Britton's leadership, Mercy made a decision to consolidate to a single material management system with common operations. This decision saved Mercy millions in redundant operations and maintenance costs but more importantly, it highlighted the variation in pricing for identical products across the system and triggered a pricing normalization program that exceeded $10 million in actual savings  
Operational – Britton's leadership in the formation of Mercy's consolidated supply chain organization (ROi) was one of the most significant moves to optimize a single department operations by taking the best practices from across Mercy and across the industry and to construct an organizational model that combined the best from providers and industry.  The service improvement results are acknowledged at all levels of the organization and this success has spawned similar models in lab, enterprise transport, IT, revenue management and pharmacy. 
Clinical - One of Britton's most significant clinical supply chain contributions came from a program called Mercy Meds – a patient safety initiative that improved the safety of the medication administration process. The program involved supply chain funding an integrated program of process and technology that bar-codes each medication at a central location and then distributes to automated cabinetry for local storage. Nursing then selects medication and scans each at the bedside for positive verification of the administrated process. Britton was the supporting leader that positioned the supply chain as the key enabler of this clinical initiative. Today, the supply chain at Mercy has a prominent position at the leadership table due to his continued involvement, challenge, and support. 
Work Experience
Britton's career in supply chain stared with Dillard's department stores in the mid 1980s. His responsibilities included department management, store management, merchandising, stock management and other traditional retail-based supply chain activities.   
Britton's career in healthcare supply chain began in 1992, when he became director of material management for Mercy's Oklahoma City hospital. From the beginning, he called upon his past and applied "retail" fundamentals of success in healthcare. His focus on proactive management of customer expectations, rather than responding to issues, quickly won the hearts and minds of customers. His approach was very different from past supply chain leadership efforts at Mercy and soon gained broad support from customers and local leaders. This proactive leadership approach and broad local support helped get him noticed on a ministry-wide scale.
His success in Oklahoma City and a brief stint at a hospital in Kansas City, led ministry leaders at Mercy to ask Britton to move to St. Louis and lead a new corporate effort that would attempt to leverage supply chain operations across the organization. This was taboo ground in that day. The corporate office was just a handful of leaders with very little hospital influence. Operations were very much local; corporate influence was frowned upon and often dismissed as a distraction. Even with the major hurdle of distributed autonomy, Britton was able to organize the local supply chain leaders in a way that did not threaten their autonomy but help amplify their successes and spread them across the organization. Once the local leaders saw that Britton's sincere goal was to amplify customer service, improve operations and provide recognition where it was due, they increasingly accepted him, and local operations began to see the value of coordinated operations.
During this time, Britton and two other supply chain leaders began to draft a new model for the supply chain. With his proven record, he socialized the concept and gained acceptance to increase organization-wide efforts to optimize the supply chain across Mercy. He organized a team of trusted leaders to implement these concepts, which included a more integrated supply chain that would provide better clinical engagement and product decision making, enhanced service at the unit level, and lower cost than current third-party models. The original supply chain organization created by Britton and his team was called the Resource Optimization Group. With a big plan and a few internal leaders, the group began to source talent and forge relationship that helped launch what is now known as ROi.
Britton was the first president of ROi and served as its leader from 2002 until 2004. ROi core tenants and constructs still guide the organization today and much of the innovation launched via the supply chain have helped Mercy develop an international reputation for keeping ahead of the curve in patient safety and healthcare cost savings. Today, ROi is a thriving operation linking innovation with good medicine by connecting Mercy's supply chain to clinical practices. Much of ROi's continued success can be linked back to the founding vision for supply chain containing four essential dimensions:

Supply chain must tie in and become an essential part of the organizational strategy – Britton worked with Mercy's CEO to assure that the supply chain was playing an instrumental role in unifying Mercy as a system. Britton knew that supply chain touches everyone, everyday and also knew that the CEO had a very fragmented organization; he saw unifying the items master and MMIS across the entire organization as a way of starting the unification of Mercy. It was successful and ensured the supply chain's rightful spot of importance in Mercy strategy. 
Supply chain must get control of the data – when Britton took the leadership role of supply chain he saw that Mercy had eight different MMIS systems and even further fragmentation within the eight. He consolidated to one system and created one of Mercy's first centralized services with a consolidated item file and purchasing department. This concept greatly reduced confusion and allowed Mercy to better negotiate based on the new common knowledge of various prices Mercy was paying for the same items.
Supply Chain must get control of the movement of goods – Britton also started his role with a highly fragmented service platform. Mercy used traditional distributors, but due to the rural nature of many of Mercy's locations, service was poor at best. Britton called on another founding leader of ROi (Mike McCurry) to construct a best-in-class consolidated operations center that would route most of Mercy's supply chain needs through a central location. This consolidated organization allowed Mercy to buy in bulk, generating lower prices, as well as allowed Mercy to get service to every location every day with the vast amount of what they need in one shipment.
Supply Chain must get control of the relationship – Britton knew that business is business but can also be personal, so he focused on proactively managing customer expectations and the general relationship. Too often provider supply chains spend much of their time defending their decision and actions. Britton believed that if you collaboratively define what great service looks like and then execute to that expectation, you will have a foundation for a trusting relationship that will sustain troubles that happen in normal operations. He approved the addition of internal sales reps for ROi that proactively managed customer expectation and helped optimize operations, thereby reducing costs and improving trust.
Named a Mercy senior vice president in 2004, Britton continued to have corporate oversight for supply chain but also had responsibilities for all hospital and clinic operations in the state of Arkansas. Additionally, he led the organization in the selection, design and implementation of a comprehensive electronic health record. Led by Britton, the team installed and trained more than 20,000 physicians and clinical co-workers across Mercy's hospital and clinic settings. Mercy subsequently launched MyMercy, the personal Internet portal to the health record, moving from 7,000 patients accessing their medical record in a pilot phase to 160,000 patients in nine months. Additionally under his leadership, the organization built a $60-million data center in Washington, MO, to support Mercy's clinical and operational functions with 99.9 percent availability across the multi-state service area.
Britton was promoted to president and chief executive officer of Mercy in January 2009.  Mercy today is a $4.5-billion health system, with 38,000 co-workers across a seven-state service area, including Missouri, Kansas, Arkansas, Oklahoma, Texas, Louisiana and Mississippi.
But Britton has never forgotten his roots. He routinely positions ROi prominently in leadership discussions and strategy at Mercy, and two-thirds of his Executive Vice President staff (Mercy's next-highest level) originated in supply chain. Additionally, other leaders from supply chain have been promoted to significant leadership positions within Mercy, and today the supply chain is considered as one of the key exporters of leadership talent for Mercy. 
Professional/Humanitarian Activities
Britton is a nationally respected speaker on many topics in healthcare and often weaves the importance of supply chain into the conversation. Some of his most recent supply chain specific speaking engagements are: SMI (2010), SciQuest National Meeting (2011) and HIMMS (2012).
Britton serves on a number of Boards. He is a member of the board of directors of Christus Health, the 10th largest Catholic health system in the United States. He also serves on the Christus finance and strategy committee and chairs the audit committee. He serves on the board of directors of St. Louis Regional Chamber and Growth Association, the United Way of Greater St. Louis and the St. Louis Science Center. He is a member of Civic Progress.
Britton personally participates in annual community roundtables involving civic, school and business leaders. Since becoming CEO he has attended more than 60 such events and routinely brings other Mercy leaders to the forums so they can hear first-hand how community leaders define health in their community.
Britton and wife Thriess have a special interest in the health of children. Perhaps the best example of that commitment is Mercy's Health Teacher initiative. In 2010 Mercy committed to providing every school, public and private, in our multi-state service area with a K thru 12 health education curriculum. This five-year, multimillion-dollar commitment has been embraced by 178 school districts, 1,405 schools and is on track to reach 1 million kids annually.  =Not satisfied to simply provide the tool for education, Britton has commissioned a multi-year study by a leading, national research firm to determine what impact Health Teacher is having on the health status of our children.
In His Own Words…
What do you think about Bellwether League Inc.'s mission and philosophy and how do you feel about becoming an Honoree?
As someone who was able to personally and professionally grow through supply chain management, I am delighted that the Bellwether League seeks to honor and recognize the critical contributions of healthcare's supply chain and those who manage it effectively.
Conscious that supply chain management is still a young profession, I am honored to have been a part of its first era, and look forward to the great progress the next generation of supply chain managers will make. 
What attracted and motivated you to join the healthcare supply chain management field when you did?
It was clear to me that supply chain management at Mercy was an opportunity to make a significant impact on healthcare delivery, which also impacts the lives of individuals. I was fortunate to be able to contribute to what was already a progressive supply chain within the ministry, and as it grew, I was able to grow with it. 
For what one contribution would you like to be most remembered?
I have never desired to be identified with a single contribution – the goal of my career has always been to make a continual contribution, and that's what good supply chain management requires as well – it's never done.
If you were to encourage people – either outside of healthcare or just out of school – to enter healthcare supply chain management and strive to be a future Bellwether League Inc. Honoree, what would you tell them?
First, I would share with anyone who is interested in this dynamic field to be ready for it. This is an industry in the midst of big, profound changes – but if they want an opportunity, they'll find it here. I would also advise them to lead the change rather than being dragged along with it.
What is the one industry challenge you would like to see solved in your lifetime?
The challenge I would most like to see solved is establishing a sustainable business model that provides right clinical outcomes for America...and sophisticated supply chain management will be critical for that model to succeed. 
How important is effective and innovative supply chain management during tough economic times?
It is critical during tough economic times – but it is also critical during economic booms, so savings can expand care and ministry in new places.
I believe everyone in supply chain management should be actively honing their skills at all times so you can make as big a contribution as possible to the bottom line – which is what we should focus on regardless of economic highs or lows.
In two sentences or less, what defines healthcare supply chain leadership?
Healthcare supply chain leadership is innovative, persuasive and relentless about both quality and efficiency. And by delivering excellence in the supply chain, it fulfills a far greater organizational vision.
If you traveled back in time to when you just started in healthcare, what would you tell yourself?
I would encourage myself to cultivate patience because change can take a long time. I would then promptly ignore myself, convinced change couldn't take that long!