Guy J. Clark (1889-1957)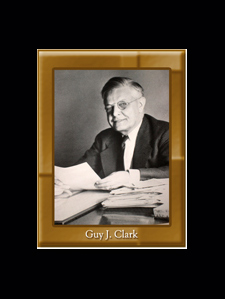 Advancing the Profession/Industry Influence – Challenging the norms, contributing to the thought process, pushing the envelope in terms of moving the profession/industry forward. Examples include serving as a mentor either within his or her individual organization or on a national, regional or local level outside of his or her individual organization; internal inservices for the C-suite on supply management; pioneering new concepts and ideas that may or may not become reality; influencing those up and down the corporate hierarchy on the benefits of and promotion of sound supply management.
Guy J. Clark was the consummate purchasing executive whose commitment and dedication to the industry and profession clearly was evident in his long-standing career that spanned nearly four decades.
Clark's career began in Cleveland's City Hall in the early 19-teens where he served as a purchasing agent for five years for the city of Cleveland. He left for a brief stint in the real estate business before Clark was invited to join the two-year-old Cleveland Hospital Council as CHC's first purchasing agent in 1918. Clark developed CHC's cooperative purchasing service, which developed relationships between the hospitals and vendors, as well as the central organization to which the hospitals belonged. Clark served as the first executive director of CHC's CPS, which also was one of the first in the nation.
From its inception, CHC's cooperative purchasing service for hospitals was regarded as one of the major service activities of the Cleveland City Council and it became one of the largest and most successful local programs of its kind. CHC's CPS affiliated with the Hospital Bureau of Standards and Supplies of New York, recorded as the first group purchasing program in the nation.
The challenge Clark and his new operation faced was that each hospital operated its own purchasing department, which made its own buying decisions for supplies and equipment. Clark had to foster relationships with the hospitals' administrators and purchasing agents alike to participate.
Clark developed policies on specifications and simplifications that involved the "least possible expenses." He provided members with a bulletin service that advised members of new contracts, agreements, price changes and market conditions. During the first decade of its operation (1918-1928), the CHC CPS saw its purchasing volume soar to more than $1 million from nearly $23,000, including nearly $183,000 from non-hospital organizations.
The cooperative purchasing service continued to grow until the Great Depression hit in the 1930s. Hospitals placed severe restrictions on their buying policies with the lowest point recorded in 1933, but resumed growing to a membership of 42 facilities.
In 1926, Clark became CHC's third executive director (technically executive secretary), a post he held for 29 years until his retirement in 1955. His career also included serving as a member of the house of delegates of the American Hospital Association, and a president of the Ohio Hospital Association, and for 14 years a member of OHA's legislative committee.
During his 37-year career at CHC, Clark never forgot his purchasing history and roots, consistently pursuing cost-cutting initiatives and economic efficiency for the central organization and its members, even during his 29 years at the chief executive's desk. He had a penchant for economy and cost cutting to the extent that "staff members would affectionately kid him about his barren office furnished only with an old desk and chair." 
Clark was credited for organizing CHC's purchasing service, developing and implementing uniform cost accounting and common employment and collections procedures to help hospitals operate more efficiently. Through Clark, CHC achieved state and national recognition. CHC, which later became known as the Greater Cleveland Hospital Association and currently The Center for Health Affairs, called Clark "innovative" to the point that it retains many of his innovative procedures. One of his more famous procedures includes the "simple, but effective" "can cutting" technique for purchasing canned food in that "labels are disguised so that they may be rated on quality so that the best adjustment of price may be made."
He affectionately was referred to as Cleveland's "Mr. Hospital," and a champion of health and welfare in the city. "Described as didactic, dedicated and indefatigable, Clark had the capacity of keeping personally involved with the many committees he had established as executive director. During the 1930s and 1940s there was a committee for 'almost everything.'" 

Clark, 68, died of a heart ailment on July 2, 1957.