John H. Clarke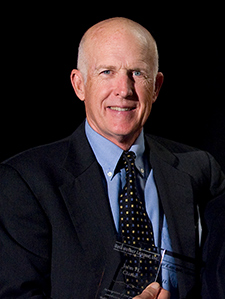 John H. Clarke worked diligently to move the processes supporting military healthcare logistics forward during his years of service in the United States Army. Col. Clarke (Retired) was trained in healthcare logistics at Ft. Sam Houston in the curriculum developed by the Health Services Command.
During his career he served in a variety of positions that gave him the experience and knowledge essential to his appointment to serve as the Senior Medical Systems Program Manager for the Office of the Assistant Secretary of Defense. While Clarke served in that role, he provided leadership to the joint military services that resulted in the development of the Defense Medical Logistics Standard Support (DMLSS) system now used as the logistics management system for all branches of the military for healthcare logistics, effectively merging multiple government systems. DMLSS was an integrated system that replaced 13 Army, Air Force and Navy medical materiel, equipment management and facilities management systems. Earlier in his Army career, Clarke oversaw the development and fielding of the Theater Army Medical Materiel System (TAMMIS) to all Army hospitals and field units to support for the healthcare needs of war fighters on the field of battle – most notably Operation Desert Storm in 1991 and the more recent wars in Iraq and Afghanistan.
Clarke's focus on using automated systems to support logistics activities resulted in enhanced supply chain support for all military healthcare activities and provided reduced costs and enhanced productivity. Many of these capabilities, including property management, biomedical equipment maintenance, facility management and standardized procedures, are now functional capabilities that are handled by other systems in the commercial healthcare environment.   Business process improvements implemented with the automated systems continue to save the Department of Defense approximately $600 million per year. The major business process improvement that Clarke championed was DoD moving to a commercial prime vendor storage and distribution system from a depot-based storage and distribution system, greatly reducing the cost and time for DoD activities to order and receive pharmaceuticals and medical/surgical supplies.
While on active duty and subsequently as a civilian at Science Applications International Corp. (SAIC), Clarke contributed significant guidance and innovation to the military's logistics systems – both for automated systems and the associated operation policies and procedures.  As a result of these contributions, Clarke made a very positive and lasting contribution to the advancement of the healthcare supply chain profession as an advocate for best practices. He retired from SAIC as vice president, medical supply chain solutions.
Work Experience
After retiring from active military service, Clarke joined SAIC as vice president, medical supply chain solutions, to work with the Defense Logistics Agency, the Defense Supply Center in Philadelphia, and other entities as a proponent and strategist/tactician guiding and fostering the use of emerging healthcare data standards, prime vendor support, product standardization and value analysis. He recently retired from SAIC.
Clarke's service to the healthcare supply chain industry spanned more than 40 years of progressive management experience and leadership to first the U.S. Army (29 years), second to the joint military forces while on active duty and subsequent to his retirement as a leader for SAIC's support to military and commercial healthcare supply chain activities (12 years).
Work Performance
Through the military's example as a case study, Clarke worked to synchronize electronic product data throughout the healthcare industry's supply chain, from each manufacturer through to the hospital bedside. His efforts involved establishing an industry-wide product data utility that to synchronize product and packaging information based on a standardized Product Data Synchronization Template. The template was a tool that defined how data is to be presented and shared, including trading partner information, product data components and attributes (e.g., item numbers, classification codes, units of measure and usage, product descriptions, etc.) This work predated and presaged the emphasis on supply chain data standardization that emerged mid-decade during the first decade of the 2000s. 

The end goal of Clarke's efforts – and that of SAIC and the DOD project, was a single federal/commercial repository of medical/surgical item product data, designed to improve patient care and streamline efficiencies throughout the medical/surgical supply chain resulting in billions of dollars of savings. 


Professional Activities
During the later years of Clarke's active career, he supported both AHRMM and HIMSS and spoke at several educational programs on automation and importance of healthcare supply chain data standards.
Data Synchronization for Materials Management - AHRMM Annual Conference Nashville 2004
Data Synchronization Benefits Hospitals and Their Trading Partners - AHRMM Annual Conference
Healthcare Coalition Launches Phase Two of Industry Product Data Synchronization Initiative
The Product Data Utility in Healthcare - AHRMM Annual Conference August 2007
Led pilot program involving 3M Health Care, Defense Supply Center, Philadelphia, Owens & Minor and Allegiance