Autry O.V. "Pete" DeBusk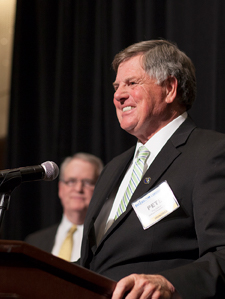 Leading-edge, pioneering accomplishments befitting a Hall of Fame-level career:
Autry "Pete" DeBusk's pioneering spirit is the sole reason DeRoyal Industries exists today. As a salesman in the early 1970s DeBusk's visionary ideals cut through outdated problems in the medical industry with solutions to patients wearing lower leg casts and better hygienic materials for bracing. The cast boot eliminated the rubber peg from the heel of the cast and promoted more natural gait. Early on in DeRoyal's innovation timeline it was the first privately held medical device company to implement a bar-coding system on medical products. This was an industry-level contribution that would organize valuable information and make products traceable across the entire supply chain landscape.
DeBusk's contributions to the longevity of his company are exemplified in his passion to create breadth and depth for the organization. DeRoyal was founded with products as solutions but has evolved to offer a higher level of service with systems to address healthcare costs firmly rooted on successful product innovation.
Innovative thinking that contributed to the advancement of the profession
In the early 1990s as laparoscopic surgeries increased, DeBusk was positioned to be a part of the leading edge of the medical world with his Trace Cart product, a custom tray for surgeries that also functioned as its own disposable waste management container. This helped hospitals gain some efficiencies in the operating room and in post-surgery, which helped them save time and money. In 2000, Duke University's Department of Surgery presented DeBusk with a recognition of excellence for "his original contributions to orthopedic surgery and his immeasurable humanitarian efforts."
DeRoyal counts as its most important return on investment how it is making a difference in improving care and business for its customers. On any given day one million DeRoyal products touch patients daily in 70 countries.
Demonstrated ethical standards and integrity:
DeBusk not only saw improvements to be made to a variety of medical products in the early 1970s he also recognized in the early 1990s larger-scale improvements needed to be made at the government level with national healthcare. Consequently, he joined Med Pac (Medicare Payment Advisory Committee) because he was moved to show the government that it needed to improve access to medical technologies that would provide more cost-effective alternatives to current treatments.
DeBusk is proud of his Appalachian heritage and has always kept his eye on his beginnings. Education is important to him, and he feels it can be the best way to help people philanthropically. Lincoln Memorial University and the Appalachian region have been tremendously impacted by DeBusk's personal hands-on attention during the last decade. After 10 years of DeBusk's support, Lincoln's Doctorate of Osteopathic Medicine program has graduated more than 600 students, and has developed a Nurse Practitioner program, various Master of Science programs and most recently a Doctorate of Veterinary Medicine. The economic impact to the local community as well as the communities that these graduates eventually reside has been vast.
Hallmarks of leadership:
DeBusk founded DeRoyal in August 1973 and is currently operating as Owner and Chairman. In the company's humble beginning and for many years after, DeBusk wore many hats to educate himself, network and build the supply chain infrastructure necessary to shape DeRoyal into a global company. His long-time hero and mentor had been W. Edwards Deming, Ph.D., who was a pioneer in efficient supply chain and manufacturing quality. Dr. Deming is regarded as having had more impact on Japanese manufacturing and business than any other individual outside of Japanese heritage. DeBusk made Deming's 14-point management system the foundation of DeRoyal's supply chain and manufacturing processes that it still adheres to today. Also, many of DeRoyal's processes have been and continue to be vertically integrated, which has allowed DeBusk to be able to control and manage many of them including, sterile processing, distribution, inventory management and value analysis.
He easily could have rested on the successes and foundations that DeRoyal had achieved. Yet this "global company with a hometown feel" from Powell, TN, stepped up to take on industry issues in an effort to make things better on a national level via the MedPac (Medicare Payment Advisory Committee).
Focus on mentoring:
DeBusk's mentoring activities extend beyond his workplace into his community. Currently his son, Brian DeBusk, Ph.D, M.B.A., serves as CEO of DeRoyal and has developed several medical products that are commonly used in hospitals throughout the country. The President and COO, Bill Pittman, just celebrated his 30th year with the company and would describe his professional career as being groomed and molded by DeBusk's influence. In the community DeBusk founded the Halls/Powell Boys & Girls Club and was the 2015 Gift of Hope Recipient. Common themes permeate DeBusk's own biography. Many personal and professional achievements and participation demonstrate his heartfelt concern and attention to the community where he grew up and continues to reside.
Professional influence and advocacy:
It is without question that Pete DeBusk meets and exceeds the requirements of the Bellwether League award and would be proud to be a part of the group of previous honorees.
DeBusk has advocated for the healthcare supply chain in multiple ways, including the MedPac participation. In 2001 he earned the U.S. government's Hammer Award established during the Clinton-Gore Administration and designed to make the federal government less expensive and more efficient by changing the culture of bureaucracy. Hospitals can suffer similar challenges that can bog down their supply chain processes. DeRoyal was one of two initial companies to develop custom procedure trays (CPTs) that save time during surgical procedures and considerably simplify the logistics process. In fact, studies have shown that CPT use can reduce time expenditure in the operating room process by 40 percent. This time savings covers the spectrum from ordering materials all the way through waste removal.
DeRoyal has been privately held for more than 40 years and has been awarded close to 100 patents. Many of the patents are awarded to DeBusk, and over the years his work has inspired others within the company to be awarded patents. He is most proud that his influence has inspired cross-departmental collaboration in developing patents.
In His Own Words…
What do you think about Bellwether League Inc.'s mission and philosophy and how do you feel about becoming an Honoree?
There are key people in this organization that are very focused on advancing the profession. I feel it's a great honor to be selected.
What attracted and motivated you to join the healthcare supply chain management field when you did?
I wanted to be a contributor of the industry that is trying to keep up and give direction.
For what one contribution would you like to be most remembered?
The invention of new products.
If you were to encourage people – either outside of healthcare or just out of school – to enter healthcare supply chain management and strive to be a future Bellwether League Inc. Honoree, what would you tell them?
Technology is going to grow. These jobs are going to get more sophisticated and in greater demand.
What is the one industry challenge you would like to see solved in your lifetime?
Supply chain balance.
How important is effective and innovative supply chain management during tough economic times?
You have to be grounded.
In two sentences or less, what defines healthcare supply chain leadership?
Having the ability to understand the government regulations and the direction insurance companies are headed.
If you traveled back in time to when you just started in healthcare what would you tell yourself?
I would tell myself to be more focused on implementation.