James F. Dickow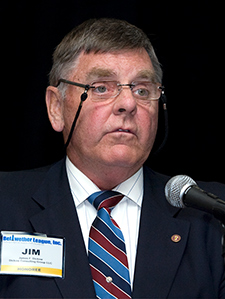 Advancing the Profession through Performance
James F. Dickow, CMC, has been a pioneer and major contributor to advancing the art, and especially the science, of healthcare supply chain. His professional training in engineering allowed him to apply that scientific process to the many aspects of the supply chain, to virtually every segment: Hospitals, IDNs, suppliers, GPOs. He successfully worked with more than 700 healthcare clients during his 45-year career.
His top contributions to hospital operations include:
applying queuing theory to determine the number of dock positions and total space for receiving docks in some of the most complicated hospital building projects in the U.S.
using simulation models and analysis in sterile processing to analyze throughput and determine the amount of automated cleaning and sterilizing equipment
using multi-variable (inventory turns, SKU picks and replenishment activity, variety of shelving configurations and types, etc.) to determine the appropriate size, configuration and layout for hospital storerooms and distribution center layouts
Dickow used the same quantitative analysis tools to demonstrate (prove) to executives, managers, clinicians and physicians how new supply chain models and physical configurations would work, and how effective and efficient they would be. This occurred during both building projects and operations improvement engagements.
Dickow mentored many consultants that joined his consulting team and many client supply chain leaders, sharing how what they already knew could best help clients. He taught them the analytical tools he used so they could apply them when he was not available. In addition to this one-on-one work, Dickow wrote articles, presented at education conferences and contributed to books on supply chain management as applied to the hospital environment. He also served as an instructor at Washington University in St. Louis.
In all his operations improvement and facility planning consulting, Dickow maintained quality of outcomes as the No. 1 priority. He recognized that clinicians and physicians need to have complete confidence (as demonstrated in performance) in the supply chain to provide the quality of care needed. He also developed metrics in supply chain operations that tracked qualitative and quantitative performance. He constantly sought to find the most cost effective operating model or physical design.
Dickow was a co-founder of Kowalski-Dickow Associates (KDA) in the early 1980s. He was on its Board of Directors and helped develop and execute the strategy for that firm. Later, he led the re-building of the supply chain consulting services provided by Lerch Bates. On all client engagements, Dickow was either the leader or was a key member of hundreds of client committees, made up of large numbers of hospital managers and staff.
With his relentless efforts to find and implement the models of supply chain management that would reduce the total cost, while not sacrificing the quality of care, Dickow helped many clients save millions of dollars on construction costs or related capital equipment, as well as reduce supply spending, inventory levels and clinician time spent on supply chain-related tasks. He enabled clients to use both the time and the dollars savings to either improve quality, margins or redeploy those resources to other needs.  
Dickow's career in supply chain management spans more than 35 years. He worked in management positions for national, regional and local hospital product distributors. He was a leader of two national healthcare supply consulting firms. He also worked as an engineer with McDonnell Douglas, helping simulate astronaut link-ups with the space station.
In these positions, Dickow's work was stellar. He used his analytical skills to convince his company and clients that alternatives could work and bring benefit. He challenged the status quo and backed it up with analysis.
Dickow's contributions to his community and other organizations are extensive. He has been a volunteer leader for many years, for a variety of organizations with his alma mater – Purdue University, and his fraternity. Jim has been an active member in many supply chain professional societies, both healthcare-focused (AHRMM) and non-healthcare. He also was a founding member of the Board of Directors of the Bellwether League Inc.
In His Own Words…
What do you think about Bellwether League Inc.'s mission and philosophy and how do you feel about becoming an Honoree?
I am truly honored and humbled by the recognition. BLI's mission and philosophy provide clear pathways for individuals to affect meaningful improvements to the Supply Chain process in the healthcare industry, as well as be recognized for their accomplishments.
What attracted and motivated you to join the healthcare supply chain management field when you did?
I was looking for an opportunity to make a significant impact on the Logistics field in an evolving industry. Joining the Healthcare Supply Distribution field provided the bridge to being able to also affect the healthcare provider.
For what one contribution would you like to be most remembered?
Assisting industry leaders recognize the importance and impact of Supply Chain Management to the performance of their organizations – financial, patient care, service, employee satisfaction, etc.  Being a mentor/advisor to and collaborator with key leaders of the healthcare industry is a legacy and treasure that I cherish.   
If you were to encourage people – either outside of healthcare or just out of school – to enter healthcare supply chain management and strive to be a future Bellwether League Inc. Honoree, what would you tell them?
Both the healthcare industry, and Supply Chain Management field are on the verge of becoming an even more important and relevant part of our society. Improvements in functionality and economics will provide significant personal challenges and rewards in the future. The opportunity and horizon are limitless, providing significant personal satisfaction and reward. GO FOR IT. 
What is the one industry challenge you would like to see solved in your lifetime?
Stop the continual escalation of healthcare costs. As in other industries, healthcare needs to develop an 'attitude' toward developing 'systems' (not necessarily [management information systems]) that provide better/improved quality every year for less cost. The operational aspects of the healthcare Supply Chain need to be managed as they are in other industries.
How important is effective and innovative supply chain management during tough economic times?
Healthcare Supply Chain Management is one of the last horizons to address during tough economic times such as we are traversing today.
In two sentences or less, what defines healthcare supply chain leadership?
Healthcare Supply Chain Management leadership is the process and function by which supply-related products and systems are furnished to the healthcare community.
If you traveled back in time to when you just started in healthcare, what would you tell yourself?
'Keep the faith' and be diligent in achieving the goals and objectives you set for yourself, community and family. Maintain flexibility and adapt to your environment, industry trends, technology, market, financial situation, etc. Change Management is a key attribute to be embraced and cultivated.