Dee Donatelli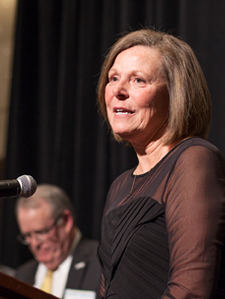 Leading-edge, pioneering accomplishments befitting a Hall of Fame-level career:
Dee Donatelli has worked for the advancement of supply chain management in healthcare for more than four decades. A registered nurse with an MBA, Donatelli is recognized by many healthcare supply chain professionals for her work as a consultant and contributions to advancing value analysis processes, techniques and tools. In fact, throughout her career Donatelli has focused on making value analysis an integral part of supply chain management. She has contributed to more than 50 value analysis programs nationwide through participation, creation or enhancement during her career. This work as culminated in her serving as President of the Association of Healthcare Value Analysis Professionals (AHVAP), a member-elected position. She also has made numerous contributions to industry and trade literature, professional associations and industry meetings. While more commonplace in the industry today, she was one of a small, but growing number of nurses leading a supply chain department back in the 1990s. During the last 20 years, Donatelli has cemented her reputation for building and supporting supply chain initiatives and operations through an innovative and clinically focused approach that includes value analysis. Among her estimated 100 consulting projects completed, Donatelli has established value analysis as a foundational element in this integrated model for clients to achieve anticipated cost-reduction goals.
Innovative thinking that contributed to the advancement of the profession
Donatelli infuses a clinical focus into supply chain management by emphasizing the importance of service to clinical areas and caring for patients. This ultimately manifested itself into value analysis tools and techniques. During her career she has worked with some of the best leaders at prominent healthcare organizations to identify and implement clinically focused supply chain applications. While these efforts largely were performed through value analysis they also included operationally evaluating and establishing enhanced service aspects of supply chain and managing non-salary cost-reduction programs. Donatelli considers herself a "change management" consultant, focusing as much on people as well as processes. She considers her contribution as an extensive guest speaker of advancing these concepts and their application to be one of her longest-standing contributions to the industry.
Donatelli remains proud of her reputation for working successfully with people and organizations to implement change management, demonstrated by her repeat engagements and retention of key accounts. She also has had a number of loyal colleagues and employees that have accompanied her throughout her career. Most notably, she has contributed to or established value analysis capabilities at such organizations as Cap Gemini, Owens & Minor's OMSolutions, Hayes and more recently Navigant as Director of its Healthcare Practice.
Donatelli has served in leading roles – Vice President and President – at AHVAP where she was able to create business collaborations between AHVAP and AHRMM. Through this business partner relationship the two associations worked to create "e-learning" programs for the industry, specifically focused on healthcare value analysis. She also developed healthcare value analysis credentialing through Owens & Minor University, which includes online learning modules, pre-test course materials and formal certification that is scheduled to debut in 2015.
Demonstrated ethical standards and integrity:
Donatelli conducts herself with the utmost integrity and has always been trustworthy and professional in the way she acts in business. She is well-known and highly regarded in the industry for her knowledge and work as a consultant, practitioner and value analysis professional, as well as for her speaking and writing contributions.
Hallmarks of leadership:
Nearly 30 years ago, Donatelli was asked to speak at a supplier's annual meeting. They asked that she speak about the role of a supply chain manager and how they could better work with supply chain. Ironically, that opportunity represented the start of a long line of speaking engagements that typically spanned at least four or five conferences per year. She has been an active member of AHRMM since 1993 where she has served on the national Board as well as the Annual Conference Education Committee, serving as Chair. She also has served in leadership roles at AHVAP. In her local community she has served an eight-year term on the Board of a behavioral health facility. She also serves as Secretary of the Board of Trustees for a faith-based care facility and has chaired the Women's Community Fund, a not-for-profit organization for women in need.
Focus on mentoring:
During her tenure in the hospital industry, Donatelli worked closely with staff to develop themselves into management roles. As she migrated to consulting she has dedicated her career to help facilitate, educate and help others to advance their careers. Many of Donatelli's staff have accompanied her to other new jobs. She also enrolled in AHRMM's mentoring program to serve. She prides herself in helping others grow, be successful and balance their life and work. She is a firm believer in enabling people to advance in their careers and helping them make that happen.
Professional influence and advocacy:
Donatelli contributes quarterly to a monthly column in Healthcare Purchasing News. She has served on HPN's Editorial Advisory Board for a number of years as well. She also writes a quarterly article for the AHVAP newsletter. She frequently is asked to present value analysis topics at conferences as well as to suppliers. She holds CMRP, Fellow and active membership in AHRMM. She has served as the immediate past president of AHVAP. She maintains her nursing licensure and for the past several years has been asked to be a guest lecturer at a local college department of nursing on the topic of the business of nursing and supply chain.
She is a long-term contributor to supply chain management in healthcare. While her interest and passion has focused on value analysis, her consulting experience has focused on all aspects of supply chain. She continually emphasizes how value analysis represents a critical aspect of a well-run supply chain organization that is focused on non-labor expense management activities. Most notable is her pride in developing this as a standard process and not an initiative or project to further its acceptance.
In Her Own Words…
What do you think about Bellwether League Inc.'s mission and philosophy and how do you feel about becoming an Honoree?
The Bellwether League is comprised of individuals whom have dedicated their career to making a difference, not simply doing their job. It is the highest of honors to be inducted into this elite group and recognized by our healthcare supply chain industry for our contributions.
What attracted and motivated you to join the healthcare supply chain management field when you did?
I always knew that I would be a nurse. There was never a moment that I strayed from this goal. I was an intensive care head nurse in my early twenties and recognized I had much to learn about management. Encouraged by a nurse mentor I returned for a Master's degree in business. I soon began to question the level of service being provided to nursing units by supply chain. I was motivated to "make a difference" for nursing and soon found that I was the manager of the supply chain team!
For what one contribution would you like to be most remembered?
I would like to be remembered as the "nurse" who worked to clinically integrate supply chain management.
If you were to encourage people – either outside of healthcare or just out of school – to enter healthcare supply chain management and strive to be a future Bellwether League Inc. Honoree, what would you tell them?
Always strive to make a difference. "If it is worth doing, it is worth doing well." Do the best you can and challenge the status quo. And always be kind and thoughtful of others.
What is the one industry challenge you would like to see solved in your lifetime?
Making healthcare available to all people.
How important is effective and innovative supply chain management during tough economic times?
It is never more important to be effective than during difficult economic times, which is exactly why we need to focus upon continuous process improvements every single day. As a professional consultant I am blessed to help organizations create and implement innovative solutions that will sustain them through challenging times.
In two sentences or less, what defines healthcare supply chain leadership?
Integrity is the essence of a leader's success. Be humble always and in all ways.
If you traveled back in time to when you just started in healthcare what would you tell yourself?
Continue to follow the path laid ahead of you.