Paul V. Farrell, C.P.M. (1915-1997)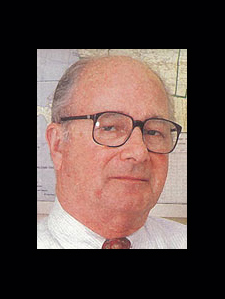 Advancing the Profession/Industry Influence
Paul V. Farrell, C.P.M., dedicated nearly five decades of storied editorial and management service to purchasing activities, including writing, editing, teaching, consulting and participating in various professional development programs, to promote purchasing excellence and performance.
The National Association of Purchasing Management (NAPM), now known as the Institute for Supply Management (ISM) considered Farrell one of the foremost purchasing experts in the nation during the late 1940s-1990s. NAPM awarded Farrell its highest honor, the J. Shipman Award, in 1982. NAPM/ISM still considers Farrell "one of the luminaries of the profession."
Farrell co-authored one of the first textbooks dedicated to purchasing management, "Purchasing: Principles and Applications," that has generated several updated editions and has been used prominently at such educational institutions as Harvard University and Northeastern University, where Dean Ammer, Ph.D., worked. Farrell served as the respected editor of Purchasing magazine, the influential industry journal at the time, PurchasingWorld magazine, and other publications for NAPM.
Farrell saw the need to educate hospital purchasing personnel so he left Purchasing in 170 to launch and publish Health Institution Purchasing magazine, which relied solely on subscriptions – not ads, to operate.
Farrell's early work predated that of Dean Ammer and William McKnight, Bellwether Classes of 2008 and 2009, respectively, but all three were contemporaries.
Work Experience
Paul Farrell served as the editor of various Long Island weekly newspapers from 1938 to 1940, reported for a trade newspaper from 1940 to 1941, was promoted to managing editor from 1941 to 1942.
During World War II, Farrell served in field artillery for the U.S. 3rd Army in England, France and Germany for four years, earning the rank of Captain.
After the War, he returned to editing the trade magazine from 1946 to 1947 and also served as a reporter for The New York Times in 1947.
He joined Purchasing magazine in 1947 as an associate editor, was promoted to managing editor in 1954, and later to executive editor and editor in 1958.
Farrell also assumed the office of editorial director of Conover-Mast Publishing Co. in 1963 and was promoted to vice president of Purchasing's publishing company in 1965.
Farrell resigned from Conover-Mast in 1970 to launch Health Institution Purchasing for healthcare executives, serving as editor and publisher for three years.
He joined the National Association of Purchasing Management (NAPM) in 1974 as director of professional activities. He also became director of publications, serving as editor of theJournal of Purchasing and Materials Management, the National Purchasing Review and Guide to Purchasing.
Farrell authored or co-authored several widely used industry textbooks on supply chain management.
Farrell left NAPM in 1979 to join PurchasingWorld magazine as professional development editor. He was named editor of the publication in 1980.
Farrell retired in the early 1990s and passed away in August 1997.
Work Performance
Paul V. Farrell, C.P.M., earned the J. Shipman Gold Medal Award in 1982 from the National Association of Purchasing Management (NAPM), now known as the Institute for Supply Management (ISM). According to ISM, "the J. Shipman Gold Medal Award was created by the Purchasing Management Association of New York in 1931, and is presented to those individuals whose modest, unselfish, sincere, and persistent efforts have aided the advancement of the supply management field. Those chosen for the award have also assisted and guided members of the supply management profession in their endeavors."
Farrell co-authored the widely used textbook "Purchasing: Principles and Applications," developed two official histories of NAPM titled, "50 Years of Purchasing," and "The First Fifty Years of NAPM."
He served as coordinating editor for the 4th edition of George Aljian's "Purchasing Handbook," authored a section on purchasing in the Encyclopedia of Management, wrote a supplement on reporting to management in NAPM's Guide to Purchasing.
Professional Activities
In addition to Farrell's editorial and educational accomplishments already listed, he lectured and trained extensively in purchasing and other subjects, conducted seminars on purchasing in the United States and in a number of foreign countries, served as chairman of the editorial division of the American Business Press organization, editorial director of the Better Editing magazine, director of the American Society of Business Press Editors, and on the editorial advisory board of the Catholic Hospital Association. Source:PurchasingWorld, June 1982.
Starting in 1965, he served as a director of the Afro-American Purchasing Center Inc., an organization launched with assistance from the U.S. State Department to provide purchasing training for developing nations. Source: PurchasingWorld, June 1982.
He served on the The Commonweal magazine/Commonweal Foundation Board of Directors during the 1980s (he actually wrote book reviews and articles for The Commonweal from 1948-1950, too.
He served on the Oceanside (NY) Free Public Library Board of Directors, 1964-1983.
Key quote during his Shipman Award acceptance speech in 1982: "Purchasing managers who believe in their function and its potential thus have a great opportunity – and much more importantly, an obligation – to participate in long-range planning and decision-making."