Gordon A. Friesen (1909-1992)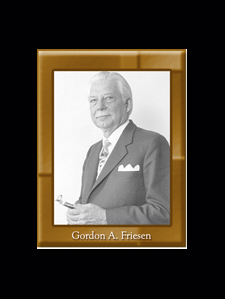 Advancing the Profession/Industry Influence – Challenging the norms, contributing to the thought process, pushing the envelope in terms of moving the profession/industry forward. Examples include serving as a mentor either within his or her individual organization or on a national, regional or local level outside of his or her individual organization; internal inservices for the C-suite on supply management; pioneering new concepts and ideas that may or may not become reality; influencing those up and down the corporate hierarchy on the benefits of and promotion of sound supply management.
Few persons in this century have equaled Gordon Friesen's impact upon hospital design and healthcare supply chain. He can be credited as a pioneer of the hospital consulting industry, one of the first to challenge previously unquestioned health care philosophies.

As early as the mid-1930s, he sensed that the rapidly expanding patchwork hospital betrayed an even deeper confusion within. Going against the grain of hurried, directionless growth, he spoke out in defense of systematic planning for the hospital itself and the care of the patient.
When Friesen entered the healthcare field, the roles of hospitals, medical professionals and technology had become confused. A mass production approach had taken the place of personalized patient care. The professional goal of nurses was to leave the bedside and handle administrative matters. Doctors and administrators, in Friesen's opinion, had extended their influence beyond the scope of their expertise, creating institutions that served their own needs and goals best. To quote Friesen: 
"Most hospitals today are made up of little kingdoms, all ruled by influential staff members. Now, if you ask each of these people what he needs, he'll ask for things which perpetuate his kingdom."
In a career spanning more than 50 years, Friesen envisioned, designed and implemented dozens of hospital projects that redefined and organized the roles of technology and healthcare. He borrowed ideas from many areas, such as hotels, airlines, and industry, to "bring the hospital facility into the 20th century." He foresaw financial crises and built cost-effectiveness into his programs and systems. By shifting the functions and goals of the hospital facility, technology, and the medical profession, Friesen sought to improve the delivery of healthcare for the benefit of all.

Friesen has long been convinced that the professional nurse should be available to the patient 100 percent of the time, which means that everything the nurse needs should be in place at the bedside. In order to implement this philosophy, Friesen advocated removal of the nursing station altogether. "Each patient's room, in effect, should become its own nursing station, containing its own service area and all other appurtenances required for daily patient care."  Friesen "did something" about the professional staff shortage plaguing hospitals, making it possible for nurses to perform their work more efficiently by cutting down their "travel time." He felt this professionalized the major portion of their work and facilitated the organization of the nursing staff into teams – a basic part of his overall plan that has been adopted by nursing administrators the world over.

Another Friesen concept, introduced in many of his healthcare projects, was the Automatic Cart Transportation System (ACTS). The ACTS concept was inspired in collaboration with members of the Scandinavian Engineering Corp., with whom Friesen worked on another project in 1963-1964. The system employed an overhead monorail to deliver supplies from a central location and return contaminated supplies for disposal and reprocessing. The system integrated all of Friesen's previous ideas and methods for handling the supply, processing, and distribution functions of healthcare institutions.
Work Experience – Minimum 10 years of service within the healthcare supply chain (including a hospital or non-acute care facility, manufacturer, distributor, GPO, consulting or service company).
Gordon A. Friesen began his career as a hospital administrator in Canada. Later he formed his own consulting firm, Gordon Friesen International. His firm continued to prosper and grow through the 1970s with its sale to AMI (American Medical International) in 1973. Gordon retired from consulting shortly after the sale, capping 50 years dedicated to the advancement of an improved healthcare supply chain.
Work Performance – Specific accomplishments and achievements in their respective organizations, including expense management measures, committee involvement and management leadership.
To this day, Gordon Friesen is considered to be a visionary who was way ahead of his time. The following are just a few of his innovations that made a mark on how healthcare and healthcare supply chain are delivered:
Space planning standards for hospitals

Use of management engineering principles in hospital planning and operations

Regional hospital planning and "feeder hospitals"
Centralized, or regional shared services for:

Food Services
Laundry
Receiving & Warehousing

Private patient rooms
Dedicated clean and soiled traffic paths in hospitals
The vertical patient tower and diagnostic & treatment platform
Ready Food Service, cook chill and cook freeze food preparation to provide a wide choice of menus. A food galley (meal reconstitution/rethermalization)
Pocket-pagers for nurses – Forerunner of mobile nurse-call systems such as Voicera.
Nursing unit design, based on management engineering principles: 60 to 80 bed floors with 20 bed units or zones.  Zoned nursing concept.  Administrative Control Centers (ACC), Team Conference Centers (TCC), Floor Supply Core (FCC)… staff by a dedicated supply technician (man on the floor), linked with a pager.  Forerunner of decentralized supply technicians.
Team Nursing and Decentralized Nursing Stations (ACC).
"Shelves on Wheels," or Exchange Carts
Automated Cart Transport System (ACTS), overhead monorail system, that evolved into the first hospital robots "Amscars," introduced by the American Sterilizer Co. (AMSCO), later acquired by STERIS Inc. Forerunner of wireless automated guided vehicle systems (AGVS) for hospitals.
Automated washer-sterilizers, co-developed with AMSCO in the 1970s, including introduction of automated conveyor system in SPD.
The term SPD, or "Supply Processing and Distribution", and the introduction centralized support services. SPD was the central hub, or dispatch center for all goods – food, medications, supplies, linens and equipment, as well as the recipient of all soiled goods – trash, soiled linens and instruments and even soiled dishes. If it needs to be clean, why not sterile? The problem in 1970 was that the porcelain dishes cracked after being processed in the washer-sterilizers. Everything went though the washer-sterilizers, including eating utensils, dishes, surgical instruments, bowls, basins and trays!
Professional Activities – Minimum 5 years of active association participation (e.g., office holder, committee chair or contributor, organizing and running meetings, mentoring others) on the national, regional and local level; performed a minimum of two speaking engagements (national, regional, local, facility) and published at least twice (including writing an article or being interviewed by the trade media) during career.
Friesen was associated with educational institutions in the field of healthcare administration and planning was extensive. He served as lecturer at St. Louis University, Columbia University, Cornell University, Xavier University in Cincinnati, the University of Western Ontario and George Washington University in Washington, D.C., from which he received an Honorary Doctor of Laws degree in 1970. Friesen's personal papers are available for research purposes through the National Archives of Canada.