John B. Gaida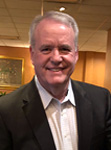 Status: Retired
Career span: 52 years (39 years in healthcare supply chain, 13 years in non-healthcare/retail supply chain
Last title: Senior Vice President, Supply Chain Management, Texas Health Resources
Innovative, leading-edge, pioneering accomplishments befitting a Hall of Fame career:
A number of musical recording artists specializing in various genres applied their own spin to the phrase, "a little bit of this, a little bit of that." And yet, while vocal artists such as Carolyn Dawn Johnson and D-Mob derived some mileage from it, John Gaida built a career around it that spans more than five decades of supply chain service – perhaps longer than both of those above-listed artists ... together … were alive.
The bulk of Gaida's healthcare career started in the leadership trenches of hospital materials management and culminated near the C-suite of health system supply chain management with two brief, year-long detours into consulting and dot-com-dom at the turn of the century/millennium. What did Gaida accomplish and achieve that was noteworthy? Plenty.
Gaida worked closely with Enterprise Systems Inc. (ESI) in the early 1980s in Chicago developing programs to control inventory and input patient charges using computers, such as the early Apple II, Apple III and Macintosh models. Gaida also used bar coding as early as 1981 to track related functions. In fact, bar coding's early days in healthcare largely can be traced to the work of Frank Kilzer (Bellwether Class of 2010), who began implementing it in materials management in the mid-to-late 1970s.
In the 1980s, Gaida set up a very early multi-hospital supply chain system in California at the Alta-Bates Healthcare System that involved a 52,000-square-foot off-site warehouse to supply multiple hospitals. Reaching back to his non-healthcare retail supply chain roots, Gaida actually converted a vacated warehouse, an extremely large one for a provider back then.
In the early 1990s, Gaida developed an advanced supply chain operation to service multiple teaching hospitals in the Boston metropolitan area that centralized functions off-site. The supply chain cost-reduction programs he developed and implemented led to standardized products, services and equipment throughout all of the sites in the integrated delivery network (IDN).
He then launched and developed a supply chain program at a healthcare system in the Dallas/Fort Worth area – one that became a model for numerous other organizations that sent executives to tour the operation. From his first year forward supply costs overall steadily decreased during a 17-year period by $275 million total.
Gaida also co-founded the "Network of Networks" that became Strategic Marketplace Initiative as an educational and research organization to unite providers and suppliers around industry challenges and craft administrative, financial and operational solutions for them that could be replicated at any facility.
Gaida served as a founding Board Member and Officer of the healthcare supply chain industry's first independent not-for-profit leadership-oriented Hall of Fame, Bellwether League Inc.
As an outspoken healthcare supply chain leader, Gaida moved the industry forward through public speaking, professional organization leadership and the creation of several organizations dedicated to performance improvement.
Prior to his healthcare supply chain career, Gaida spent 13 years in the retail supply chain, serving first as a stocker for Walgreens Co. for the initial four years of his career, 1963-1967, and then for JC Penney Co. for nine years, 1969-1978, where he worked in their management program during college and after graduation, managing roughly half of a large mall retail store before joining the healthcare industry.
Focus on mentoring, education, and/or advocacy to advance other supply chain professionals and executives, and the profession as a whole:
Mentoring was special but also paramount to Gaida. In fact, he credits a number of people who have mentored him, singling out with pride Lee Boergadine, Bellwether Class of 2008, as being chief among them. Gaida's career also represents the product of the many individuals with whom he worked and mentored. They include, but are not limited to the following nonet of supply chain leadership executives:

Bill Donato, 1992 AHRMM President and Bellwether Class of 2013
Ed Walera, 1997 AHRMM President
Mary Starr, 1999 AHRMM President and Bellwether League Officer and Board Member
Renee Landry, 2000 AHRMM President
Dee Donatelli, AHRMM Board, AHVAP Officer and Board, Bellwether Class of 2015 and Bellwether League Board Member
Leanne Todisco, AHRMM Board
Becky Daniel, AHRMM Board
Nate Mickish, Future Famers Class of 2015 and Bellwether League Board Member
Shaun Clinton, Senior Vice President, Supply Chain, Texas Health Resources, Gaida's successor
AHRMM

Board Member, two separate terms
President 1986
George Gossett Leadership Award recipient 1992 (Note: Gossett was posthumously elected to the Bellwether Class of 2010)
Lifetime Fellow – second to achieve this status
Gaida produced hundreds of speeches, articles and other educational media examples for all levels of supply chain professionals
He served as a Founding Board Member of Bellwether League, its second Secretary and its second Chairman of the Board of Directors, and now Chairman Emeritus
He also served as a Founding Board Member and Chairman of Strategic Marketplace Initiative (SMI) for manufacturers and providers to come together to solve industry-wide supply chain issues.
Gaida generally applied a particular technique whenever a colleague approached him with an idea, especially if it was going to cost any money. (This anecdote could fit in this category or in the leadership category next.) He would walk his colleague through a very peculiar exercise that went something like this:

Colleague presents an idea and a business case (with a full financial pro forma)
Gaida tears it apart piece by piece
Colleague puts the pieces back together just to show that he's actually thought this one through very carefully
Gaida slowly talks himself into liking the idea…so subtly, in fact, that he actually convinces himself that he came up with it!
Colleague walks away and implements idea…or more accurately, delegates it to someone who implements….thus completing the circle.
Humorous anecdote aside, Gaida played Devil's advocate well enough to benefit his ideating colleague and the organization to boot. He made it his mission to know how deeply you had considered what you were proposing to him and how committed you were to making it successful. If you had thought it through, and he could tell that you were going to make the idea a success, he would never stand in the way – but he also wanted to ensure you didn't do something that would hurt THR, him, or you.
Hallmarks of leadership:
Leadership in Healthcare Organizations
AHRMM (as noted above).
Bellwether League (as noted above).
SMI – Co-Founder, Board Member, Chairman (as noted earlier).
Texas Health Resources – Senior Vice President, Supply Chain Management, he received the CEO's award, called the "CEO Climber Award," in 2010, given to one individual from among 25,000 employees.
He created and led multiple AHRMM chapters.
Throughout his career, Gaida held supply chain leadership positions in four hospitals, three IDNs, a prominent consulting firm and an online-oriented electronic commerce exchange.
Innovation in practice:
Each of the provider organizations where he led supply chain operations recorded high-level results in the areas of cost control and reduction, organizational effectiveness and efficiency and positive national recognition.
His influence helped shape the professional organizations with which he was affiliated/associated to improve their performance and reputation, as well as the professionals and future executives he educated, mentored and trained.
His innovative accomplishments included the standardization and centralization of supply chain operations, including purchasing, inventory management and distribution in consolidated service centers at least a decade before they first became fashionable and prominent as leading edge business achievements.
He also was involved early on in the development, acceptance, adoption and implementation of online-based electronic exchanges for healthcare product and service transactions.
Managing professional relationships and services:
Gaida has worked – in both leadership and participatory roles – with a number of professional organizations, including AHRMM, SMI and BLI (as noted earlier).
He developed strong relationships with suppliers and GPOs that created, developed and maintained a solid reputation within the industry for himself and the organizations with which he and his respective organizations were affiliated/associated (as recorded in his attached CV).
Gaida is one of a minority of supply chain executives that demonstrated to suppliers humility, care and honesty. He genuinely wanted to know what THR could do better to help the supplier and he always provided feedback on what they could do better for THR. Both parties had to win, not just for practical reasons but more so because it was the right thing to do.
Gaida responded to every email promptly, and never saw any task or request as too small for him. While he certainly was a big deal at THR, he never made it about him nor did he allow himself to be above taking caring of the simple things with anyone. This was true with people in the department, outside of the department and outside of the company. He set an excellent example for the rest of the team.
Commitment to ethical and moral standards and integrity:
An executive in a leadership role does not achieve what Gaida has achieved, with others in the industry – providers, suppliers and professional associations, without them recognizing his honesty, integrity, trustworthiness and unflappable ethical principles to carry out his agreed-upon and established roles.
Without exaggeration Gaida practiced the highest of ethical standards in dealing with his employees as well as suppliers.  Perhaps there is no greater example of what it meant to Gaida to be "fair to all" than his unwavering commitment to provide a livable wage, decent working conditions, and a chance to create a better life for oneself for the employees of the North Texas Laundry Co-op, which is partially owned by Texas Health Resources.  Gaida's commitment to this group of people was not often seen by those who worked with him on a regular basis; but as the chairman of the board for the last 13 years, he made sure that these workers were compensated fairly and provided the education they would need to succeed in life. Gaida meant so much to this staff that as a retirement gift, laundry management was able to give Gaida what he always wanted – a six-day week for the laundry – allowing every employee to have every Sunday off with their family.
IN HIS OWN WORDS…
What are your impressions about Bellwether League Inc.'s mission and philosophy, and how do you feel about becoming an Honoree?
As many people know, I was lucky enough to be invited to help create Bellwether League and shape it into what it is today. I knew from the very beginning that it was going to be something special and an organization that I would be proud to be associated with over the years. Now being actually inducted into the League, it takes on a whole new meaning. I am honored to be one of those few individuals who are being recognized for shaping an entire industry. It is humbling just to contemplate. It is truly the capstone of my career!
What attracted and motivated you to get involved in the healthcare supply chain management field when you did?
Those of my generation in Supply Chain never really planned on a career in this field. We all have various stories how we ended up where we did. My story is similar. I spent time in the retail sector – enjoyed it and learned much about business basics. But the future didn't look that bright, so when an associate suggested I look into a healthcare job, I took the risk, and the rest, as they say, is history. The lure of an interesting opportunity and a profession that provided a true benefit to others was appealing – not to mention, I didn't have to work weekends (as in retailing)!
For what one contribution would you like to be most remembered?
By far, the most rewarding thing for me was to seek out, hire and motivate others into this field. I have always been a strong proponent of mentoring. I have been very fortunate to work with a very talented group of folks over the years. Many of those individuals have gone on to very successful and noteworthy careers of their own in healthcare supply chain. Some went on to become AHRMM Presidents and a few have even been inducted into Bellwether League already!
If you were to encourage someone – either outside of healthcare or just out of school – to enter healthcare supply chain management and strive to be a future Bellwether League Honoree, what would you tell him or her?
I would say the field of healthcare supply chain is still wide open for individuals to be successful. Someone who is willing to work hard, do the basics well, and collaborate with clinicians and physicians can make a significant difference. While the profession has made great strides, there is still much to do to reduce healthcare costs and provide creative solutions to this important segment of patient care. As has always been the case, there is no one solution or answer to the complex puzzle of controlling the resources of an organization to effect a better way to support patient care in our healthcare systems across the country. It has always been a challenge, and I don't see that ever changing!
What is the one industry challenge you would like to see solved during your lifetime?
While I understand it is inherently human nature to have preferences, surgeon preference for many of those implantables on the market today goes beyond reason. It has always been a struggle for the supply chain profession to break through those barriers to reducing cost. Some have been marginally successful in their endeavor, but as an industry, unexplainable brand loyalty has been a significant roadblock in reducing healthcare costs – all without improvements in patient outcomes. It has been a struggle for the industry to create a system that accurately and without bias enables a fair and consistent way of measuring outcomes by product. It would be a significant achievement to see much of this brand preference dismantled.
What do you feel are some of the things that the healthcare supply chain does that's right – for the patient, for the organization and for the profession… and why?
I would say that most of the profession is truly interested in supplying those products, equipment and services to their clinical counterparts that improve patient care. They understand they are on the support side of the business and strive to fulfill the needs of those they serve. It has gone from (in the early days) of "just don't run out," to anticipating what is needed when/where and in the right quantities at the best price. The profession has had to support the new and various segments of patient care – in settings way outside the acute market – this will continue to evolve over time and be an ever-increasing challenge for supply chain.
In two sentences or less, what defines healthcare supply chain leadership?
Any profession thrives with talented leadership that is hard working and creative, Supply Chain Leadership must be that and more. The ability to serve many masters, be a top-notch negotiator, love what you do and show it, as well as mentoring up-and-coming staff, is a combination of talents that is not only hard to find, but even more difficult to retain.
If you traveled back in time to when you started in healthcare what would you tell yourself?
Be more aggressive! Some would say I was pretty darn aggressive in my career, but I'd say not enough! Challenging the status quo, pushing the envelope for change, and confronting physician/surgeon preference are just a few things that come to mind, as any person gets more confident in what they do and their abilities. But doing so earlier in a person's career (obviously with finesse), would accelerate positive change along the way and yield greater success.