Kathleen Garvin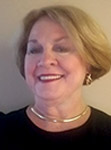 Status: Retired
Career span: 25 years

Last title: Chief, Systems Innovation and Integration Office for the Medical Supply Chain, Defense Logistics Agency, U.S. Department of Defense, Philadelphia, PA, and Program Manager for the Department of Defense (DoD)/Department of Veterans Affairs (VA) Joint Incentive Funded Data Synchronization Program
Innovative, leading-edge, pioneering accomplishments befitting a Hall of Fame career:
Kathleen Garvin led the charge in data standardization for the DoD Logistics Agency's efforts for Medical Supplies and Equipment. She evangelized the use of data standards in the healthcare industry and promoted universal product code use on medical/surgical supplies.
Garvin worked across the industry with group purchasing organizations (GPOs), manufacturers and providers to promote the advantages of data standards and painted a vision of what and how things could be. This was a brand new idea at the time. Things like universal product codes were not yet in the popular lexicon within the healthcare supply chain at the turn of the millennium.
Garvin envisioned a product data utility that would improve supply chain visibility and generate savings and efficiencies that data synchronization brought to many other industries, including the grocery and retail sectors. Her efforts yielded $100 million-$150 million in supply savings.
Focus on mentoring, education, and/or advocacy to advance other supply chain professionals and executives, and the profession as a whole:
Garvin created the "stump speech" for data synchronization efforts across the industry. She tirelessly educated government agencies including the FDA. She also has given numerous presentations for GS1 and AHRMM including:

Data Synchronization for Materials Management, AHRMM Annual Conference, Nashville 2004

Data Synchronization Benefits Hospitals and Their Trading Partners, AHRMM Annual Conference.

The Product Data Utility in Healthcare, AHRMM Annual Conference, August 2007 Kathleen Garvin, Program Manager, DOD/VA Data Sync & DMLSS-W, Defense Supply Center, Philadelphia, PA, and John Clarke (Bellwether Class of 2012), Vice President, SAIC
US Medicine - the Voice of Federal Medicine - Kathleen Garvin, "Contributor," DoD and VA Synchronize Product Data, Categorized in, April 2009: One of the challenges the Departments of Defense and Veterans Affairs face when collaborating on a joint initiative is the interoperability of respective data systems.
Video - DoD Roadmap to Data Standards, GS1 Healthcare Conference, Kathleen Garvin, Program Manager, DoD Data Synchronization, U.S. Department of Defense. www.gs1.org/healthcare/news_events/160609/garvin
Demonstrations of leadership:
Garvin served as a key member of the Healthcare Supply Chain Standards Coalition representing the DoD DLA efforts on standardization, and subsequently the GS1 efforts on data standardization. She led the effort to have the DoD document impacts of Data Standardization for the military.
Garvin worked at a time where women were in the minority and very few were in leadership roles – particularly in the healthcare supply chain, combined with information technology. The challenge was compounded by the fact that she was working within an organizational structure that was bound by Federal regulations that promoted and rewarded stability as opposed to diving change.  In spite of traditional boundaries, she reached out and forged relationships with the Veteran's Administration in an area where she was challenged with resistance driven by the natural resistance to change and pride of autonomy.
Garvin justified and secured funding for the data synchronization projects for the DoD and VA unthwarted by the traditional autonomy among departments and agencies internally.  The goal was to optimize supply chain spend and realize savings.
She maintained extensive professional relationships with the senior healthcare industry supply chain representatives spanning manufacturers, distributors, hospitals, group purchasing organizations (GPOs), integrated delivery networks (IDNs) and software providers. She also contributed to several healthcare industry standards boards that promote the centralized industry-wide standardization and synchronization of product data and the use of global standards.
Garvin was a recognized expert and leader within the healthcare industry regarding standardization of product data. She frequently collaborated with other federal agencies on this project including VA, Food and Drug Administration, Health and Human Services and DoD Medical Logistics Enterprise. She led a DoD-sponsored proof of principle for the healthcare industry, a forum to practice, learn, discuss, and implement processes to utilize standard data. Garvin personally collaborated with principals at Novation, Premier, Health Information and Management Systems Society (HIMSS), GHX and CHES. Her weekly teleconference drew dozens of participants from all parts of the supply chain, including Lawson and other software providers. She also contributed to the publication of numerous articles for healthcare journals and a white paper addressing the criticality of clean data in the healthcare industry. She conducted dozens of briefings at healthcare and IT conferences and meetings promoting and educating the healthcare workforce data standards principles for healthcare, including two FDA public hearings on Unique Device Identification (UDI) for medical devices. 
Innovation in practice:
Because there was no one else in the DoD advocating for this technology and process change, Garvin blazed the trail and helped the DoD appreciate and realize the vision. It was an exciting, but challenging time to push change.
Garvin served as Chief, Systems Innovation and Integration Office for the Medical Supply Chain, Defense Logistics Agency. She administered all local medical systems, including interface with corporate enterprise logistics systems supporting $4.6 billion in annual sales. Her responsibilities included managing the activities of approximately 100 contractor and government information technology (IT) professionals engaged in visioning, developing and implementing business and industrial medical systems that integrate with retail military services hospital systems and industry healthcare delivery systems worldwide.
As the recognized technical systems expert for business and industrial systems affecting medical logistics functions, Garvin served as the advisor, consultant and trusted agent to the Director, Medical Supply Chain, and was the liaison/spokesperson with private industry, the military services, other medical customers, DoD, DLA, and other federal agencies. She administered the strategic planning process for the Medical Supply Chain engaging with management on a long term visioning of the business and how IT can best be leveraged to optimize that process. 
As Program Manager for the Department of Defense (DoD)/Department of Veterans Affairs (VA) Joint Incentive Funded Data Synchronization Program, a high-visibility, award-winning collaboration to standardize and synchronize healthcare product data. Garvin led the program to produce a system that reduced unnecessary costs and optimized logistic support operations in the federal healthcare supply chain. The effort generated more $50 million in documented savings and results that positively impacted the entire U.S. healthcare industry. Utilizing Innovative technology and state-of-the-art tools, Garvin's team developed the software and a robust data engine called the Product Data Bank (PDB), which turns vast amounts of data into useful, powerful and actionable information. The PDB operates in a Net-centric environment utilizing more than 75 Web services that bring a wealth of functional tools to the desktops of DoD and VA users.
Garvin planned, programmed, budgeted and executed the Defense Medical Logistics Support Systems-Wholesale (DMLSS-W) Program, a suite of software applications that enable commercial, e-commerce business practices of Prime Vendor support within the DLA operating environment. The program includes robust cataloging and pricing applications that allow exchange of critical product and pricing data between trading partners. A Web-based ordering tool, ECAT, grew from inception of about $2 million in sales to $200 million during a 10-year period and enabled system to system purchasing support for lab, dental, optical and equipment items. 
She also served as the Program Manager for DMLSS-W where she managed, developed, and implemented the 7-year, $57-million software development program in coordination with the DoD Executive Program Manager. Program Management responsibilities encompassed Life Cycle Configuration Management, including managing and measuring contractor performance, cost and schedule management, metrics, program risk management, developing, managing and tracing customer requirements, development of a software plan, defining and controlling interfaces both within and exterior to the DMLSS environment, testing, and technical software reviews including System Requirements Review (SSR), Preliminary Design Review (PDR) and Critical Design Review (CDR). 
Managing professional relationships and services:
Garvin advocated for a better future for healthcare supply chain logistics and pushed to improve upon the status quo. This was personally challenging in an organization that promoted traditional approaches and stability.
She focused on collecting, cleansing, arraying, synchronizing and mining logistics data to develop actionable business intelligence and use it proactively to anticipate and meet customer requirements. Along the way she collaborated with a myriad of major commercial enterprises, including, major medical material distributors, manufacturers, group purchasing organizations (GPOs) and data management companies in a series of joint initiatives to develop and use common product classification constructs and identifiers to optimize medical logistics operations. She also participated in a series of professional business management and development opportunities at the Office of the Secretary of Defense and the University of Pennsylvania.
She launched the DOD data synchronization program in 2003 to improve supply chain, reduce costs and ultimately to better support the warfighter. The VA joined the efforts through the DoD/VA Joint Incentive Funding for which Kathy lobbied heavily. 
Commitment to ethical and moral standards and integrity:
Garvin remained steadfast and firmly rooted in fairness and moving forward to do the right thing.  She was determined woman that came up in a traditionally male Department of Defense environment.  She paved the way for women to come in to leadership roles and equality in having a voice at the table.  She was driven by her cause, led through example and drove actions that moved things forward. Her efforts earned her numerous awards and recognition, including the highly regarded DLA Meritorious Civilian Service Award, the Business Alliance Award and the Government Technology and Leadership award, as well as a Hall of Fame induction into the Bellwether Class of 2020.
IN HER OWN WORDS…
What are your impressions about Bellwether League Inc.'s mission and philosophy, and how do you feel about becoming an Honoree?
I am thoroughly impressed with Bellwether League's mission and find its philosophy of recognizing excellence and accomplishments in the healthcare supply arena refreshing. I am humbled, and frankly surprised, at being designated a Bellwether honoree. It's something I will treasure for the rest of my life. I sincerely hope that my story and recognition will inspire future generations of women to use their God-given talents to make improvements when and where they can. 
What attracted and motivated you to get involved in the healthcare supply chain management field when you did?
Throughout my involvement with healthcare supply, I never forget that the material we delivered saves lives and relieved human suffering. 
For what one contribution would you like to be most remembered?
I feel my best contribution was improving on the ability of healthcare logisticians to identify medical/surgical items so they could accurately compare produces and make a best value procurement decision. It's such a simple concept that generates enormous savings, while promoting the healthy competition necessary to improve the production and distribution medical material.
If you were to encourage someone – either outside of healthcare or just out of school – to enter healthcare supply chain management and strive to be a future Bellwether League Honoree, what would you tell him or her?
I would tell him or her the truth. If you want a personally and professionally rewarding career, take a hard look at healthcare supply chain management. Short of being a clinician, there is no better way to help your fellow human being stay or get well.
What is the one industry challenge you would like to see solved during your lifetime?
I would like to see the U.S. healthcare industry manufacturers produce more products in the U.S. and reduce the country's reliance on foreign sources. I think it would be better for the industry as well as the country from my view of the COVID-19 supply chain.   
What do you feel are some of the things that the healthcare supply chain does that's right – for the patient, for the organization and for the profession … and why?
No country innovates like the United States. We are a nation driven to explore and try new concepts. That's our primary export…new ideas. Our innovations improve lives and generate the resources necessary fund the industry and attract the professionals necessary to operate it.
In two sentences or less, what defines healthcare supply chain leadership?
How about two words…innovation and persistence. 
If you traveled back in time to when you started in healthcare what would you tell yourself?
I would tell myself not to change a thing about my career decisions and approach. I'm not sure I could have done better than I did. I had the opportunity to work for and learn from many wonderful people and helped other wonderful people in the process.