Donald E. Greenslade (1934-2013)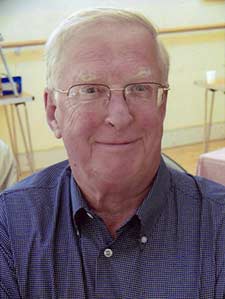 Donald E. Greenslade demonstrated a long and solid record of successful supply chain management in both the United Kingdom and the United States. Greenslade started work in the United Kingdom National Health Service after leaving school in 1951, and apart from a two-year term in the British army, he dedicated his entire professional life to the healthcare supply chain profession. He joined the United Kingdom National Health Service only three years after it was created. Throughout his career, which spans 50 years, he was at the forefront of change in all aspects of procurement and inventory control.
Greenslade transitioned his long record of accomplishments with the National Health Services to consulting expertise in the United States. He not only had the intellect to design enhancements in current systems, or in many cases, redesign the current systems, but also the ability to communicate his plans and mentor individuals to make sure the interventions were effectively implemented.
Greenslade was a frequent attendee at the AHRMM annual conferences where he served as faculty to share his vast supply chain knowledge with others. In addition, he and his wife Margaret have hosted many leaders from AHRMM who attended the United Kingdom Health Care Supplies Association annual meeting.
Greenslade was a man of impeccable ethics and integrity with a strong generosity of spirit. He openly shared his knowledge with his colleagues at the National Health Service, his clients on his consulting projects in the United States, United Kingdom and Canada and his colleagues at AHRMM conferences. His colleagues at the United Kingdom Health Care Supplies Association awarded him the Lifetime Achievement Award, the first individual to be so honored. The UK HCSA now is known as the National Association of Health Care Supplies Managers
Advancing the Profession through Performance
Greenslade created the first regional purchasing, storage and distribution center (United Kingdom).  In his posts in Northamptonshire (1973) and Mersey (1978) he led the way in creating and implementing initially the first Area Stores and Distribution Centre and then the first Regional Stores and Distribution in the United Kingdom.
As Regional Commercial Manager for Wessex Regional Health Authority he was responsible for the provision of total purchasing, logistics and materials management service to 147 hospitals with a combined annual purchasing expenditure in excess of $500 million.
Redesigned New Jersey's public procurement system (health, environment, works, harbors, airport, police, etc.) and project managing the implementation of the new centralized purchasing and logistics system (1993). 
Planned and implemented an off-site warehouse to enhance service levels and reduce costs for a large California medical center. These efforts included weekly meetings with senior management, mentoring the Director of Materials Management and his staff, and regular meetings with customer departments. 
Redesigned and implemented distribution systems to enhance service levels (i.e., fill rates) and minimize labor resource requirements at major medical centers.  These activities included developing a product locator system to reduce cycle time in requisition fills as well as mentoring staff on the usage of the new systems, working with customer departments to explain the changes and enlist support, and regular meetings with senior management to communicate progress towards these goals.  These activities occurred in the United Kingdom, Canada and the United States.
Negotiated United Kingdom Contracts for range of commodities as a "National Centre of Responsibility"
Oversaw contract negotiation with proven savings at the time to the equivalent of $70 million.
Introduced inventory control and materials management across groups of hospitals in the United Kingdom, Canada and United States
Introduced concepts of "value for money" instead of "cheapest" across groups of hospitals in United Kingdom
Work Experience
Sandhill Park  Hospital, Taunton, Somerset, England (1951-1952)
National Service, British Army  (time of Korean War, 1952-1954)
Sandhill Park and Musgrove Park Hospitals, Taunton, Somerset, England (1952 – 1967)

Various posts finishing as Deputy Supplies Officer

Stevenage Hospitals, Hertfordshire, England (1967-1969)
Somerset Area Health Authority, Somerset, England (1969-1972)

Assistant Area Supplies Officer

Northamptonshire Area Health Authority, Northampton, England (1972-1976)
Mersey Regional Health Authority, Liverpool, England (1976-1984)

Regional Supplies Officer

Wessex Regional Health Authority, Winchester, England (1984-1991)

Regional Commercial Manager

Don Greenslade Associates (1991-2000)
Patrick E. Carroll & Associates, Inc, Cypress, CA (1991- 2013)
Professional/Humanitarian Activities
Fellow of the Chartered Institute of Purchasing and Supply
Member of the Institute of Materials Management
United Kingdom Health Care Supplies Association (1976-2006)

President (1982-1984)
Conference Organizer (1988-2002)
Association Services Contract Coordinator 2002 to 2005
Lifetime Achievement Award, counterpart to AHRMM's Gossett Award (2008)
Speaker at National and Local Conferences (1976-2006)

Chairman of United Kingdom Working Party on Stores Rationalization Program
Association of Healthcare Resource and Materials Management

Speaker at National and Local Conferences

Tutor at United Kingdom's National Health Service, National Procurement Development Program (one week residential course) acting as mentor to many candidates over fifteen year period
Provided advice and mentoring support to regional staff in his posts in Mersey and Wessex and to local staff in his post in Northampton
Presentations
Association of Healthcare Resource and Materials Management, Annual Conference, 1989
Virginia Society of Healthcare Resource and Materials Management, 1988
United Kingdom Health Care Supplies Association, speaker at National and local conferences
Wrote papers and interviewed on healthcare procurement many times over the years.
In His Own Words
(as shared posthumously by wife Margaret Greenslade and his colleague John Smith, Director, JJS Healthcare Developments Ltd.)…
What do you think about Bellwether League Inc.'s mission and philosophy and how do you feel about becoming an Honoree?
Don would have thought it a great honour to become an Honoree of the Bellwether League, particularly as the first from outside North America. He would have been fully supportive of the Bellwether mission and philosophy.
What attracted and motivated you to join the healthcare supply chain management field when you did?
Don always had an interest in the philosophy of the supply chain, and when the opportunity arose to join the Supplies Service of the National Health Service, he jumped at the opportunity.
For what one contribution would you like to be most remembered?
Don was proud of all of his many achievements, but the one of which he would most like to have been remembered is for the setting up of the first Regional Supplies and Distribution Centre in Liverpool, Mersey Region.
If you were to encourage people – either outside of healthcare or just out of school – to enter healthcare supply chain management and strive to be a future Bellwether League Inc. Honoree, what would you tell them?
Don is likely to have said, "You might not ever get any thanks for your contribution to healthcare as it is always easy to criticize those who have to manage the supply chain. However, it is highly rewarding, so stick with it!"
What is the one industry challenge you would like to see solved in your lifetime?
Don would love to have seen more standardization and less wastage across healthcare in the UK in terms of products used and systems of delivery.
How important is effective and innovative supply chain management during tough economic times?
Don's view would have been that in tough economic times, it is most important to control the bottom line through effective supply chain management.
In two sentences or less, what defines healthcare supply chain leadership?
Don would have said, "It's the ability to keep your head when those around you are losing theirs!"
If you traveled back in time to when you just started in healthcare, what would you tell yourself?
There is no doubt that Don would have said, "There is nothing new in healthcare! When you have been in the healthcare industry for a very long time old practices are always being re-invented and presented as new!"