Winifred Hayes, Ph.D.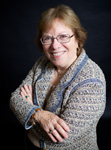 Status: Retired
Career span: 50 years (19 years in healthcare supply chain consulting, 31 years in evidence-based clinical value analysis practice/leadership)
Last title: Founder and CEO Emeritus, Hayes Inc., now a subsidiary of TractManager Inc.
Innovative, leading-edge, pioneering accomplishments befitting a Hall of Fame career:
Dr. Winifred Hayes advocated for and advanced the utilization of clinical evidence in healthcare decision-making within hospitals, health systems, health insurers and health plans at a strategic level, impacting:
Health technology acquisitions,
Reduction in clinical variation through health technology standardizations,
Value analysis methodology,
Utilization protocols and management,
Clinical policies and practices,
Coverage and reimbursement determinations and
Strategic planning.
Examples of these accomplishments include:
Standardization of surgical mesh for inguinal, ventral and incisional hernias based on a review of clinical evidence and reported adverse outcomes, reducing the number of manufacturers and brand products from 24 to 6, defining an evidence-based clinical protocol for the use of biological mesh and reducing costs for a single 700-bed hospital by $500,000 per annum.
Following recognition of less than optimal outcomes following surgery associated with inadequate preoperative screening and preparation, provided evidence-based program evaluation that led to a system-wide ERAS program addressing issues contributing to post-operative problems. These include skin cleansing, anemia screening, anesthesiologist consultation prior to the day of surgery, etc. Evidence demonstrates a reduction in post-op complications.
Provided framework and skills training to value analysis nurses directly and through AHVAP regarding the evaluation of clinical evidence and its application to new clinical product assessments and acquisition and utilization decisions. Of particular relevance is conducting these health technology assessments within the context of the appropriate care bundle. An example that was provided is the clinical and financial value of silver-coated urinary catheters in the prevention of catheter-acquired urinary tract infections and the need to examine this outcome within the context of compliance with established best practices (e.g., sterile catheter insertion, perineal care, appropriate limits on catheter placement duration, etc.).
In part, through the efforts of Dr. Hayes and her organization, value analysis professionals and other clinicians have more consistently incorporated a robust appraisal of the scientific evidence relevant to the impact of a given health technology on clinical, operational and financial outcomes.A few years ago, clinical decisions impacting health technology acquisitions, standardization and utilization were based on preference and opinion; today, these decisions are increasingly informed by the available clinical, research evidence.
Dr. Hayes'accomplishments were achieved through the efforts of the company she founded in 1989, through herself and the Hayes Inc. team of clinicians, researchers and technical staff, working to support supply chain professionals, value analysis specialists and clinical leaders responsible for the selection, utilization and management of the vast array of medical technologies used by clinicians within hospitals, clinics, surgical centers and health systems. Dr. Hayes and her team evaluate the efficacy, safety and comparative effectiveness of drugs, biologics, immunizations, laboratory studies, radiology, genetic tests, devices, implants, medical equipment, procedures, therapies and complementary and alternative medicine. The Hayes Knowledge Center houses more than 3,000 reports with all active content updated annually and more than 100 new, comprehensive, health technology assessment reports published annually. Several hundred additional, abbreviated reports are also published annually.
Focus on mentoring, education, and/or advocacy to advance other supply chain professionals and executives, and the profession as a whole:
Dr. Hayes has served as an advocate, educator and mentor for evidence-based decision-making and practice for over 45 years. She has served as a nursing educator at the University of Maryland, the University of Pennsylvania and Emory University. She is a sought-after speaker at a wide number of professional and trade conferences and educational forums and has served as a consultant, providing guidance regarding the use of evidence in both clinical and supply chain applications. She has been published in both peer-reviewed and trade journals. (See the attached curriculum vitae.)
Hallmarks of leadership:
Dr. Hayes' leadership in healthcare has been demonstrated in a number of ways.
Founder and chief executive officer of two successful healthcare companies recognized widely as market leaders in their niche: Hayes Inc. and Hayes Plus (now IMEDC) , the latter being one of the early independent medical review firms (IROs) required by state statue to manage appeals of insurance companies' coverage denial decisions. Hayes, Inc. health technology assessments are used by more than 80 percent of health insurers and health plans to manage coverage and reimbursement policy development and implementation.
Executive Director/Executive Vice President of an early utilization management company, Quality Health Services, from 1983 to 1989.
Founder and first President of the National Association of Independent Review Organizations (NAIRO); first accreditedIRO in the State of California; one of the first 5 IROs to receive national accreditation.
Director, Treasurer and Executive Committee Member of the Board of URAC, a national healthcare management accreditation organization.
Founder and Director of Friends of Worcester, a not for profit organization dedicated to the preservation of open space and natural and historic resources.
Director, Methacton Education Foundation, a not for profit organization that supports educational and extracurricular programing for students living in the Methacton School District Community.
Regular contributor to educational offerings of AHRMM, AHVAP, IDN Summit, health systems such as Trinity, Memorial Hermann, Centura, MSS, etc.
Innovation in practice:
Through the work of Hayes Inc., Dr. Hayes was a leading contributor to the transformation of coverage policy decision-making in the U.S., including the Hayes Rating, a widely respected and validated scoring system reflecting the strength of evidence supporting the safety and efficacy of a specific health technology for a specific clinical application and patient selection criteria. She spearheaded "rapid evidence review" methodology, streamlining the process while preserving the integrity of these health technology assessments and comparative effectiveness reviews (90 days vs. 12 to 18 months). Her work continues with hospitals and health systems, where Dr. Hayes and her team have introduced a modified and more rapid form of health technology reviews that meet the timeliness needs of value analysis and clinical leadership in those situations where a "deep dive" into the evidence is not necessary. She has also promoted the health technology assessment concept of evaluating clinical benefit within the context of the care bundle/clinical care protocol. One must first assure that best practices are adhered to; a "silver bullet" product may not offer meaningful benefit or be necessary if best practices are adhered to.
Hayes was the first commercial healthcare organization to provide, on a significant scale,  health technology assessments of genetic and genomic tests, introducing its online product in 2007.
Managing professional relationships and services:
The success of Hayes Inc. and Hayes Plus reflect Dr. Hayes' ability to effectively work with and manage internal and external relationships.
Commitment to ethical and moral standards and integrity:
The reputations of Dr. Hayes and of Hayes Inc. are based on the integrity of their work and the fiercely unbiased nature of their assessments. They have always had and continue to follow a policy of not engaging in any custom work for manufacturers, pharmaceutical companies or organizations that would benefit from the sale of a product that she or Hayes Inc. have evaluated. All employees sign a yearly attestation form regarding personal/family relationships or financial interests that might create a conflict of interest. If something like this exists, that individual will never be assigned to evaluate a product for which there is a potential conflict of interest, such as a spouse working for the manufacturer of the product of interest.
IN HER OWN WORDS…
What are your impressions about Bellwether League Inc.'s mission and philosophy, and how do you feel about becoming an Honoree?
My impression of the Bellwether League centers around the organization's and its members' passion for – and dedication to – innovation and performance excellence in supply chain's contribution to cost-effective healthcare, including the reduction of clinical variation and unnecessary costs, and the improvement of  the overall quality of healthcare and clinical outcomes. I am honored to be selected as an Honoree.
What attracted and motivated you to get involved in the healthcare supply chain management field from the clinical value analysis perspective when you did?
I recognized a clear need to make better use of clinical evidence analysis to objectively answer questions about safety, effectiveness, comparative effectiveness and patient indications of health technologies, in support of decisions about health technology acquisition, standardization and utilization. This evidence-based assessment should function as a foundational process for Value Analyses and decisions involving capital equipment, clinician preference items and the appropriate use of health technologies that meet user and patient requirements for the best value. Furthermore, I saw the need to support this form of evidence-based decision-making through the creation of content resources and education. At the time I became involved in the Value Analysis field, resources supporting the process I have described above were not readily available.
For what one contribution would you like to be most remembered?
Effectively driving the use of clinical evidence analysis in the value analysis process and within supply chain management, resulting in measurable improvements in cost-effective healthcare.
If you were to encourage someone – either outside of healthcare or just out of school – to enter healthcare supply chain management or clinical value analysis and strive to be a future Bellwether League Honoree, what would you tell him or her?
The opportunity to make a meaningful difference in healthcare quality and cost effectiveness is significant in this field. The work is challenging and interesting, with opportunities to address a wide variety of clinical needs for the best health technologies to address patients' clinical problems. This career choice allows one to work with a dedicated group of colleagues in an interesting and rewarding field.
What is the one industry challenge you would like to see solved during your lifetime?
Clinicians value and embrace evidence-based practice.
What do you feel are some of the things that the healthcare supply chain does that's right – for the patient, for the organization and for the profession, and why?
1. Consistently asking "why" a health technology is needed now and what is the objective evidence that supports the "why?"
2. Pushing for the less costly health technology when there is weak or absent support for functional superiority of a clinician preference item.
3. Recognizing a need to better manage product utilization and promote the creation of and adherence to evidence-based practice guidelines.
All three of these approaches yield more cost-effective healthcare, improved patient safety, improved clinical outcomes and, many times, an improved patient experience.
In two sentences or less, what defines healthcare supply chain leadership?
An individual who clearly understands, models, and functions in a way that adheres to best practices in supply chain management, dares to innovate, recognizes when change is needed and follows through, surrounds himself/herself with people that  complement the knowledge and skills that he/she perhaps does not pocess  and that embrace a common vision of performance excellence and goal achievement. The successful Supply Chain leader works with diverse internal and external teams collaboratively to fulfill both the teams' and organization's goals and deliverables.
If you traveled back in time to when you started in healthcare what would you tell yourself?
I made the right choice in the career I pursued.