George Y. Hersch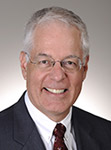 Status: Retired
Career span: 41 years
Last title: Vice President, Supply Chain, Norton Healthcare, Louisville, KY
Innovative, leading-edge, pioneering accomplishments befitting a Hall of Fame career:
In the 1990s, at UCLA Medical Center, George Hersch established one of the earliest system-wide, value analysis/technology assessment programs within the healthcare industry that maintained strong physician leadership and participation, to evaluate and approve high-cost, physician- preference medical supplies. The program achieved annual savings of $1 million at the time. The program is still being used in 2019 as it was originally designed.
Building on the platform of the value analysis program set up at UCLA, Hersch took that and enhanced it for a better fit at Norton Healthcare and to engage physicians and nurses even more.
Hersch also developed one of the first medical products closed formularies.
In the early 1990s, at Franciscan Health System (PA), Hersch designed and implemented pharmacy initiatives saving more than $1.3 million annually at that time through development of a prime wholesaler program, therapeutic interchange, and cost-effective drug delivery methods.
Concurrently, Hersch developed and implemented a corporate supply chain management organization, team, policies and procedures for a merged 13-hospital system that formerly represented a group of independent hospitals.
He co-founded the Catholic Materials Management Alliance (CMMA) with four other Catholic multi-hospitals systems, for leveraging purchasing power through improved committed supply contracts. Those efforts realized additional annual contract savings of $2.5 million.
Focus on mentoring, education, and/or advocacy to advance other supply chain professionals and executives, and the profession as a whole:
Although Hersch is a quiet, low ego person, he was a strong advocate for supply chain management and its principles. He was referred to as a "humble servant" by the trusted colleagues, very professional and highly respected.
Hersch wrote a chapter on Supply Formulary Management in the 80s that was published in one of the books written by Charles Housley (Bellwether Class of 2008). He wrote a handful of other articles for various publications and made regular educational presentations on supply chain-related topics.
In early 2000, Hersch co-founded Rainmakers, a group of eight supply chain executives dedicated to sharing best practices information.
Hersch was a very strong mentor. His basis for mentoring was through education. He believed that development of a well-functioning team required it. He actually worked closely with his successor to facilitate a successful conversion from one of clinical effectiveness to a supply chain executive. He even introduced his successor to other supply chain and supplier executives at SMS, a supply chain think tank, which ran counter to popular corporate culture when it comes to retirement and succession, according to a national survey by a noted industry consulting firm, Jamie C. Kowalski Consulting.
He was also aggressive in pushing for development and use of metrics that all Supply Chain leaders could use for comparison and improvement.
Hersch is known as a "practical visionary," someone with an avuncular personality, no grandstanding, a thought leader. He led by example. He worked – hard – until the last day of his career – to the extent that his boss told him to take it easy.
Demonstrations of leadership:
Hersch collaborated with four other GPOs and led the effort to form CMMA, one of the early regional and faith-based GPOs, which was not an easy task to bring together five previous competitors.
Setting up this previously mentioned Value Analysis program to evaluate clinical technology, Hersch mentored the physicians and turned over the leadership of the process to them. He made it their program, process and committee, reinforcing his strong and effective "servant leader" style.
Hersch served as Chair of Premier Inc.'s Strategic Advisory team and serves on the Board of Alliant Purchasing LLC, the National Alliance on Mental Illness – Louisville, KY (Board President in 2019), and the Central State Hospital Board, Louisville, KY.
Innovation in practice:
At UCLA Medical Center, Hersch developed one of the first formal value programs in healthcare from supply chain roots and made it physician-led. He used clinical evidence and data for evaluating products and technology. He then replicated it at Franciscan and further enhanced it at Norton.
Hersch developed on of the first closed medical supplies formularies at UCLA and consolidated supply chain operations for 13 hospitals in Franciscan and five hospitals in Norton.
He co-founded one of the first regional and faith-based GPOs (CMMA).
Even though he is not a pharmacist he developed pharmacy processes and savings, which were followed by practicing pharmacists at his organization.
Managing professional relationships and services:
Hersch was a very good facilitator, leader, implementer and mentor, while yet a "humble servant" who was adept at diplomacy and convincing others to operate in a way that benefited the organization and its patients.

He was a serious innovator, working collaboratively with physicians at a time when Supply Chain leaders avoided those connections. Developing a closed medical supply formulary at a research/teaching hospital – UCLA Medical Center – represented a major accomplishment.
Hersch was very effective at gathering the data and information that made the case, and neither he nor his ego would become the issue, or the bad guy. Described as being a thought leader and a change agent, he was willing to roll up his own sleeves to research, develop, sell it and implement it. For example, early in his career at Franciscan Health, he used his own research and data to convince radiologists to switch X-ray agents to nonionic from ionic to save money.
Through his cost-reduction efforts, he helped Norton save $5 million to $7 million annually during the last five years of his career.
Commitment to ethical and moral standards and integrity:
Perhaps the best example of this involved a consulting job. While Hersch successfully worked at one organization with a particular consulting firm that helped generate positive outcomes he refused to engage that same firm when he moved to a subsequent organization because he felt it might look like he was playing favorites.
IN HIS OWN WORDS…
What are your impressions about Bellwether League Inc.'s mission and philosophy, and how do you feel about becoming an Honoree?
I am proud to be inducted into an organization that emphasizes the key role of supply chain in healthcare. At no other time have the demands on supply chain been so great or important in its contribution to the quality of patient care. Bellwether League challenges men and women in healthcare supply chain to innovate, to collaborate and to improve best practices in supply chain operations. It is an honor to be part of an organization dedicated to this.
What attracted and motivated you to get involved in the healthcare supply chain management field when you did?
Charles Housley introduced me to this profession in 1977. I didn't realize my good fortune at the time, but I would be working with and learning from one of the greatest professionals in our field.
For what one contribution would you like to be most remembered?
Developing a technology assessment process that involved intense physician collaboration to control supply cost and quality has been one of the most satisfying achievements of my 42-year supply chain career.
If you were to encourage someone – either outside of healthcare or just out of school – to enter healthcare supply chain management and strive to be a future Bellwether League Honoree, what would you tell him or her?
Be brave and creative in developing new approaches to healthcare supply chain management.  Don't be afraid to fail. Learn from your mistakes and continually improve best practices.
What is the one industry challenge you would like to see solved during your lifetime?
I would like to see the relationships that physicians have with their healthcare systems exceed the relationships they have with their suppliers of medical products and drugs.
What do you feel are some of the things that the healthcare supply chain does that's right – for the patient, for the organization and for the profession … and why?
Supply Chain sees cost and quality as both sides of the same coin in addressing patient care supply needs.  It exercises fiduciary responsibility to the organization while providing the best tools for caregivers to deliver quality patient care.
In two sentences or less, what defines healthcare supply chain leadership?
A strong healthcare supply chain leader understands that the best solution to any issue evolves through respectful collaboration with colleagues..  Genuine appreciation for the contributions of others goes a long way to building trust, respect and morale.
If you traveled back in time to when you started in healthcare what would you tell yourself?
Don't be afraid to try new approaches in solving problems. Best practices are those that are continually challenged and improved upon.