Capt. Terry R. Irgens, U.S. Navy (Ret.) (1947-2017)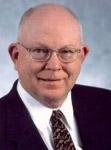 Status: Deceased
Career span: 48.5 years
Last title: Commanding Officer, Naval Medical Logistics Command (at retirement in May 1996)
Innovative, leading-edge, pioneering accomplishments befitting a Hall of Fame career:
Much of Capt. Irgens' healthcare supply chain career centered on the military with portions in the corporate world related to the military and in the retail world as a pharmacist.
During the early 1990s, Capt. Irgens led the Department of Defense's Medical Materiel Directorate to switch to a commercial prime vendor program from the traditional depot system, which represented a radical departure in materiel operations for the Defense Logistics Agency and the Defense Personnel Support Center, later renamed the Defense Supply Center Philadelphia. Irgens accomplished this during the first Gulf War, which reinforced the idea of "active testing" of new concepts, and affected $700 million in medical materiel.
While the Department of Veterans Affairs (VA) earlier had implemented a prime vendor program solely for pharmaceuticals, the DoD quickly followed suit and expanded the concept to medical/surgical supplies, equipment and dental supplies.
He led the way in engaging in strategic partnerships with the Military Services' Medical Logistics Offices and the Department of Veterans Affairs.  "By partnering with the the Department of Veterans Affairs, DoD and DVA were able to leverage product pricing and expand the efficiencies of the prime vendor concept to the entire federal healthcare system," according to his DLA Hall of Fame nomination.
Irgens also led the implementation of electronic data interchange (EDI) as a fundamental component of the Medical Materiel Prime Vendor Program. The idea for automated transactions emerged from his earlier master's degree work in computerized pharmacy dispensing and information systems that he developed after obtaining one of the first four IBM personal computers a decade earlier.
Irgens also served as Director, The Armed Forces Institute of Regenerative Medicine (AFIRM), a federally funded virtual network of leading hospitals and universities researching limb, organ and tissue surgeries and treatments for wounded soldiers.
Focus on mentoring, education, and/or advocacy to advance other supply chain professionals and executives, and the profession as a whole:
"During my career of 30 years there was not one of my bosses I respected more," said Sally Bird, Bellwether Class of 2017. "Although he wasn't stationed at DLA to see the complete transformation, he instilled the vision and often 'ran point' early on when encountering the 'that'll never work naysayers.'"
Demonstrations of leadership:
From 1990 to 1994, serving as Director, Defense Personnel Support Center's Medical Materiel Directorate, Capt. Irgens led the Medical Materiel Supply Chain during the first Gulf War, and also led the creation and development of the DPSC's Medical Prime Vendor Program within the Department of Defense. The DoD's Prime Vendor Program shifted logistics practices within the DoD's healthcare system to that of the commercial sector through low-unit-of-measure distribution contracts and from the former bulk-driven medical depot system. The shift was designed to cut acquisition costs, inventory investment, operating expenses and warehouse infrastructure as well as increase process efficiencies.
Innovation in practice:
In the early 1980s, Capt. Irgens had the foresight to know that supply chain information technology would occupy a more prominent role in supply chain operations. In fact, as Chief of the Hospital Surgical Branch of Medical's Contracting Division he obtained one of the first four IBM personal computers to demonstrate the PC's capability to organize and manipulate large amounts of data, which moved the DoD's medical supply chain into the automated world of PC-driven electronic tracking. While working toward earning a master's degree, Capt. Irgens designed a special computer program for his thesis in computerized pharmacy information systems.
Through his extensive work in converting the DoD's medical logistics operations to a more commercial model, Irgens became known as the "Father of Medical Prime Vendor." He helped implement electronic data interchange (EDI) as a key component of the Medical Prime Vendor Program.
"His role as an advocate for the personal computer and its potential drove the [DoD's] Medical Supply Chain into the PC age and shaped Medical's alignment with more modern electronic capabilities," according to his DLA Hall of Fame nomination form. "This alignment eventually developed into DSCP's partnership with the DoD Health Affairs Defense Medical Logistics Standard System program. This partnership is still the cornerstone to Medical's implementation of Prime Vendor and the Medical Electronic Catalog (ECAT) and, more recently, the Center's transition to an Enterprise Business System."
Following his retirement from the Navy in 1996, Irgens embarked on a multi-staged "second career" in the private sector. Aside from managing director corporate positions at Northrop Grumman and IBM in defense healthcare program management operations, he served as President, DynPort Vaccine Co. and as Director, The Armed Forces Institute of Regenerative Medicine (AFIRM).
The federal government created (by the U.S. Army Medical Research & Materiel Command) and funded (with $300 million in grants) AFIRM in 2007 as a virtual network of leading hospitals and universities to create and develop treatments using cell science for wound repair and organ/tissue regeneration and advanced plastic surgery for wounded soldiers.
"When this began, we had a lot of wounded warriors coming back with severe disfigurations, missing limbs, and other injuries that were unusual because, in the past, the survival rate for those was not as great as today," Irgens told the Defense Media Network in November 2011. "A lot of research going on in regenerative medicine was 'way out there,' so to speak, but up and coming. DoD held some conferences on the topic and experts explained what was being done in growing organs, tissue growth, different scaffolds for making ears and such.
"Some military medical personnel at the time felt it would be helpful to wounded warriors to help move that research forward," he continued. "So they put out a project announcement in 2007, focused on five areas: burns, scarless wound treatment, limb and digit salvage, compartment syndrome repair, and wounds to the face, with burns being the most critical item at the time. They received seven responses from academic consortia. At the same time, President [George W.] Bush got interested in this technology and was able to double the funding, so awards were given to two consortia instead of only one, each of which covered all five focus areas."
Shortly after he retired as AFIRM director, Irgens told Associated Press in September 2012: "The whole idea is to bring all these researchers together to develop these great technologies that were in early science to eventually be ready for the troops."
Managing professional relationships and services:
During the first Gulf War, Capt. Irgens "pioneered the forward extension of the Defense Logistics Agency (DLA) onto the battlefield by deploying a medical officer to serve in Sauda Arabia to coordinate medical logistics support efforts on the battlefield." The mission's success paved the way for an expansion of the DSCP and DLA role of forward logistics and lead to the establishment of the Defense Contingency Support Teams.
"In addition, Capt. Irgens led the Medical Supply Chain during a time of unprecedented support to the warfighter," according to his DLA Hall of Fame nomination. "Medical's daily business increased a staggering 218 percent due to customer requirements. This increase was manifested in difficult to obtain items such as atropine injectors, pyridostigmine bromide tablets, and chloroquine phosphate tablets, as well as surgical dressings. With Capt. Irgens' driving leadership, the Medical Supply Chain was able to obtain these critical items, meet every challenge of the First Gulf War and supplied more than $556 million worth of medical materiel."
Irgens also developed strategic partnerships with the Military Services Medical Logistics Offices and the Department of Veterans Affairs, the latter of which adopted and implemented its own Medical Prime Vendor Program.
Off the battlefield and away from the Naval Medlcal Logistics Command, DPSC and DLA, Irgens served in numerous DoD hospitals. They included the Charleston (SC) Naval Hospital, Newport (RI) Naval Hospital, Bethesda (MD) Naval Hospital and Philadelphia Naval Hospital, as well as the Navy Inspector General Team in Washington, DC.
Commitment to ethical and moral standards and integrity:
Capt. Irgens was a decorated Navy officer. He earned the National Defense Service Medal, Navy Commendation Medal twice, the Defense Meritorious Service Medal twice and the Defense Super Service Medal and a Legion of Merit Award.
In July 1996, Irgens was inducted into the DPSC Hall of Fame; in July 2008, he was inducted into the DLA Hall of Fame. Both recognized his contributions to improving the military healthcare system. "The success of DLA's Medical Supply Chain today is due in large part of the expertise, innovation and leadership of Captain Terry Irgens, MSC USN (retired)," his nomination papers stated.
Even after Capt. Irgens retired in May 1996 as Commanding Officer, Naval Medical Logistics Command at Fort Detrick, MD, he wasn't finished helping people. Instead, he returned to his roots – pharmacy work part-time at a local Sam's Club store to assist patients until his passing. He had entered the Navy in 1969, serving as a pharmacist during the Vietnam era.
IN THE WORDS OF HIS SON RICK IRGENS…
What are your impressions about Bellwether League Inc.'s mission and philosophy, and how do you feel about your father becoming an Honoree?
Bellwether League is a wonderful concept and does a wonderful job supporting and promoting the Healthcare Logistics industry. Every career or specialized skill set needs a way to honor and recognize high achievers, and more importantly, promote their craft to ensure the healthcare supply chain succeeds and adapts. My entire family is simply thrilled that my father's work and dedication is being recognized. Dad was not a bragger, but I know he would have been thrilled and honored to know he will be a class of 2019 Honoree!
What do you think attracted and motivated your father to get involved in the healthcare supply chain management field when he did?
I think it started out of Undergraduate Studies in Pharmacy and then carried through when he did his Masters and sought a method to begin the process of bringing Navy Pharmacies into the computer age.  After leaving the Hospital Pharmacy setting he pretty much dedicated the rest of his career to Navy and all DoD Logistics. He was a problem solver, and supply chain is certainly all about solving problems and finding more efficient and cost effective supply methods. He really loved his work!
For what one contribution do you think he would he like to be most remembered?
I would like to know the actual number, but for so many people he was a mentor and friend that helped guide people into their chosen fields, many of whom followed him in Healthcare Supply Chain.  So the short answer is he will be best known for his strong desire to pay it forward. He had many supply chain success stories but his "Prime Vendor" creation at the Defense Personnel Support Center was something he was very proud of, and to my knowledge is something still in use today.
If your father were to encourage someone – either outside of healthcare or just out of school – to enter healthcare supply chain management and strive to be a future Bellwether League Honoree, what do you think he would have told him or her?
He really shined in mentorship and he would tell people to make sure they are going into supply chain for the right reasons. While work is not someone's "life" it is very important to be comfortable and like what you do in life, so make sure logistics and supply chain is something that excites them. If that is the case then success will follow.