Brent T. Johnson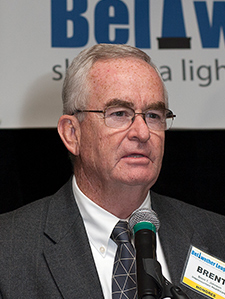 Advancing the Profession through Performance
Brent T. Johnson has worked in supply chain management since 1979. He brought more than 26 years of experience to Intermountain Healthcare in 2005 having served as a Director Procurement and Materials, Strategic Sourcing, and as a Senior Consultant to industries other than healthcare. Johnson holds a Bachelor of Arts in Finance and a MBA. Key accomplishments:
Johnson led the development of supply chain integration and organization for a leading healthcare provider, Intermountain Healthcare.
He delivered more than $250 million in savings in its first six years of operation.
Those savings were achieved by exceeding the targeted amount of $20 million per year for the first four years. Specific strategies were developed along with change management and development of trust with physicians and other key stakeholders. Savings required processes to validate them and track budgetary impact, including removal from future budgets. A total of 13 different savings methodologies were developed.
He gained the support of senior leadership leading to the development of a state-of-the-art consolidated service center, and asked to lead other corporate functions.
After extensive best-practice research that convinced the supply chain team at Intermountain Healthcare to develop a self-distribution strategy, Johnson personally led the team in developing a business case for a $50 million investment for a consolidated service center (CSC). In addition to the business case, Johnson needed to sell leadership by developing relationships and convincing them they had the knowledge and passion to be successful. He also felt this was critical to the future of Intermountain. He committed to an incremental $250 million in savings over the next five years based on the return associated with the CSC. In addition, to savings, he also personally made the case for improvements in quality, service and sustainability through reduction in variation of product use.
Johnson noted he has never asked to be over any other function than supply chain management, but through his management style, leadership and results, senior leadership asked him to assume more responsibilities. He believes this is based on developing trust with other Intermountain leaders, establishing service level agreements and delivering successful change management results. He was first asked in 2008 to manage imaging services. In 2012, teleservices was added and in 2013 environmental services, food and nutrition, clinical engineering and linen management was added to his portfolio. He attributes the successes in supply chain management as the foundation for these additional responsibilities. 
Intermountain Healthcare was recognized by Gartner as a Top 25 Healthcare Supply Chain and selected by AHRMM in 2013 as a top supply chain organization.
Johnson is an outspoken proponent of healthcare supply chain management and challenges current thinking, strategies and paradigms to facilitate supply chain improvement and value creation.
Work Experience
Johnson began his career with PacifiCorp in Salt Lake City, in 1979 and held a variety of positions in materials/supply chain management leading to the Director of Strategic Sourcing in 1999. In 2000, he joined Denali Consulting as a senior consultant for supply chain management.  In 2003 he served as the Supply Chain Director for ARUP Laboratories. In 2005 he was appointed to his present position with Intermountain Healthcare, currently serving as Vice President, Supply Chain and Support Services.
McKinsey and Company in the 2004-2005 timeframe recommended to Intermountain the give supply chain management bigger focus and hire someone from outside of healthcare that knew supply chain strategies. They selected Johnson as that leader. Given his years of experience and supply chain consulting background the requisite requirements were present to convince leadership that Johnson would succeed in healthcare. 
Before healthcare, Johnson made his mark at PacificCorp. As the electric industry was getting ready for deregulation only the low-cost providers were going to survive. All utilities were making major strategy changes to drive cost out. The company considered outsourcing, but gave Johnson 90 days to develop an alternative strategy. He proposed a comprehensive supply chain strategy, took on responsibility to deliver $50 million in savings, and they succeeded.  Johnson feels his experience in this industry is very similar to the challenges now being faced by healthcare. While at Denali Consulting, he did rapid supply chain assessments for many different industries across the nation. This enabled the adoption of best practices of supply chain management. He likewise pursued a similar approach with ARUP, where he showed them through supply chain management they could deliver significant savings to the bottom line. In all previous work experiences, Johnson was able to deliver significant results and needed changes based on a business case and value proposition.
Professional/Humanitarian Activities
Johnson has been a Certified Purchasing Manager (CPM) from the Institute of Supply Management since 1992. He is currently a lifetime member.
He currently serves as a Board Member of AHRMM (2013 – Present); currently Co-Chair of the AHRMM Education Committee and will serve as Chair beginning in 2015. He was recently appointed to the open position on the AHRMM Executive Leadership Committee.  He is the past Chair of the selection committee for the Excellence in Innovation Award from AHRMM. 
Johnson also serves as a Board Member of SMI (2012 – Present). As part his responsibilities he has served on the Nomination Committee and currently serves on the Membership Committee.
Johnson is a member of the HTG Group, a group of five healthcare organizations focused on the advancement of industry data standards. 
He also serves as Chair of the Globus Relief Advisory Council. Their work can be read at www.globusrelief.org. This organization focuses on providing supplies and equipment for humanitarian and charitable purposes worldwide to improve healthcare.
Johnson serves on the membership committee of the Salt Lake City, Utah, Chamber of Commerce (2006 – Present)
He also is the current Chairman of Sponsors for the Ronald McDonald House Gala, a fundraising event for the house in Salt Lake City, Utah.
Johnson is a member of the Global Supply Chain Advisory Council (2012 – Present) for the MBA program in Supply Chain Management at Brigham Young University.
He is a frequent speaker, contributes to articles/publications and is often featured in industry news/articles.  
His speaking and publication activities include the following:
Speaking
AHRMM Annual Conference – Session Presenter

2008 – San Antonio, TX – "An Overview of Supply Chain Best Practices"
2009 – Tampa, FL – "The Growth of Self-Contracting – Is it for You?"
2010 – Denver, CA – "Creating Strategic Partnerships and Alliances" with Keith Kuchta from Kimberly Clark
2013 – San Diego, CA – "Data Synchronization" – Speaker and Panel member
2013 – San Diego, CA – "Self-Distribution" – Speaker and Panel member

SMI – Led many teams and facilitated many discussion groups
Covidien Quality & Operations Summit – "Working Together to Survive Healthcare Reform" - Orlando, FL, November 5, 2013
Novation Shared Services Network Meeting – "Supply Chain Best Practices at Intermountain" - Rochester, MN , September 26, 2013
Iowa Society of Healthcare Purchasing/Materials Management (AHRMM Affiliate) – "Healthcare Reform and Supply Chain", Des Moines, IA, September 27, 2013
High Value Healthcare Collaborative – "Connecting the Dots Between Supply Chain and Clinical", Park City, UT, September 30, 2013
Modern Healthcare Webcast – "Cost Saving in Device Procurement: Innovative Strategies on Physician Preference Items" – September 18, 2013
Institute of Supply Management (ISM) Annual Conference, "Healthcare Reform – Supply Chain to the Rescue" – Dallas, TX, April 30, 2013
IHI Leadership Initiative – "Innovations in Supply Chain" – Chicago, IL, March 14, 2013
Federation of American Hospitals Summit – breakout session – "Supply Chain Best Practices" – Washington DC, February 3, 2013
World Congress – "Tomorrow's Successful Supply Chain Leader" – Las Vegas, NV, January 29, 2013
Owens & Minor Sales Meeting - "How I Would Sell to Me" – Salt Lake City, UT, April 9, 2012
Indiana University – MBA Supply Chain Students – "Intermountain Healthcare – A Case Study in Strategic Sourcing" – Bloomington, IN, March 19, 2012
GHX Membership Conference, Orlando, FL, March 30, 2010 – "A Review of Supply Chain Best Practices in Healthcare"
NAPM Utah (National Association of Purchasing Managers" – Salt Lake City, UT, February 12, 2009 – "Supply Chain Best Practices"
Coloplast National Sales Meeting, Las Vegas, NV – "Successful Sales to an IDN" – January 29, 2007
Publications/Articles
Healthcare Purchasing News – January 2014 – "3 CEOs See Supply Chain as Essential Fiscal Fitness," Intermountain's CEO is interviewed and provides significant reference to the Intermountain Supply Chain Organization and Brent Johnson by Rick Dana Barlow.
DC Velocity – December 2013 – "Brent Johnson on Intermountain Healthcare's All-Inclusive Supply Chain"
AHA's Health Facilities Management magazine –August, 2013-Supply chain management redesign under health reform, by Rebecca Vesley 
Healthcare Purchasing News – July 2013 – Supply Chain of Command Hooks into C-suite - One of two interviewed for article, includes picture, by Rick Dana Barlow.
Supply Chain Strategies & Solutions (AHRMM Periodical) – May/June, 2013 - Featured Story by Brent Johnson – "The Strategic Value of Supply Chain-Preparing for Healthcare Reform"
HFMA Monthly Newsletter – December, 2012 – "Healthcare Cost Containment" – Interview by Karen Wagner with Brent Johnson
Dot Med Business News – November, 2012 – "Are GPOs the way to go?" – Interviewed with picture by Loren Bonner
Healthcare Purchasing News – August 2009 – "Supply Chain's Triple Play" – Interview with picture by Rick Dana Barlow
Materials Management in Healthcare – April, 2009 – "Streamline the Supply Chain with Eight Best Practices" by Brent Johnson
Repertoire Magazine – October, 2007 – "IDN – Intermountain – Fresh Ideas" – Interview of Brent Johnson, with picture, by Frank P. Nieto
The Journal of Healthcare Contracting – July/August, 2006 – The 10 People to Watch in Healthcare Contracting – Brent Johnson, with picture, was highlighted and interviewed
Recent Awards
Johnson is very proud of the recent recognition received by the Intermountain Supply Chain Team from AHRMM in 2013. In fact, Johnson had the core team accept the award, giving all of the credit to them for the recognition. 
The 2013 AHRMM Innovation award is AHRMM's most prestigious annual award to the healthcare provider organization that demonstrated value to their company. Intermountain's submission was developed by Joe Walsh and Richard Bagley and was titled, "Procurement Transformation: Your Path to World-Class Performance." This was a story of how Intermountain's Procurement department created new strategies needed for the future – demonstrating that it's necessary to always improve – never rest. The basic strategies included four principles:
Our Value Contribution: Support CPI + 1 percent; deliver $60MM in cost reduction by 2016 (above and beyond existing commitments) and enhance capabilities so Procurement can help deliver CQO.
Our Internal Customers: Offer a "one-stop-shop" for our key stakeholders to simplify their interaction with the SCO.
Our People: Reallocate 20 percent of resources from transaction processing to strategic activities and improve career planning and employee empowerment. 
Our Suppliers:  Collaborate with supply base to generate value – not transfer margin. Earn supplier loyalty and create solutions for our stakeholders.
In His Own Words…
What do you think about Bellwether League Inc.'s mission and philosophy and how do you feel about becoming an Honoree?
An organization that recognizes the successes of supply chain in healthcare is very noble and very much needed to raise awareness of the big opportunities that exist. The successes are the result of good leaders. I'm very much honored to be part of the supply chain leaders recognized by the Bellwether League. The list of past recipients is very impressive and spans all facets of the industry supply chain from suppliers to GPOs to providers. We all work together and are part of the solution.
What attracted and motivated you to join the healthcare supply chain management field when you did?
I obtained a passion for supply chain and it's benefits in the electric utility industry where we were facing significant cost pressures and needed to operate more as a system. The answer became to practice supply chain management. Leading this change in a large company and seeing the benefits made an impact on me in a big way. Then I did supply chain consulting in many industries for several years. When Intermountain was looking for a supply chain leader, I was very interested, but did not know the industry very well. What I did find out was that the supply chain strategies and best practices apply to all industries and companies. However, the nobleness and patient care mission of healthcare add a big plus to me as I learned to appreciate.
For what one contribution would you like to be most remembered?
I would like to be remembered simply that I made a difference…that I left my company and the industry better than how I found it. It's humbling to think that maybe I did. I don't need the credit for myself because when I'm gone, it won't be about me. It's about how good we can become as an industry and the contributions in cost, quality and outcomes that are available. 
If you were to encourage people – either outside of healthcare or just out of school – to enter healthcare supply chain management and strive to be a future Bellwether League Inc. Honoree, what would you tell them?
Supply Chain is a growing profession that combines business, management, people skills, analytics and best practice strategies. It's an opportunity to become a strategic contributor to the success of any company. Every company needs strong supply chain leaders. It's a very rewarding career where you can see your contributions impact the company in very positive ways.  
What is the one industry challenge you would like to see solved in your lifetime?
I would like to see healthcare executives recognize the strategic value of supply chain to the success of the corporation by managing the non-labor spend of the company.  Supply Chain should be a C-suite level function.
How important is effective and innovative supply chain management during tough economic times?
Tough economic times provide a "burning platform" for supply chain strategy and resources. If companies don't manage their non-labor spend aggressively with supply chain strategies they will be leaving 10-20 percent on their bottom lines that will be very difficult to obtain in any other way, such as reducing nurses at bedside or lowering clinical care investments. 
In two sentences or less, what defines healthcare supply chain leadership?
Supply Chain leadership is about knowing successful strategies and obtaining trust with corporate executives. The second part of this is to be able to deliver on the promises and expectations. This requires talent, resources and appropriate strategies.   
If you traveled back in time to when you just started in healthcare what would you tell yourself?
Don't force the implementation of all supply chain strategies until you understand the industry. Healthcare has some very noble but unique nuances. The biggest difference is the mission of clinical care and patient outcomes. Some of the industry differences are justifiable and some are not. It takes time and patience to learn the industry then apply supply chain best practices where it makes sense.