Thomas W. Kelly, MBA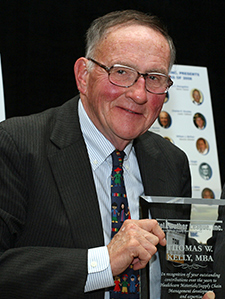 Work Experience – Minimum 10 years of service within the healthcare supply chain (including a hospital or nonacute care facility, manufacturer, distributor, GPO, consulting or service company).
Massachusetts General Hospital (MGH) – 10 years
Director of Purchasing | Administrator General Support Services
Hospital Laundry Association (HLA) – 4 Years
President and CEO
Deaconess Hospital – 1 Year 
Director of Materials and Materials Management
Concepts In Healthcare (CIH) – 2 Years
Consultant
Health and Education Services (HES) – 3 Years
Computer Systems Responsibilities
Northeastern University – 35 Years
Adjunct Professor in MIS/IT
Bentley College – 5 Years
Adjunct Professor in Purchasing and Materials Management
Work Performance – Specific accomplishments/achievements in their respective organizations, including expense management measures, committee involvement and management leadership.
Massachusetts General Hospital
Organized and restructured the purchasing organization to be more responsive to the needs of hospital employees and the vendors. Began the process of educating the hospital personnel on the importance of purchasing in reducing cost.
Applied many of the procedures, policies and disciplines of purchasing, learned previously at General Electric, to the purchasing department of MGH.
Introduced cost reduction, cost avoidance, standardization, value analysis, work simplification and other routines to the department and communicated the documented results to administration and throughout the hospital. Established Standard Committees to assist in the cost reduction/value analysis activity.
Established for the hospital and vendors the hospital's first "Guide to Purchasing."
Authored "A Primer: Understanding the World of Computers," published by the MGH Institute of Health Professions, which was one of the first computer texts used in the training of healthcare professionals.
Located property and retrofitted a building as a materials management distribution center with the purchasing department on the second floor.
Hospital Laundry Association of Greater Boston
Sought and received approval by the Board of Directors to find property, hire architects, contractors and negotiate with the City of Boston in the building of a new textile processing plant to replace an old antiquated facility.
Selected and negotiated equipment required for the processing of the very large tonnage required by the 23 hospital membership.
Negotiated and sold the old facility to the Boston Red Sox at 215 times its original purchase price.
Moved the organization from manual systems to computers and improved the operations' productivity.
Concepts In Healthcare
Consulted and presented training workshops in purchasing, central sterile processing, materials management and computers in numerous hospitals and some GPOs throughout the U.S. and Canada.
HES
Established and maintained a micro-distributed computerized system for finance, purchasing and materials flow including selection and implementation of new systems for a large multi-location mental health network affiliated with Northeast Health Care System.
Professional Activities – Minimum 5 years of active association participation (e.g., office holder, committee chair or contributor, organizing and running meetings, mentoring others) on the national, regional and local level; performed a minimum of two speaking engagements (national, regional, local, facility) and published at least twice (including writing an article or being interviewed by the trade media) during career.
National Association of Purchasing Managers, 10+ Years
Hospital Purchasing Association,  5+ Years
Executive Advisory Board, Computers in Health Care, 5+ Years
A Founder and Board Member, Large Hospital Buying Consortium, 5+ Years
Danvers State Hospital, Member of the Board of Trustees, 3 Years
Speaker, Hospital Purchasing News Expo, New York City, 3 Years
Speaker, New England Hospital Assembly, Boston, 6 Years
Speaker at numerous conferences and seminars covering issues in purchasing, materials and computers for hospitals, professional associations and vendor groups throughout the U.S.
Featured article in Purchasing magazine centered on Kelly and the utilization of computers in purchasing/materials management at the MGH. September 1984
A long time monthly columnist for Hospital Purchasing News.
Advancing the Profession/Industry Influence – Challenging the norms, contributing to the thought process, pushing the envelope in terms of moving the profession/industry forward. Examples include serving as a mentor either within his or her individual organization or on a national, regional or local level outside of his or her individual organization; internal inservices for the C-suite on supply management; pioneering new concepts and ideas that may or may not become reality; influencing those up and down the corporate hierarchy on the benefits of and promotion of sound supply management.
The concepts of cost reduction, value analysis, standardization and other techniques introduced at the MGH were not necessarily new to the purchasing profession in general, but were new to the hospital profession at that time of the national movement from cost-plus fixed-fee hospital reimbursement to diagnosis-related grouping (DRG) reimbursement. Because the MGH was established in the 19th century and was a well-known and well-respected institution, vendors and peer hospitals were interested in their innovative management techniques. Purchasing moved from being just a requisition processing operation to a major player in the hospital overall organizational cost reduction and cost containment activity. Kelly was in the forefront of that wave.
During his time at HLA, Kelly made a major impact in the hospital textile industry with the building and equipping of a new modernized processing facility in a neighborhood of Boston closer to its labor base. With his CIH consulting he was able to share his hospital experiences, knowledge and successes with the clients he assisted.
Toward the end of his career in healthcare at HES, he was able to influence the process of utilizing a myriad of micro PCs in a distributed network regional environment to improve communications and run operational systems on a real time basis.
Throughout his career, Kelly was able to share his knowledge and work experiences with others and the younger generation in his classrooms college teaching, articles written, speaking engagements and seminars conducted.
In His Own Words
What are your thoughts about the mission and philosophy of Bellwether League Inc. and how do you feel about becoming part of the organization as an honoree and inductee?
As an honoree I am surprised, flattered and much honored. It will be a privilege to receive the Bellwether Award. When I was young someone said to me that in one's career you never know when you have reached the peak until you have gone though it. I think I am about to enter it!  Thank you.
What attracted and motivated you to join the healthcare supply chain management field when you did?
At the time I entered the field from the General Electric Co., I felt it was a marvelous opportunity to make a difference in the hospital field, which was experiencing many of the same problems faced by the industrial sector. In addition, the utilization of computers to assist in managing the supply chain was at its infancy, I was hoping I could use my background and experience from GE and move it forward to manage some of the hospital supply chain challenges.
For what one contribution would you like to be most remembered?
Certainly one of the contributions I think I made to the hospital industry was in the training and communications to all hospital personnel – medical staffs, surgical teams, clinics and the multiple support groups from dietary to pharmacy – on the need to buy centrally and the important role purchasing and the vendors have in controlling cost. Over time, their mutually working together will provide long term financial benefits to the hospital, its patients and its providers.
If you were to encourage people – either outside of healthcare or just out of school – to enter the supply chain management field and potentially qualify to be a future Bellwether League Inc. honoree, what would you tell them?
The message I would I convey to young people considering entering the field is if you want to make a difference and have an impact on people's lives, then participation in the healthcare supply chain field of endeavor is an avenue to be considered. The healthcare career is noble, worthwhile, satisfying, challenging and will always be needed. At this time, much work in supply chain management still needs to be done. Opportunities abound for smart, creative, hard-working people who want to make a difference.
What is the one industry challenge you would like to see solved in your lifetime?
One challenge I would like to see solved is the opportunity for all our citizens to have equal access to quality healthcare. I have doubts that the problem will be solved in my lifetime. One thing I am sure of is that the problem will never be solved without the active participation of the parties in the hospital supply chain having an active role in the negotiations. It is encouraging to hear and read about healthcare providers, multiple GPOs, vendor suppliers and others working together to build systems, methodologies and efficiencies to reduce costs to ultimately benefit the patient.