Jamie C. Kowalski
CEO, Jamie C. Kowalski Consulting LLC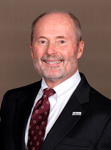 Healthcare/Supply Chain Management Experience:
Jamie Kowalski has spent nearly 45 years in healthcare supply chain management in various capacities, starting as a director of materials management and then assistant vice president of support services at several community and tertiary care hospitals. After eight years in the provider sector, and two at Will Ross Inc. the 2nd largest (at that time) manufacturer and distributor of hospital supplies, Kowalski began his consulting work as a solo practitioner, then founded the supply chain consulting firm Kowalski-Dickow Associates in 1980s with partner Jim Dickow (Bellwether Class of 2013). For the next 22 years, Kowalski and his colleagues helped more than 1,500 hospitals improve their operations and save hundreds of millions of dollars. Kowalski sold the firm in 1996 to AmeriNet Inc., where it became an independent subsidiary for six years until Aramark acquired KDA in 2002 and folded it into its consulting practice. He remained the CEO of KDA and served as the Senior Vice President of Supply Chain Services for Aramark.
For the next four years he served as the Vice President of Development for the Solutions Consulting business unit of McKesson Provider Technologies. Kowalski then joined distributor Owens & Minor as Vice President of Business Development where he evaluated current services, identified and developed new services, customer strategies and strategic directions, and established business alliances and new customer relationships.  After four years, he returned to supply chain consulting with his own firm, Jamie C. Kowalski Consulting LLC.
Hall of Fame-worthy accomplishments:
Most notable was the founding of Kowalski-Dickow Associates, Inc. (KDA) in 1980. Together with Jim Dickow (Bellwether Class of 2013), they built a world class specialty consulting practice entirely dedicated to supply chain management in healthcare. The practice became known worldwide for providing custom solutions to everyday problems. The business was built on integrity and high performance, while cost effective for their customers. KDA was an early example of a consulting business focusing on a single area of expertise. It was a very successful way to provide more than 1,500 clients, an alternative to the large, multi-service consulting firms which usually did not have the hands-on expertise needed to solve/create solutions in the ever-changing world of healthcare supply chain management operations.
Through his regular and periodic (sometimes annual, sometimes bi-annual) executive surveys on supply chain management, Kowalski explored the development of  industry trends, performance progress through the eyes and minds of supply chain practitioners, nurses, and C-suite executives, including CFOs and CEOs. His goal was to draw attention to the need for performance improvement by conducting baseline research at first and then routinely evaluating lessons learned through customer opinions. His detailed surveys have expanded to include leadership models and training, strategy, succession planning and mentorship.
Throughout his career Kowalski has authored more than 100 trade magazine articles, books and white papers as well as participated in an equivalent number of association and conference presentations – either as the sole educator or as part of a panel of experts.
Kowalski also served as Co-Founder and Founding Chairman of Bellwether League Inc, the Hall of Fame for Healthcare Supply Chain Leadership, that he felt was necessary to launch as an independent organization that honored and recognized professional excellence, innovation and pioneering vision and implementation. In the summer of 2007 he helped gather the necessary veteran supply chain experts to develop and grow the not-for-profit organization as a pre-eminent recognition and educational source, respected by the industry as a whole.
Kowalski's contributions to the profession and industry earned him AHRMM's prestigious and highest honor, the George R. Gossett Leadership Award, in 2011. Gossett was elected posthumously to the Bellwether Class of 2010.
Industry impact:
As clients of KDA, hospitals and healthcare systems and integrated delivery networks were forever changed after an engagement was completed as they learned, received and implemented performance improvement initiatives. Throughout his career at KDA, Owens & Minor, McKesson and his current firm, Kowalski has assisted thousands of hospitals, suppliers and clinical, executive, financial and operational professionals in either category with supporting the delivery of high-quality healthcare to patients. Through his expertise, not only have providers and suppliers alike reduced expenses, increased revenue and explored new avenues of administrative, clinical, financial and operational growth, but their patients and customers, respectively, benefited from the changes. Kowalski remains abreast of current trends and assures those he assists are also aware of the industry advancements and improvements.
Commitment to ethical standards, honesty and integrity:
Jamie Kowalski is someone who has always exhibited the highest ethical standards in the healthcare supply chain industry. He is highly thought of as a leader and leading authority as well as someone whose industry reputation is without question, which is one of the main reasons why he has lasted for nearly 45 years in this industry. Furthermore, his 2011 selection as the Gossett award recipient by AHRMM is testament to his long and accomplished career – performing at the highest levels and being recognized by his peers.
Commitment to mentoring, education, and/or advocacy:
In addition to his contributions as a consultant, the first thing that comes to mind is the extensive work he has done for the industry in the form of national surveys and questionnaires of the supply chain industry. He has conducted more than 35 of these annual surveys in the hopes of not only gauging the industry's opinions, but also to improve the profession by awareness of the issues and what senior leaders in healthcare know want to see. Through these first-person accounts he has opened the door for healthcare leaders to express their interests and concerns about the supply chain profession. Kowalski continues to evolve his surveys to include all possible senior level healthcare leaders and not just their opinions, but factual requirements needed to elevate the profession and improve operations.
Demonstrations of innovation and leadership:
Kowalski's receipt of the 2011 Gossett Leadership Award from the Association for Healthcare Resource and Materials Management is a testament to his leadership role and professional example in the supply chain industry. He demonstrated his leadership skills by running hospital and health system supply chain departments, two consulting firms and served in executive-level roles with two of the leading distributors of healthcare products and services in the industry. His frequent presentations to attendees at local, regional and national association meetings and conferences for healthcare chief executives, financial executives, supply chain executives and professionals and clinical management professionals, as well as his leadership in Bellwether League, clearly demonstrate his proficiency in propelling the profession and industry to new heights.
Degree of professional influence:
Kowalski remains a sought-after healthcare supply chain expert speaker on a global level, both as an educator and as a hands-on evaluator and manager of processes and professionals. His provider and supplier experience and influence helped to fuel Bellwether League's creation, development, growth and ongoing success. Without Kowalski's professional contributions to the industry, tens of thousands who have read his work, heard him speak, followed his advice may not have advanced in the industry and their careers.
Application of Hall of Fame-level of knowledge and experience:
Simply stated, Kowalski's success with KDA would not have been possible if it were not for the knowledge and expertise he imparted upon his clients for so many years – knowledge and expertise gleaned from front-line and back-office hospital and health system supply chain experience. He shared his experience and knowledge in multi-media formats as well as live interactions with professionals – spanning the esoteric minutia of entry-level materials management duties to the C-level strategies and tactics implemented at the highest levels of leadership, fueled more in part by hands-on participation than by ivory tower /think tank pontification and theorizing.
Professional worthiness
Jamie Kowalski's innovative and pioneering work over the years has influenced the careers and operations of at least one member in each of the nine Bellwether Classes to date so it would behoove the Board of Directors finally to reward and recognize him for his dedicated participation and service.
In His Own Words…
What are your impressions about Bellwether League Inc.'s mission and philosophy, and how do you feel about becoming an Honoree?
This is an honor beyond any dreams or goals I had. I am humbled to be sharing the stage with the other Bellwether Class of 2017 Honorees and excited about seeing the attending honorees I helped become Bellwethers.
What attracted and motivated you to get involved in the healthcare supply chain management field when you did?
Pure luck. My first job after college was in a local hospital in the Business Office as a "Financial Counselor," a glorified bill collector. Weeks later, I knew I did not want to continue doing that job, so I went to the Personnel Manager to ask for advice. She knew the hospital was just starting to plan a replacement hospital and talked about integrating new concepts, such as material management. She mentioned our conversation to the Vice President who was overseeing the building planning and I was offered the job of Director of  Materials Management, starting with Central Supply and adding to my scope in the next 12 months. It turned out that I was training for this opportunity during my very first job and didn't realize it until now, when I look back and think about it. I delivered newspapers (distribution), then stocked shelves in a grocery store, helped manage the inventory, stocked shelves and delivered prescriptions to customers for a local drug store, and worked on the production line, filled orders in the minus-35 degree F ice cream warehouse, took inventory, loaded delivery trucks and drove trucks to customers for  the local Sealtest dairy. I really had no plan to get into supply chain management, but once I did at the hospital, I was hooked.
For what one contribution would you like to be most remembered?
Helping clients improve what they were doing in supply chain management and how it was done, while helping them (collectively) saving more than $1 billion. I was constantly looking for better, smarter and more efficient ways of doing things. A bit of a compulsion, I guess.
If you were to encourage someone – either outside of healthcare or just out of school – to enter healthcare supply chain management and strive to be a future Bellwether League Honoree, what would you tell him or her?
Learn as much as you can from classes, self- study and, most importantly, by researching what provider industry leaders have done. Use that knowledge and apply it wherever you work – at a hospital/IDN, supplier or with clients. Try to improve those approaches and models in a way that maximizes value for the enterprise. Lastly, share what you learn via speaking at conferences, writing articles, or one-on-one conversations, and listen to the responses you get in return.
What is the one industry challenge you would like to see solved during your lifetime?
Getting a firm grip on and dramatically reducing  the cost of providing care, so that all can afford it, without any negative effects on the quality of care (this last part has been my mantra for well over 30 years).
Why should healthcare organizations – providers, suppliers and payers – elevate supply chain management's relevance and importance to clinical, financial and operational success?
Others and I have proven that the total expenses associated with supply chain management have reached 50 percent of providers' operating budgets. With such a huge impact on expenses and margins, and ultimately the capacity to providing the actual care to those who need it, all provider executives, clinicians and physicians, would be wiser to recognize supply chain management for what it represents (a strategic component of the provider enterprise), what it can contribute to patients and the bottom line (no margin – no mission), and that it needs the guidance of a qualified executive to provide vision, direction and results. Remember, supply chain management is not a department. Rather, it is a facet of the enterprise that spans, affects and involves the entire enterprise, and must be managed accordingly. If not, so many opportunities are missed and performance can only reach sub-optimal levels.
In two sentences or less, what defines healthcare supply chain leadership?
Knowledge of how it works and a knack for how to apply the concepts and principles across the entire supply chain. Leaders engage and collaborate with all supply chain business partners and customers, such that care is supported at the needed level for the lowest total cost.
If you traveled back in time to when you just started in healthcare what would you tell yourself?
This is a career choice that will bring many challenges and opportunities (apologies to those gurus who have insisted that challenges or problem are opportunities) to contribute and make a difference. Keep your eyes open, listen, and learn all you can; learn from your mistakes, plan, commit and proceed. And stick with it; the world and the healthcare industry need you to do so.