Norman A. Krumrey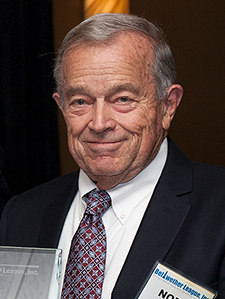 Advancing the Profession through Performance
Norman A. Krumrey was employed by St. Anthony's Medical Center (SAMC) in 1973 and Normandy Osteopathic Hospital (NOH) in 1983. At both facilities, Krumrey established a central control program. The newly established Centralized Supply Chain took over the ordering, storage and disbursement of material. Users were assured that material would be there when required. He established a material code for each item similar to an industrial system. Min and max quantities were established and material requisitions were to be used for all supply requests.
Krumrey based the material coding system that he created at SAMC in 1973 and NOH in 1983 on a Supply Chain Management system that was used in the aircraft firm, McDonnell-Douglas, where he worked prior to the hospital. The individual item coding had seven numerals – three  designated the user of the item and the remaining four were part numbers for a specific item. This part number was to assure usage of the correct item. This code number was incorporated in the patient charge system and adapted to indicate age-controlled items, which assisted in indicating FIFO material. The code number assured the Supply Chain Managers that all the data was constant as the item moved from receipt to storeroom and to final user. The use of the seven digits eliminated the need to rely on parts of an individual manufacturer's identification number.  Krumrey's system established an independent coding system and debuted decades before industry-wide calls for supply data standards.
From 1973 to 1981 at SAMC Krumrey directed the installation and usage of one of the first Gordon Friesen-designed automated cart systems in the world for Supply, Processing and Distribution (SPD). The system also handled an Exchange Cart system, a food delivery system, linen handling system and a soiled material system. He developed all written policies, procedures and day-to-day operational methods, as well as 24-hour staffing requirements for system operating personnel. This unique SPD system fit into the Supply Chain Management of the new facility and represented a unique innovation for healthcare. Gordon Friesen is a member of the Bellwether Class of 2009.
Many of the system and operational changes Krumrey made in healthcare supply chain management at SAMC during 1972-1981 and at NOH during 1982-1987 were the direct result of the pioneering work by more experienced managers and educators he met through the American Society for Healthcare Materials Management (ASHMM). Discussing theory with Dean Ammer (Bellwether Class of 2008) and veteran industry consultant Jamie Kowalski endlessly answering enumerable questions, for example, all promoted maintaining a professional attitude and approach to healthcare materials management problem solving.
Krumrey worked closely with Gordon Freisen on the installation of an Automated Cart System at SAMC. He was fortunate to serve with John Gaida, Mike Louviere and Pat Carroll on the national Board of ASHMM. All of these associations were beneficial learning experiences that helped him form his supply chain philosophy and adapt a best-practice program. This accomplished a greater acceptance of the supply chain management system by all those the system served.  While many of these accomplishments may be taken for granted in today's world, such was not the case in the 1970s and 1980s when they were innovative and served as forerunners of what would emerge. Krumrey also became one of the first few supply chain management professionals to make it to the C-suite, a rarity back then, but becoming more prevalent in the 21st century.
Clinical connections
Krumrey met with the key physicians, managers and clinicians who were the main users and offered the services of a Centralized Supply Chain Management organization. He attended meetings with department heads and explained to each group what service they should expect. Their participation in the soon-to-be-established Value Analysis committee was stressed as an important key to the program. The CFO and finance department personnel were advised how the system would help them monitor transactions and correctly allocate costs. In-depth discussions were held at the monthly meeting of Senior Administrators and the CEO. C-suite management was impressed as to what the Supply Chain could do for their areas and readily assured their cooperation and that of their staff. These steps were taken so that each user was informed about how the system worked for them.
Krumrey recruited the support of the physicians on the staff at SAMC back in 1975. He visited the surgical suite and spoke to the doctors as they prepared for the day's surgical cases. He was advised on what could be done to smooth surgical cases for the doctors and the hospital. Krumrey added many of the doctors' suggestions to Supply Chain's procedures and responsibilities. Consequently, the doctors felt their input was being incorporated into work plans. These practices gained acceptance for Supply Chain and eliminated many of the doctors' long-standing complaints. Soon, the doctors were speaking highly of the Supply Chain staff and praised its effort to the CEO.
The CFO and Krumrey were in constant communication as commitments for new SAMC buildings' capital equipment was made. Contract terms, in some cases, required money with a purchase order to assure firm pricing. The CFO was informed of these needs and felt Supply Chain data, furnished by Krumrey's purchasing procedures, were helpful in forecasting and controlling large cash requirements. Suppliers were enthused to operate under the Krumrey-organized Supply Chain Management program. They were assured that operating under this program would reduce delivery problems.
Mentoring
When employed by McDonnell-Douglas (now part of Boeing), Krumrey functioned as Supervisor of the Corporate Purchasing Policies and Procedures section. His manager approached him and told him he would be getting a recently hired senior manager who did not fit in his present position. He was to work with Krumrey. After several weeks the new member remarked that he was not happy doing the work. Quietly, Krumrey counseled him and helped him write a CV. They rehearsed interview techniques and discussed personal interviews that the unhappy employee had with other firms. After several months the employee returned from an interview and told Krumrey he had received a very good offer that he accepted. The employee left the firm with a positive outlook of his employment and remained a lifetime personal friend.
Krumrey always strove to help his departmental staff at SAMC and NOH improve themselves for the good of the facility and for their personal well-being. As an example, he inherited a young woman who had been a purchasing clerk for two years but had received little instruction in purchasing functions. Krumrey instructed her on purchasing practices and encouraged her to enroll in a Purchasing class. She was promoted to buyer and enrolled in a local university program. By the time she received her Bachelor's Degree she was ready to be the purchasing manager. In time, she would be named the Director of Materials Management.   
The personal policy for advancement that Krumrey adhered to was to see that everyone had a chance to improve themselves while working for him. As the new Director of Purchasing at SAMC Krumrey learned of a young man who worked part time in receiving/stores while attending high school. He was uncertain about getting a college education or to just continue working in the hospital. Krumrey told his manager to inform the young man that he would provide part-time employment if he attended college. Each summer during the years he attended college, the young man worked at SAMC as a sub for those taking vacation. He learned all of the positions in the Friesen Supply, Processing and Distribution system. Within a short time after graduation the supervisor in that section resigned, and the young man stepped into the position. After seven years he moved to another hospital closer to his home and became the Director of Materials Management, where he's remained for 11 years.
Krumrey insisted his management staff continue to learn and keep up with changing ideas, concepts and technology. From 1972-1987 while at SAMC and NOH, he insisted the managers attend seminars and meetings that were pertinent to their areas of responsibility. They were expected to also become members of ASHMM-St Louis, as he was a member from 1972 until 2006. They were to attend meetings, make presentations and to chair or serve on committees. He believed the future of those who worked for him was as important as how they accomplished their present tasks.
While the regional service representative for  Joint Purchasing Corp., Krumrey worked endlessly to keep the local ASHMM chapter alive in St. Louis. He reasoned that many of the hospital Supply Chain Management staff had no other source of information and training. He worked with education leaders from all over the country to arrange seminars. He requested that suppliers provide speakers and assist in making training available to St. Louis-area Supply Chain Management personnel. If someone could not attend due to the fee, Krumrey provided a scholarship. He knew that helping/mentoring others was the way to assure that a new group of trained leaders would be available in the future.
Expense management and quality measures
In his first year with SAMC, Krumrey evaluated their IV program and the annual costs. He realized that the local St. Louis Metro Hospital Association group agreement would save thousands annually. He reviewed the costs more closely and with the approval of the CEO initiated a cost-saving change. When one of the anesthesiologist heard of the proposed change he told Krumrey that if the hospital changed from one brand to the other he would resign. With the approval of the CEO the change was made, the anesthesiologist resigned and the hospital benefitted from the cost savings. 
In 1986 as the Corporate Director of Materials Management at NOH, Krumrey evaluated the methods being used to procure office supplies and found that each entity in the corporation had its own approach. The proof of delivery and the handling of the invoices were causing confusion in Accounts Payable. Krumrey changed to a single supplier with one method of handling proof of delivery and submitting invoices. At the next contract period better pricing was obtained.  
One of the most extensive expense management methods Krumrey employed at SAMC and NOH was using group purchasing organization contracts. He proved that the price, quality and availability of the items offered time savings for Supply Chain personnel. By supporting the GPO contracts, the facility could save a portion of the annual full-time equivalent (FTE) hours that amounted to an encouraging annual dollar total.
During the furnishing of SAMC's new 280-bed acute-care facility Krumrey reviewed the consultant's plans and found that stainless steel storage shelving and mobile equipment had been specified for all areas. Krumrey changed the specifications on many of the non-critical items to a gloss white baked-on enamel finish. All items with this finish could be kept clean and germ-free while presenting a healthcare appearance. This change resulted in a substantial savings.
Establishing a Value Analysis committee and forming a Standardization section in the committee was the largest contribution Krumrey initiated in SAMC. The actions of the committee assured that both cost and quality would be guidelines for the procurement and use of healthcare products. The success of the committee indicated that all members were in agreement that Value Analysis was a wise approach.
Strategic, tactical committee decisions
At SAMC IN 1981, the CEO asked Krumrey to get a decision from the using physicians as to what specific make and model of a whole-body CT scanner the Board of Directors would be asked to review for authorization to purchase. Krumrey called a meeting with the head of Radiology and the users. He reviewed the specifications the using group had been considering and determined the unit most acceptable to the group. All present agreed to the unit. An updated quotation from the manufacturer was obtained. Krumrey presented the documented decision to the CEO who obtained permission from the Board to proceed with the purchase of the new CT.
When a new computer system was to be purchased at NOH, Krumrey was told the decision would be made by the Board of Directors. A system was purchased, and Krumrey prepared for the delivery, storage and the installation. He was to report to the Board any problems and keep the Board advised of the projected completion of the installation. Upon delivery it was determined that additional components were needed to assure a consistent level of quality information was generated. Krumrey handled the placing of orders for additional support equipment, and coordination of the installment. 
Krumrey also served on the committees considering new healthcare ventures being evaluated by the Board of Directors of NOH. His activities were to provide input on what equipment and supplies would be required with budgetary pricing and delivery availability to establish these ventures. New ventures included, Prescription-unit-dose facility catering to nursing homes, walk installation for performing employee physicals, an urgent care remote site office, mobile X-ray and lab services for other healthcare locations and new physicians practices.
At both SAMC and NOH, Krumrey oversaw the flow of material and the conservation of physical assets, namely, to evaluate unused equipment or supplies for use or salvage. His evaluation of a physicians practice was thorough and usually acceptable to the physician, the seller and the buyer. He was known to label some physicians equipment as "museum quality." 
Clinical, financial, operational success factors
Krumrey taught the SCM staff that good financial practices make the facility a good customer, and as a result, it would receive good pricing and good service. He met frequently with the CFO and controller to review accounts payable items and to be sure there was no problem that would hold up payment due to a supplier. Suppliers and their staff appreciated this effort and felt free to discuss a difference, if one occurred.
A reputation as a fair and honest, prompt-paying customer is what Krumrey practiced and taught the Supply Chain staff. Suppliers often remarked about the few instances where variances were known. His facility was known as one that negotiated to get what they felt they deserved but also worked to limit delays in payment. The programs Krumrey developed with the financial departments worked well and projected a well-run, financially sound hospital.
Krumrey stressed that the clinical functions at both SAMC (1977) and NOH (1981) were the revenue generating arms of the hospital. Material shortages or marginal supplies were not to be tolerated. Suppliers were to be informed of this hard and fast policy. If they had supply problems they were to be shared with our facility along with the remedy being taken to correct the situation. Krumrey shared this policy with the clinical managers. They knew of this policy and appreciated Supply Chain Management's dedication to seeing that their operation would not be interrupted by shortages. 
As the Director of the SPD area at SAMC (1975), a new Friesen hospital, Krumrey's department had to prepare case packs for each day's surgical procedures. Krumrey worked far in advance to make the transfer from OR to SPD. The processing supervisor checked and rechecked each surgeon's preference cards. Nursing service and the OR worked closely with processing supervisors and technicians. When the first day of surgeries was complete a review was held and it was decided that the transfer of responsibilities was a success. 
Professional activities
International Materials Management Society, Member, 1968 to 1977.
Keynote Speaker, Seminar, Health Care at Marymount College, Los Angeles, California 1976.
Region V Vice President, 1975.
President, St. Louis Chapter, 1974.
Member Region Committee for Health Care Industry, 1972 to 1977.
National Vice President-Technical Service, 1977.
American Society of Hospital Materials Management (ASHMM) member, 1977 to 1999.
National Board, ASHMM 1985 to1989.
Designated "Fellow" Purchasing/Materials Management, ASHMM, 1983.
Missouri ASHMM Regional Representative to National Board, 1985.
St. Louis Association of Hospital Purchasing/Material Management, ASHMM Chapter
Member, 1972 to 2006.
Chairman Golf Outing, 1997, 2000, 2001.
Program Chairman, 1996, 1998, 2001.
Treasurer, 1996.
Chairman, Supplier Appreciation Awards, 1994, 1995, 1996.
President, 1992, 1999, 2002.
Vice President, 1993.
National Association Purchasing Management, (now Institute for Supply Management), 1972 to 2006. 
Round Table Facilitator, "Purchasing for Small Businesses," 1996 to 1998.
Purchaser of the Year, 1995.
President, 1990.
Region III Representative, Health Care Section, 1989 to 1996.        
Chairman of Professional Development Committee, 1988.
Recipient of President's Award, 1981.

Metropolitan Hospital Association of St. Louis, 1972 to 1994.
Chairman of Linen, Radiology Committees, 1987.
Chairman General Supplies, 1975.
Member of General Supplies, Dietary and Pharmacy Committees, 1973 to 1980.
St. Louis Metro Health Executives Group, 2004 to 2006.
Missouri Hospital Association, Material Management Section
Member, 1974 to 2000.
Certificate of Need Committee, 1992 to 1996.
State Chairman, 1985.
Regional Representative, 1987 to 1989.
Health Service Agency of Greater St. Louis, 1988.
Member Local Impact Committee.
Emergency Care Committee.
American College of Healthcare Executives 
Diplomat, 1994 to 2006.
Member 1983 to 1993.
Educational activities
Developed curriculum and taught "Industrial Purchasing/Materials Management" for American Association Industrial Management with  Lee & Dobler Text, Purchasing and Materials Management, 1972 to 1999.
Instructor, American Association Industrial Management, 1977 to 2001. Wrote courses:

"Material Handling," 1973, "Inventory Control," 1975, "Basic Purchasing," 1975, "Advanced Purchasing," 1976, "Material Management," 1976.

Regional Test Administrator, National Board of Chiropractor Examiners, 1993 to 1999.
Adjunct Professor:  Purchasing and Materials Management, Lee & Dobler Text, Webster University and St. Louis University, St. Louis Community Colleges 1976 to 1995.
Guest Instructor, University of Missouri-St. Louis, "Industrial Packaging," 1981.
Instructor: Florissant Valley Community College; wrote course "Materials Management," 1978 to 1980.
Instructor, Purchasing Management Association Certification Preparation Classes, 1975 to 1977.
Instructor: McDonnell-Douglas Evening Program; wrote course "Principles of Material Handling," 1975
Humanitarian activities
Volunteer, St. Louis Rapid Transit Metro System, 2009 to present.
Volunteer docent Missouri History Museum, 2008 to present.
Volunteer tour guide, St. Louis Forest Park, 2007 to present.
Volunteer, St Louis Convention Center, 2007 to present.
Volunteer, Stan Musial Golf Outings, 1994 to 2003.
Board Member and Chairman, St. Elizabeth Adult Day Care Centers, 1994 to 2000. 
Board Member, Family Services Organization, 1995 to 1999.
Missouri Certificate of Need committee, 1992 to 1995.
United Way Charities Fund Allocation Committee, 1988 to 1992.
Neighborhood Improvement Association, Street Commissioner, 1988 to present.
Founding member, local Rotary Club, 1986 to 1993.
City of Brentwood Library Board, Treasurer, 1985 to 1988.
Neighborhood Association Trustee, Street Commissioner and Treasurer, 1984 to 1992.
President, Brentwood Swim and Tennis Club, 1977 to 1981.
Chairman, Elementary School PTA, 1972 to 1975.
High School Level Religious Instructor, 1964 to 1996.
Published works
Co-authored university-level industrial textbook with St. Louis University:Industrial Purchasing Principles; Motive Publishers, Amsterdam, 1989; published in English, French, German and Dutch.
"Certified Purchasing Manager Program: Professional Recognition or Personal Pride?" St. Louis Purchaser, November 1987.
"Managing The Just In Time Supplier," St. Louis Purchaser, November, 1986.
"Case Study in Selecting a Computer Based Procurement and Inventory System," ASHMM, October 1982.
"Educational Survey," St. Louis Purchaser, June 1980.
"Professional Development Career" St. Louis Purchaser, March 1980.
"Suppliers Required to Ink New Indemnity Pacts," Purchasing Administration, 1979.
"Critiques of GAO Study of Hospital Purchasing and Material Management,"Hospital Progress, December, 1979.
"Education Survey, Purchasing Management Association, St. Louis," St. Louis Purchaser, September 1979.
"Suppliers Required to Ink New Indemnity Pacts," Purchasing Administration, 1979.
"Critiques of GAO Study of Hospital Purchasing and Material Management,"Hospital Progress, December, 1979.
"Education Survey, Purchasing Management Association, St. Louis," St. Louis Purchaser, September 1979.
"Suppliers Required to Ink New Indemnity Pacts," Purchasing Administration, 1979.
"Critiques of GAO Study of Hospital Purchasing and Material Management,"Hospital Progress, December, 1979.
Feature writer for St. Louis Purchasing Magazine on "Changing Industrial Purchasing Concepts," 1977 to 1983.
"Certification of a Purchasing Manager," St. Louis Purchaser, October 1977.
"Equipping a New Hospital," Hospitals, June 1977.
"Furnishing a New Facility," St. Louis Purchaser, May 1975.
"Prudent Buying," Hospital Progress, October 1975.
"Purchasing Tests," Catholic Health Association, 1975 to 1977.
"Material Handling for Today," International Materials Management Society Quarterly Review, June 1972.
"Material Handling Principals for Supervisors," Modern Material Handling, September 1969.
In His Own Words…
What do you think about Bellwether League Inc.'s mission and philosophy and how do you feel about becoming an Honoree?
Bellwether's mission and philosophy reflect the innovative style and professionalism of its founders. I feel honored to have been chosen and sincerely appreciate that BLI remembers the people who made the healthcare supply chain what it is today.
What attracted and motivated you to join the healthcare supply chain management field when you did?
What attracted and motivated me to join the healthcare supply chain management field was the opportunity to become the director of purchasing and to direct the installation and implementation of a Gorden Friesen system.
For what one contribution would you like to be most remembered?
I would like to be remembered for my mentoring of the people who worked in the areas I managed in first the aircraft production and then in the healthcare field.
If you were to encourage people – either outside of healthcare or just out of school – to enter healthcare supply chain management and strive to be a future Bellwether League Inc. Honoree, what would you tell them?
Healthcare Supply Chain Management has made tremendous strides in the past years and it will continue to become more essential in the future. The challenges and the growing importance of the Supply Chain will guarantee exciting growth possibilities for educated, professional managers.
What is the one industry challenge you would like to see solved in your lifetime?
I would like to see a standard common item name, item number and description. This as a "must happen" event of the future.
How important is effective and innovative supply chain management during tough economic times?
Regardless of the product or service of an organization, it has been demonstrated that a sound Supply Chain Management program is very essential to its financial and operational goals.
In two sentences or less, what defines healthcare supply chain leadership?
Healthcare supply chain leadership consists of those managers and directors who constantly seek methods to improve performance. They are innovative and forward thinkers.
If you traveled back in time to when you just started in healthcare what would you tell yourself?
I would not have been able to forecast the growth in professionalism nor the acceptance I have seen in the past years.