Keith Kuchta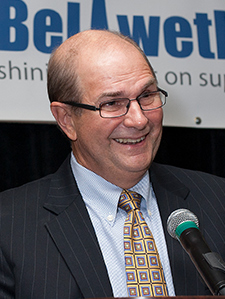 Advancing the Profession through Performance
Keith Kuchta was part of the group that established the Georgetown Healthcare Leadership Institute approximately 15 years ago. This program brought together leaders from an institution's operating room and supply chain departments for a week-long learning program. To solve the lack of strong communication between supply chain and clinical departments – specifically the operating room, leaders from both departments within the same institution were invited to participate. The objectives of the program were:
To promote collaboration between supply chain and perioperative staff
To generate an understanding of the priorities and pressures of their counterparts departments/positions
To improve communications between the departments
To establish trust and enable the teams to solve complex issues while working towards the overall goals of their institutions
The week-long conference took place on the campus of Georgetown University in Washington, D.C., at the Schools of Business and Nursing of Georgetown University. Highlights of the program include
Strategic Management Skills
Financial Challenges in Modern Healthcare Organizations
Managerial Communication in the Age of Technology
Ethical and Legal Issues in an Economically Constrained Environment
Labor and Employment Issues in the 21st Century Workforce
Preview of Key Health Policy Initiatives in the New Administration
In addition, participants spent a morning on Capitol Hill being briefed by key legislative staffers on current health policy issues. The program was attended by approximately 50 people each time, many of which have expressed that it was one of the best educational events in which they've participated. The program opened up the lines of communication between materials management and the operating room by recognizing their differences, and their shared goals. This program was instrumental in tying the sometimes competing interests together, and highlighting that although each area may focus on different components of the process, the priority for all of them is to provide optimum patient care.
Kuchta has spent his entire career at Kimberly-Clark Health Care, an organization known as a standard in quality.  As a leader in the organization, Kuchta is charged with routinely establishing, measuring and reviewing quality measures for both product and service aspects of the company.
Through Kuchta's active participation in SMI, he supports the efforts to highlight and implement innovative solutions and create data based benchmarks for the industry – these metrics are used by providers and suppliers.
As a member of SMI, Kuchta has developed and co-presented findings focused on measuring quality and outcomes as a way to reduce supply chain costs verses the more predominantly used price measure.
Kuchta was involved in several AHRMM events, including (vendor) committee membership to ensure sponsorship is available so that high-quality, relevant keynote speakers have been presented to the supply chain professionals attending the annual conference.
Through his 37 years with K-C, Kuchta has mentored hundreds of individuals entering the profession. This was done through both established formal processes at K-C and informally through his mentoring of individuals working with him.  
Kuchta has sponsored and participated (as a volunteer on a trip) in Project Perfect World.
Kuchta manages his annual budget, establishes sales targets and regularly establishes and monitors quality and performance indicators for his team, which is part of Kimberly-Clark's $1.8-billion global business.
Work Experience
Kuchta has worked for 37 years at Kimberly-Clark Health Care, and has progressively assumed higher-level roles with greater responsibilities.
His experience includes a position as General Manager, K-C's European Business, which has provided him with an understanding of the differences between the European healthcare model and the U.S. healthcare model, and has also enabled him to use processes from both to improve supply chain efficiencies.
Throughout Kuchta's career he has demonstrated his understanding of the link between suppliers/manufacturers, providers (on the operational side), and clinicians.  He has been a leader in bringing these sometimes conflicting priorities and roles together to improve the overall healthcare supply chain – its efficiency, cost and quality, which ultimately results in improved patient care. His involvement and support of one of the first structured forums that bring these components together through the Georgetown University program makes him a Bellwether.
Professional/Humanitarian Activities
Strategic Marketplace Initiative (SMI) Board Member – 5 years, and still actively involved
AHRMM presentations –SMI white paper
Supporter and team member, Project Perfect World humanitarian trips
Annual contributor to Atlanta United Way
In His Own Words…
What do you think about Bellwether League Inc.'s mission and philosophy and how do you feel about becoming an Honoree?
Anytime you're still alive and have a chance to be honored, you definitely want to show up! It's great for your boss to give you praise, but truly meaningful when it's your industry peers and in many cases as it is the case with Bellwether League, your long-time cherished customers. I'm grateful for this honor and honestly, very touched. 
What attracted and motivated you to join the healthcare supply chain management field when you did?
I had a boss tell me that the two most important jobs in a company are to either make something or sell something. I chose sales, and in the process can also offer that I've made many life-long friends. So I guess I can say I've held the two most important jobs that anyone could hope for in a lifetime.
For what one contribution would you like to be most remembered?
Developing people.
If you were to encourage people – either outside of healthcare or just out of school – to enter healthcare supply chain management and strive to be a future Bellwether League Inc. Honoree, what would you tell them?
To care about people – to look and notice and that each opinion, each encounter and each experience contribute to a culmination of having a better understanding, a better picture and  consequently, better solutions.
What is the one industry challenge you would like to see solved in your lifetime?
Removal of excess and waste in the healthcare industry. I've had a chance to witness healthcare first hand in developing countries, and as being on the receiving end as a patient. There is no greater feeling that knowing you've improved someone's life. We live in a rich and blessed country. We are an intelligent nation and we should be able to manage healthcare costs and deliver outstanding care that is affordable. We should also be able to encourage, educate and implement healthy lifestyles so that we are not abusing healthcare resources.
How important is effective and innovative supply chain management during tough economic times?
The answer seems intuitive. I guess on the flip side, if we were constantly effective and innovative with supply chain initiatives, we would be having less tough economic times.
In two sentences or less, what defines healthcare supply chain leadership?
I've read, "If you make your job important, it likely will return the favor." When I think back to my early career days and calling on Supply Chain Managers, they were in the basement of most hospitals. Now, it's no small coincidence that Supply Chain leaders are in the C-suites, setting direction and constantly driving toward improved quality, costs and outcomes.