Brien Laing, Ph.D. (1926-2015)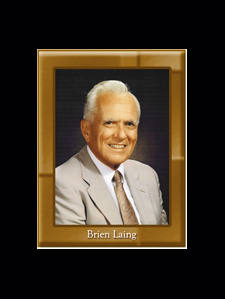 In the archives of American Hospital Supply Corp. (now held by Cardinal Health Inc.), Brien Laing was classified as epitomizing the spirit of customer service more than anyone else in the history of the company, save for its founder Foster McGaw who actually interviewed Laing for a position in the organization.
Laing spent all of his career at American Hospital Supply from 1949 to 1986. During that time, he served in various positions, including sales representative, sales training director, vice president of marketing, vice president of sales, president of American Hospital Supply, Ltd., Toronto, Ontario, Canada (1963-1966), president of American Hospital Supply Division (1972) and corporate group vice president of American Hospital Supply Corporation. When Baxter Travenol Laboratories acquired AHSC in 1986 to become Baxter Healthcare Corp., Laing became vice president of corporate distribution until his retirement in 1988.
Regardless of whom he was talking, Laing insisted on being called by his first name and remembered and called everyone with whom he came in contact by his or her first name. In fact, he often remembered the names of employees' spouses and children as well. He conversed with staffers frequently whether in the company or in the field. As an avid listener, he classified employees' opinions and suggestions "music" to his ears.
According to company archives, Laing also was "incredibly humble." He believed in the "power and credit" philosophy in that if you have the power you don't take the credit but give it to someone else. In fact, over the years Laing pioneered a number of employee recognition initiatives, one of which he earned in 1986, two years before his retirement. Naturally, he deflected credit from himself. In addition to customer service, Laing emphasized that teamwork was part of the corporate culture – not by words but by deeds. In fact, the Harvard Business School published a case history titled, "Brien Laing, A Man And His Work Following Thirty-Five Years of Service as President of American Hospital Supply Corporation's Largest Division," copyright 1985 by the President and Fellows of Harvard College because "The College wished to capture on paper some of the qualities, the beliefs and the behaviors of Brien Laing."
After Baxter, Laing served on the Board of Directors of Span-America Medical Systems Inc. as a director and as non-executive chairman of the Board from 1988 to 1999.
At Span-America, Laing guided the company through the retirement of its founder and made a second CEO change a few years later – both very tough jobs as a non-executive chairman. Through it all, Laing instilled a strong set of solid management principles in the small and growing company. Span-America executives recalled that his character and integrity were absolutely unimpeachable and clearly shined through in everything he did. 
Laing led and inspired by example. In fact, company executives used to laugh that he was one of those rare managers who could tell you that you were doing a lousy job and make you feel good about it – and motivate you to improve. Laing offered a litany of common words of management wisdom, some of which Span-America employees still repeat today, including: "Positive drop through," "Always lean forward," "It snows in Chicago in October," "It's either bad planning or bad management. Either way you're on the hook," "I rarely kept a manager or sales person who missed plan two years in a row." Laing started many conversations (even with the financial guy) with, "Have you sold anything yet today?" and ended many with, "Go sell something."
Laing was bellwether material in that he really appreciated new and innovative methods within supply chain management, promoting the profession and putting it on the commercial map, offering a great service to the industry. He helped to promote stockless purchasing and inventory management, as well as the exchange cart system, and was the one who marketed the exchange cart cover that was very popular with hospitals at the time. He also was the driver behind many of the innovations at AHSC, including the ASAP materials management information system and bar coding. Laing was responsible for training dozens of young managers who would go on to become CEOs of companies. His mentoring and emphasis on effective management were legendary. In fact, he inadvertently helped to create one of the leading television stars in the early 1970s. Laing's Hollywood call to fame was giving one of AHSC's sales reps the opportunity to pursue his thespian dreams – one Edgar McLean Stevenson, who went on to fame and fortune best known for playing Col. Henry Blake during the first three seasons of CBS-TV's M*A*S*H in the early 1970s. Stevenson died in 1996.

Laing was one of the first to recognize that vendors needed to play a role in educating the purchasing professional, which wasn't that highly regarded back then. In fact, Laing used to run materials management seminars for purchasing professionals and served as one of the leading influencers in bringing that concept and term into healthcare.
Laing also was an early advocate of the concept of group purchasing, helping AHSC become one of the largest contractors in the industry that paved the way for other distributors to follow suit. 
Laing earned a Bachelor of Science degree in chemistry in 1949 from McGill University, Montreal, Quebec, Canada. His World War II service split his college career in that he spent one year at McGill prior to the war and resumed his college education three after the war ended. During World War II, Laing served in the Royal Canadian Air Force – British Empire Air Training Program and as a Pharmacists Mate in the U.S. Navy.
Laing retired to Amelia Island, FL. After his retirement, Laing returned to college and earned a Bachelor of Arts degree in History in 1990 from Jacksonville (FL) University, a Master of Arts degree in History in 1994 at the University of North Florida, and a Ph.D. in History in 2003 at the Union Institute, Cincinnati. All three degrees were awarded in American History with concentration in African-American Studies.
Laing has been a life-long student of Winston Churchill and usually is full of great Churchill quotes. He also organized and coordinated a Christmas dinner and gift day for underprivileged kids through his church every Christmas day for many years, attended by several hundred kids. 
Laing credits and lauds the "wonderful support" he received over the years from his wife Lois, and their three daughters. In fact, he still cherishes the memory of how one of his daughters responded to questions about what her dad did: "He was a bedpan salesman!" she would say.
Laing represents real and true leadership and serves as a role model for all of us to follow.
In His Own Words
What are your thoughts about the mission and philosophy of Bellwether League Inc. and how do you feel about becoming part of the organization as an honoree and inductee?
It is carefully focused, inviting one to view the goals of the organization written in concise verbiage. I'm honored to become a functioning member.
What attracted and motivated you to join the healthcare supply chain management field when you did?
A desire to support the needs of those offering and seeking medical care by bringing innovative products and services to caregivers most cost effectively.
For what one contribution would you like to be most remembered?
The studied selection and convincing of bright young minds to join those organizations dedicated to offering the most efficient supply management systems.
If you were to encourage people – either outside of healthcare or just out of school – to enter the supply chain management field and potentially qualify to be a future Bellwether League Inc. honoree, what would you tell them?
Find the leading firm in this field, take any initial job they offer you and grow with them! Think small to grow big!
What is the one industry challenge you would like to see solved in your lifetime?
Conversion of all entities to cost-effective computer technology by connecting caregivers, suppliers and patients. This bodes to be the greatest cost efficiency opportunity ever!
How important is effective and innovative supply chain management during tough economic times?
It is enormously important and begins with [connecting caregivers, suppliers and patients by computer]! Dollars returned and return on investment for every aspect of healthcare is almost incalculable!