Hiram M. Lake (1925-2016)
Note that research was completed via web searches and interviews of some Supply Chain leaders who knew or knew of Hi Lake and his work. Attempts were made to contact his family, directly. However, indirect contact was made through the funeral home that handled his funeral in July 2016. That connected us to his former Secretary, who worked for him for more than 17 years. She was interviewed by Jamie Kowalski and corroborated the information provided below.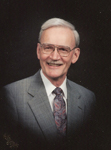 Healthcare/Supply Chain Management Experience:
Hiram Lake's Supply Chain Management experience spans both the non-healthcare and healthcare fields but developed its roots in the military during World War II. The U.S. Navy drafted Lake immediately after high school, sending him to a college for electronics training, including early radar studies. Following his collegiate work, Lake became a radio man for a Marine unit in the Pacific theater. Once Japan surrendered, Lake served as part of a Navy technical group that installed U.S. communications equipment in Japan.
After his military service, Lake married, and he and his wife trained to be missionaries to primitive tribes, including learning medical techniques for delivering care and providing tropical first aid. During this time, Lake also served as an electronics buyer for such companies as IBM and General Electric.
In 1957, Lake and his family went to the mission field of Dutch New Guinea where he applied his medical skills to the natives, electronics skills to the radio of airplanes that landed on an airstrip he helped build and inventory management skills in organizing mission storage areas.
Following his missions trip, Lake and his family returned to the U.S. where he landed a series of jobs in New Jersey and Pennsylvania, among them RCA Laboratories and several research firms, as well as two hospitals. In August 1975, Lake became Director of Materials Management at St. Mary's Hospital, Rochester, MN. For more than 17 years he oversaw five different departments at the hospital until his retirement in 1992.
Hall of Fame-worthy accomplishments:
Lake initiated the concepts of Materials Management at two hospitals, beginning in the 1960s. Details of what that included are not available.
He published several articles on Materials Management topics.
He served on the Editorial Board for "Hospital Materials Management" (a newsletter published by The Business Word Inc.) from the 1970s through the mid-1990s.
He was a mentor and coach to many newcomers into the healthcare materials management profession.
Industry impact:
The industry and profession benefited from Lake's contributions, especially his direct and indirect mentoring and coaching as this took place primarily during the early formative years of materials management concepts and principles in the provider sector that extended beyond purchasing.
Commitment to ethical standards, honesty and integrity:
Hiram Lake was highly regarded for his integrity as a minister, missionary and materials management executive. His ethics and conflict-of-interest policies at the hospital were very strict. He was known to have personal standards that were difficult to match. As a member of the Editorial Board, he had to have met a high bar for integrity, as he represented the newsletter, "Hospital Materials Management."
Commitment to mentoring, education, and/or advocacy:
Lake was very well known to have coached and mentored new healthcare materials management professionals and leaders, both at his hospital and in the industry.
His articles were also instrumental in providing real-world, materials management challenges and solutions, providing those in the industry with motivation, encouragement and guidance.
Demonstrations of innovation and leadership:
His former secretary at St. Mary's Hospital stated at his funeral in 2016, and to Jamie Kowalski via phone call, that Hiram Lake led with a style that met the unique needs of a variety of people and situations. He was a consummate listener and always kept a calm demeanor. He always corrected staff in private.
Degree of professional influence:
"Hospital Materials Management" was one of the first and most respected manuscript-driven newsletters about topics relevant to and written by healthcare materials management practitioners/leaders. The HMM article requirements included a case study with evidence that the solution presented was used and accomplished what was intended.
Application of Hall of Fame-level of knowledge and experience:
Lake's accomplishments in hospital materials management were achieved a long time ago and are not verifiable, except by word of mouth.
If his articles (also not retrievable in any archives) are any indication of the quality of his work, it is easy to conclude that it was of "hall of fame" level. Unfortunately, that work is verifiable only in the memory of those who have been in the profession since the early 1970s, and possibly were also on the HMM Editorial Board at the same time. This includes several Bellwether Class members and Board Members.
Professional worthiness
Lake's materials management career achieved the same high level as his accomplishments and contributions in his career as a minster and missionary.
IN THE WORDS OF HIS SON LARRY……
What are your impressions about Bellwether League Inc.'s mission and philosophy, and how do you feel about your father becoming an Honoree?
As a family we are deeply honored by this award. In being named to the Hall of Fame, Dad becomes an exemplar of the excellence that the Bellwether League stands for. He always stressed excellence in his work, and expected others to strive for it as well, an attitude that is clearly reflected in the Bellwether League's mission statements and philosophy.
What attracted and motivated your father to get involved in the healthcare supply chain management field when he did?
Hi's career path was unusual for the time period when many workers were expected to find a career and a company and stay with it for life. He shocked many people at GE in 1956 when he resigned to pursue missionary work in New Guinea. Family health issues and uncertain educational opportunities for his children led the family to leave New Guinea in 1965; Hi returned to materials management, first at RCA Laboratories in Princeton, NJ, then in a few smaller firms until beginning work at Fitzerald Mercy Medical Center in the Philadelphia area. Work with GE and RCA were both dependent on the defense industry, but the healthcare field was a less volatile environment. Hi enjoyed working in hospitals and solving problems, and in 1975 was hired by St. Mary's Hospital, affiliated with the Mayo Clinic. The family moved again, this time to Minnesota. Hi enjoyed applying principles from previous jobs and interests to the work healthcare materials management.
For what one contribution do you think he would like to be most remembered?
I visited dad at work a number of times, and each time he made a point of making sure I met his team. For Hi, no member of the team was any more important than the others. He knew the names and about the families of all his workers, and was a good example of what he called a "servant leader," someone who sacrificed for the good of the whole team.
If your father were to have encouraged someone – either outside of healthcare or just out of school – to enter healthcare supply chain management and strive to be a future Bellwether League Honoree, what do you think he would have told him or her?
Learn as much as you can from classes, self- study and, most importantly, by researching what provider industry leaders have done. Use that knowledge and apply it wherever you work – at a hospital/IDN, supplier or with clients. Try to improve those approaches and models in a way that maximizes value for the enterprise. Lastly, share what you learn via speaking at conferences, writing articles, or one-on-one conversations, and listen to the responses you get in return.