Nancy LeMaster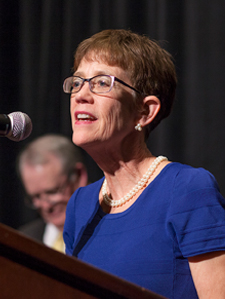 Leading-edge, pioneering accomplishments befitting a Hall of Fame-level career:
In a career spanning over 30 years, Nancy LeMaster has always been an advocate and frequent presenter on supply chain standards for the healthcare industry. She has been recognized for her contributions with several leadership awards and appointments, and was the subject of a GS1 healthcare white paper on US GLN adoption and implementation, serving as a mentor for other hospital systems going through the process. LeMaster also spearheaded electronic data interchange (EDI) adoption and implementation, working with online exchanges such as Medibuy and GHX early on, to expand their reach and streamline back-office functionality.
A leader in industry provider/supplier collaboration, LeMaster was the first healthcare provider to present at an AMR (Gartner) supply chain event, presenting with Boston Scientific on their collaboration to reset reorder points and PAR levels. BJC was able to reduce consigned (and later owned) inventory more than 20 percent with no stockouts. Her early efforts laid the ground work for the adoption of radiofrequency identification (RFID) technology at BJC through a pilot project with Cardinal Health and Cook Medical.
LeMaster also pioneered the formation of BJC's supply chain integration and consolidation work. She handled facilitation, performance management, analysis and results delivery for contracting and outsourcing work performed during the post-merger years of BJC's formation. Her work in this area is still evident today in BJC's quarter-of-a-billion dollar supply chain quality and savings initiative, SupplyPlus.
Innovative thinking that contributed to the advancement of the profession
Within BJC, LeMaster has educated senior leaders and board members about the importance of supply chain as a sustainable strategic advantage. She helped integrate the supply chain strategic plan with the organization's overall plan; from these efforts emerged a dedicated supply chain analytics team that expanded BJC's utilization management and sourcing functions and generated dedicated physician support for supply chain initiatives. As a result, supply chain is a notable topic at leadership and board meetings.
LeMaster has shared her ideas and experience with the industry through conference presentations and publication interviews on such topics as standards, collaboration, transformation and talent development, with a focus on both providers and suppliers achieving success.
Through hercollaborative style of management and leadership, BJC has reported annual savings of $45 million in 2014, $54 million in 2013 and $11 million in 2011. In addition to the analytics team, LeMaster has implemented a supply chain PMO office and developed a Transformation and Change management group focused on continuous improvement. LeMaster consistently starts any initiative or program from the perspective of the patient, and looks for ways to use supply chain talent to improve the patient experience. This involves assembling physicians, clinicians, suppliers and supply chain professionals to explore ways of working together more efficiently. Some of the outcomes achieved involve improved back-office functions, communications and overall strategic and tactical planning. These collaborative efforts have led to ideas on ways to improve the research and development process, leading to one manufacturer changing how they packaged their products.
Demonstrated ethical standards and integrity:
LeMaster has consistently demonstrated the highest levels of integrity and professional standards. She exudes trustworthiness in her business practices and conducts herself honorably. She speaks frankly and constructively; her commitment to professionalism and excellence is a constant.
Hallmarks of leadership:
LeMaster has committed her career to the belief that the best and only way to lead is by example. Her hope is that by being open, honest, willing to try new things and sharing her experiences, she demonstrates outstanding leadership. She has consistently reached out to others to help them develop their supply chain careers, and has given informational interviews and advice to help mentor protégées with their career planning.
Focus on mentoring:
LeMaster has been fortunate to learn from a number of talented mentors during her career and believes strongly in paying it forward. She is part of a group of senior-level executive women leaders at BJC, working within the organization to identify and grow talent. She has worked with several supply chain leaders across the country to offer advice and assistance, when and where needed. One of her proudest achievements has been seeing someone she hired as a director then grow into a supply chain vice president's role.
Professional influence and advocacy:
LeMaster is well-known in the industry and is a frequent speaker and contributor to national trade and industry publications. When people think of leaders in healthcare supply chain management today, her name occupies a prominent spot on the list.
She currently serves on the board of Strategic Marketplace Initiative (SMI), the executive committee of Novation, and as a member of VHA's Large IDN Supply Network; she is on the advocacy committees for both SMI and LISN.
LeMaster has met with the deputy director of CMS, as well as members of the House Ways and Means Committee and other legislators to advocate for supply chain data standards. She has been a speaker at Wall Street analyst conferences that explore and discuss implications of various policies to healthcare providers. She has been interviewed multiple times by the Federal Trade Commission for input related to various mergers and acquisitions, and has presented at numerous industry conferences on a variety of supply chain topics.
IIn Her Own Words…
What do you think about Bellwether League Inc.'s mission and philosophy and how do you feel about becoming an Honoree?
I'm very honored to be selected to join such a distinguished and accomplished group of professionals. Healthcare supply chain management is a relatively young discipline that has only recently begun to be recognized as a mission-critical contributor in our efforts to effectively meet our nation's healthcare challenges. The Bellwether League is committed to helping ensure we remember our past and the accomplishments that contributed to our current state, while we continue to evolve and create our future state.
What attracted and motivated you to join the healthcare supply chain management field when you did?
I followed a very circuitous route into supply chain. My career started in healthcare strategic planning and marketing. I was subsequently asked to develop a new program called performance improvement that would bring the BJC hospitals together to find ways to reduce cost. Of course, supply cost was high on the list. I had the good fortune to work with Jim Francis, who was Vice President of Supply Chain at BJC in those days. He taught me the contributions an efficient supply chain can make to the organization, and how it enabled us to care for our patients and our communities. I was hooked and have enjoyed being a part of healthcare supply chain management field ever since.
For what one contribution would you like to be most remembered?
For my focus on supplier/provider collaboration and efforts to reduce waste and eliminate cost from the healthcare supply chain. We all have to work together to make healthcare accessible and affordable for everyone. This won't be accomplished through antagonistic relationships and cost shifting.
If you were to encourage people – either outside of healthcare or just out of school – to enter healthcare supply chain management and strive to be a future Bellwether League Inc. Honoree, what would you tell them?
First, don't focus on awards or personal recognition. Focus on adding value and using your strengths and passions to make a contribution. Build a strong team, take risks and be creative, lead by example and keep the overarching organizational goals in mind. Be authentic, build trust and remember your reputation will precede you. If you do all of these things, the Bellwether League will find you and invite you to share your journey with others.
What is the one industry challenge you would like to see solved in your lifetime?
Industry standards implemented and used by all suppliers and providers to streamline transactional processes and enrich our analytic capabilities.
How important is effective and innovative supply chain management during tough economic times?
Effective and innovative supply chain management is always important, but during tough economic times its importance is heightened. We want to keep as many resources as possible focused on direct patient care and minimize labor cost reductions. As a result, we rely on the supply chain to provide efficiencies and reductions in the total cost of ownership for our supplies and services.
In two sentences or less, what defines healthcare supply chain leadership?
The ability to collaborate with diverse stakeholders to create and implement innovative solutions that improve outcomes AND reduce the cost of care.
If you traveled back in time to when you just started in healthcare what would you tell yourself?
In order to achieve sustainable change, you must create a compelling vision that speaks to the heart, not just the mind.