Randall A. Lipps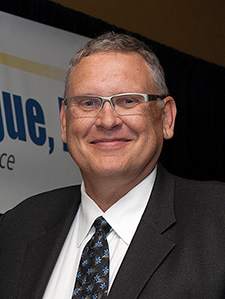 Advancing the Profession through Performance
Under the creation, development, growth and management of Randy Lipps, Omnicell Inc. has emerged as a leading provider of automation and business information solutions that is enabling hospitals and other healthcare organizations to streamline the medication administration process and manage costly medical supplies for increased operational efficiency and enhanced patient safety.             
Omnicell was born from Lipps' direct personal experience. When his daughter was hospitalized at birth, he observed inefficiencies, redundancies and risks in how care was administered. As an industrial engineer who developed automation for American Airlines, Lipps realized that quite a few improvements could be made through automated technology. In one year, he created automated solutions that safely and effectively shepherded supplies throughout the hospital, leading to Omnicell's creation.
Omnicell's industry-leading innovations have been consistently recognized by the healthcare research firm KLAS. Omnicell received the Best in KLAS distinction for automated medication dispensing systems from 2010 through 2013, and has received the top award in this market segment for eight consecutive years from 2006-2013. Omnicell also was named No. 1 overall pharmacy automation equipment vendor in 2013. In addition, Omnicell's pharmacy carousel has also received KLAS Category Leader distinction awards from 2010 through 2013 and its Controlled Substance Management System and medication packager both received the Category Leader awards in 2013.
In May 2012, Omnicell acquired MTS Medication Technologies Inc., a worldwide provider of medication adherence packaging systems, for $156 million. The combination of Omnicell and MTS has created a comprehensive automated medication management offering across the acute and non-acute continuum of patient care.
Lipps' entrepreneurial approach to innovating healthcare automation has been reported by major publications over the years, including Fast Companymagazine, Smart Money, and the Silicon Valley/San Jose Business Journal.
Since 2003, Omnicell has been recognized as one of the top Silicon Valley companies. The combined companies of Omnicell and MTS have more than 1, 100 employees and annual revenues were over $314 million in 2012. Omnicell solutions are found in more than 2,600 hospitals worldwide, including a majority of the top "America's Best Hospitals" on the U.S. News and World Report 2013-2014 honor roll.
Work Experience
Oct 2002 – present      Omnicell Inc.
Chairman, President, CEO and Founder
Sept 1992 – present    Omnicell, Inc.
Founder, Chairman of the Board
1989 – 1992                ST Holdings, Inc.
Senior Vice President
1987 – 1989                AMR (parent company of American Airlines)
                                    (start-up to create services for companies outside AA) 
Assistant Vice President of Sales and Operations
1984 – 1987                Director, Marketing
Assistant Vice President, Marketing, 
Manager, IT Services
1981 – 1984                American Airlines
Controller
1979 – 1981                American Airlines
Financial Analyst                    
1974                            Manager of a local Swim Club
Lifeguard
Education:                  1979    B.S. in economics, Southern Methodist University
1981    B.B.A., Southern Methodist University
Professional/Humanitarian Activities
July 2013  – present    Invuity
Member, Board of Directors
Nov 2011 – present     Radisphere, Inc.
Chairman of the Board
May 2011 – present    ASHP Foundation Board of Directors
Board Member
Oct 2009 – present      UCSF School of Nursing Board of Overseers
Board Member
1998 – 2001                Menlo-Atherton High School Foundation for the Future
Board Member
Previous                      Eagle Scout
Speaking engagements
Wharton School of Business, eHealth class, April 2013 
Pepperdine Business School, Business Policy, Strategy and Ethics class, November 2012 
Wharton School of Business, eHealth class, February 2012
Articles:
Fast Company, May 2010, http://www.fastcompany.com/1643070/how-technology-thwarts-real-life-nurse-jackie
Smart Business, February 2010, http://www.sbnonline.com/index.php?option=com_k2&view=item&id=13964#.Uv1GW_ldXAQ 
Sramana Mitra's One Million by One Million Blog, May 2009,http://www.sramanamitra.com/2009/05/06/streamlining-hospitals-omnicell-ceo-randy-lipps-part-1/
Silicon Valley Business Journal, 2004, 
In His Own Words…
What do you think about Bellwether League Inc.'s mission and philosophy and how do you feel about becoming an Honoree?
Culture and significance is formed by the institutions, individuals and disciplines we recognize and reward. The Bellwether League plays a significant role in transforming healthcare to a "state of the art" organization that the world requires. I feel that the men and women providing direct care to patients are true heroes. My job is to make their lives easier and more efficient by delivering to them the right tool at the right time. I am deeply honored and humbled to be recognized for supporting them.
What attracted and motivated you to join the healthcare supply chain management field when you did?
I was in industrial engineering in the airline industry and had a lot of experience with analyzing complex workflows and how to deploy  automation to eliminate or reduce steps. It so happened that, upon the birth of my daughter, she entered level 3 intensive care for three weeks. During the time I spent with Sarah in the NICU, I witnessed the difficulty nurses had in finding the right product when they needed it. The current solution of the nurses having their own private inventory was poor. I knew there had to be a better way.
In 1992, some Stanford engineers and myself begin building prototypes and reached out to nurses to obtain their feedback on potential improvements and solutions – many of these meetings taking place at my dining room table! We included supply chain professionals to help to develop the backend of the system, and from there we found some concepts that worked. From this research, we built a full-size prototype and in 1993 moved our first Omnicell system into Sequoia Hospital, located in Redwood City, CA. 
For what one contribution would you like to be most remembered?
Being passionate about improving healthcare with the desire to constantly innovate and improve. 
If you were to encourage people – either outside of healthcare or just out of school – to enter healthcare supply chain management and strive to be a future Bellwether League Inc. Honoree, what would you tell them?
First of all, be purposeful about your work, as you are improving healthcare for everyone. Being involved in healthcare supply chain allows you to make a huge impact without the need to be an accredited clinician. The challenge is how to innovate technology that can change complex workflows to transform the industry. Not an easy pursuit, but worth the challenge.
What is the one industry challenge you would like to see solved in your lifetime?
I would like to see every medical product and medication, everything in the supply chain, have an individualized node on a real-time network, so that those providing direct care to patients know where the item is, its condition, who had access to it, where it is going to/coming from, how quick it will get to where it needs to be, etc.
How important is effective and innovative supply chain management during tough economic times?
Regardless of fluctuations in the economy, it is imperative that everyone has access to good quality healthcare. Healthcare resources are limited. We must reduce costs to get more people through the system.
In two sentences or less, what defines healthcare supply chain leadership?
Envisioning the "state-of-the-art" safe, effective, clinical workflow of healthcare components necessary to meeting the highest quality of patient outcomes; and driving this vision with disruptive technologies and passion to change healthcare for all.
If you traveled back in time to when you just started in healthcare what would you tell yourself?
It's not just about the technology, or redesigning workflows, or implementing new computer systems that are key. Understanding how to be a leader to drive change management is just as important.