Lillian R. Matiska (1918-2001)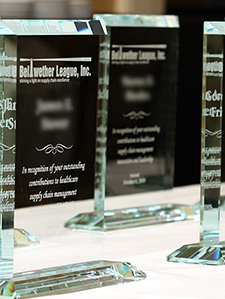 Lillian Matiska began and ended her healthcare career at Jeannette (PA) Memorial Hospital.  Jeannette Memorial Hospital is located in a suburb of Pittsburgh and is approximately 149 beds.  She was actually the first employee of the hospital. As an active volunteer in community affairs, she became committed to the concept of the small town (population approx. 9,900) having its own hospital and worked to make that happen by helping to raise the funds for its construction in 1959. She was the director of purchasing – and head of personnel – at the hospital when it opened.
Matiska rose to national stature in the field of materials management, becoming President of AHRMM (then ASHMM) in 1973. She was the second woman to become president of the organization. She became very active in the field and spoke in 28 states on various subjects in materials management. She pioneered many supply chain concepts during a time when the profession was just emerging in healthcare. Matiska was dedicated to her profession and her hospital. She believed in hard work and the small town work ethic. She believed in people and helped others realize their potential. She helped organize and was a President of the Pittsburgh Materials Management Society.
Matiska was recognized for her leadership and contributions to the field by receiving the George R. Gossett Award from the American Hospital Association (ASHMM) in 1980, the eighth recipient. She also received the Ellis Karp Award for leadership from the Hospital Council of Western Pennsylvania.
Matiska died November 10, 2001, but she never stopped working hard in the healthcare field. After retirement, she organized the Association of Retired Employees of the hospital and had twice served as president of the Jeannette District Memorial Hospital Auxiliary and donated thousands of hours to that organization. She even conceived of the idea of having the Auxiliary create a scholarship for medical students to enable them to establish a practice in Jeannette following their studies, thus providing the community with qualified doctors for many years. She worked tirelessly for the hospital and the healthcare field for over 40 years.
Lillian Matiska was truly a pioneer and leader in the field and certainly deserves to be one of the first women inducted into Bellwether League Inc.