Daniel E. Mayworm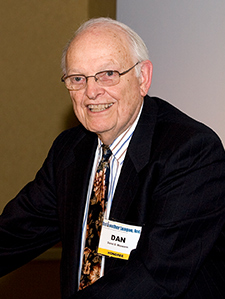 Advancing the Profession/Industry Influence – Bellwethers challenge the norms, push the envelope and raise the bar. Examples include serving as a mentor either within his or her individual organization or on a national, regional or local level outside of his or her individual organization; producing and presenting internal training sessions for the C-suite and/or clinicians and physicians on supply chain management; pioneering new concepts and ideas that may become reality; influencing those up and down the corporate hierarchy on the benefits of and promotion of optimal and sound supply chain management principles and techniques.
The healthcare supply chain industry regards Dan Mayworm as an industry media leader who sought to foster clinical and process innovation and quality as much as report and write about it.
Mr. Mayworm was a prolific author, educator, speaker and advocate of materials management, sterile processing, surgical services and infection control issues, principles and standards.
As an active participant in healthcare supply chain management development, he successfully published several magazines dedicated to the industry and served as a frequent speaker at various trade association meetings.
Mr. Mayworm transformed his educational newsletters for product customers into the magazine Journal of Healthcare Materiel Management, which he later further segmented into the Journal of Healthcare Resource Management and Infection Control Sterilization Technology magazines, published by Mayworm Associates.
His publications and seminars encouraged and influenced many in the industry to explore the scope and depth of the healthcare supply chain as something more than just purchasing.
Mayworm also wrote a contributing column on infection prevention forOutpatient Surgery Magazine.
Work Experience – Minimum 25 years of service within the healthcare supply chain (including a hospital or non-acute care facility, manufacturer, distributor, GPO, consulting or service company, university or news publication).
President, Tower Products Inc., a manufacturer of packaging materials for the medical device industry.
President, Mayworm Associates Inc.
Publisher, Journal of Healthcare Materiel Management/Journal of Healthcare Resource Management
Publisher, Infection Control & Sterilization Technology
Contributing Editor, Outpatient Surgery Magazine
Work Performance – Specific accomplishments and achievements in their respective organizations, including relationships with executives, clinicians, physicians and staff, quality management, expense management measures, committee involvement and management leadership.
Back in the early 1960s Mayworm worked with the major manufacturers of sterilization equipment (AMSCO & Castle) to develop sterilization systems that would work with hermetically sealed, all-plastic packaging. His company, Tower Products, developed the patented "Tower-Tear" plastic bag that changed the face of early, single-use medical device packaging. They were one of the first to manufacture paper-plastic peel pouches, all-plastic bags and pouches for EtO gas packaging, and introduced non-woven CSR wrap and Sterilization Maintenance Covers (dust covers) to the hospital industry.
While owning major market share of disposable medical product packaging Tower began looking for another market and the hospital market looked promising. Tower had been making 1 million packages per day labeled "Contents sterile until package is opened or damaged" so when Mayworm discovered that hospitals were packing their reusable medical products in reusable linen packs and labeling them with an arbitrary expiration date he saw a huge opportunity, as well as how intractable hospital procedures were.
Mayworm tried to "change the world" of hospital central service with a series of "Dating Game" seminars and publishing a monthly newsletter called Tower Topics. During this period Tower developed peel pouches, sterilization maintenance covers and disposable sterilization wrap for steam sterilization and all-plastic Tyvek-brand peel pouches and polyethylene bags.
One part of the packaging and dating issues was that packages were put together right after they were used regardless of when they might be used again. Consequently, some packages sat on shelves for many months before they were needed again, which meant that every 30 days, whether they needed it or not, they were repackaged and resterilized. With some success, Tower worked to introduce CS and OR to the concept of just-in-time inventory control.
Tower also noted that CS, by and large, was controlled and managed by the OR manager. From a business standpoint, Mayworm questioned this practice because CS dealt with inventory management and supply purchasing so its management would benefit from being under the wing of the professional buyers and inventory managers in the hospital materiel management department. As a result, he spent nearly two decades advocating this change.
Professional Activities – Minimum 10 years of active association participation (e.g., office holder, committee chair or contributor, organizing and running meetings, mentoring others) on the national, regional and local level; performed a minimum of 5 speaking engagements (national, regional, local, facility) and published at least 5 times (including writing an article or being interviewed by the trade media) during career. 
Mayworm served in the United States Navy V-12 program from 1944 to 1947, received his Commission as an Ensign and a B.S. in Mathematics from Northwestern University in 1947.
After graduation he joined the Peoples Gas Light and Coke Company as the head of the actuarial division of the Property Accounting Department and gave testimony before the Illinois Commerce Commission on depreciating the company's assets.
Mayworm started a company that was owned by the Schmitt Foundation, Alpine Plastic Bag Co., in 1951. When that was sold he started a new company, Tower Packaging Co. (later changed to Tower Products, Inc.) in 1954 and sold it to American Hospital Supply Corp. in 1980. Tower Products was the foremost supplier of medical products packaging to hospitals and the medical device industry.
In 1981 he began publishing Infection Control & Sterilization Technology and theJournal of Healthcare Materiel Management (later renamed the Journal of Healthcare Resource Management), selling those magazines in 1998 to Midway Publishing Co. He also authored a monthly column on Infection Prevention forOutpatient Surgery Magazine.
Mayworm co-founded and was the first president of the Midwest Converters Association, became president of the Health Industry Association and treasurer, director and member of the Executive Committee of the Health Industry Manufacturers Association. While active in the healthcare industry he gave testimony before both the House and the Senate Committees on the impact of the energy crises on health care and on the economics of the healthcare medical device amendments to the Food, Drug and Cosmetics Act.
Mayworm published articles in numerous healthcare journals and textbooks and gave seminars on Central Service, Materiel Management, Operating Room and Infection Control issues. He keynoted the 1993-94 "Pulse Across Canada" series for Telemedicine Canada.
He has served on many industry committees for AAMI, AORN, ASHCSP, ASHMM, HCMMS, IAHCSMM, as well as various State and regional healthcare organizations. His "Dating Game" seminars have reached tens of thousands and were responsible for changes in sterilization and infection control practices in hospitals such as "Event-related" expiration dating, the proper use of sterilization indicators, the "fall-on-the-floor" myth, the use of sterilization maintenance covers, and more. The titles of his most popular seminars, besides the Dating Games, were "CS Basics (like you never heard before)," "What non-CS managers should know about Central Service," "Going Dateless," "Strategies for the Next Millennium – The Impact of Healthcare Reform on Healthcare Providers."
He was the principal organizer, founder and first chairman of MainStreet Libertyville, Inc., a downtown revitalization effort based on economic development through historic preservation. He is a commercial and instrument-rated pilot and a serious amateur photographer having achieved 4-star status in several exhibit categories of international photographic competition.
Mayworm currently serves as vice president of the Arthur J. Schmitt Foundation; Chairman of the Board of the MENDAC Institute on Early Childhood; Board Member of Harris Bank Libertyville; Secretary/Treasurer of The Landings of Waukegan, Inc. active member of Friends of the Lake County Museum and MainStreet Libertyville, Inc.
In His Own Words…
What do you think about Bellwether League Inc.'s mission and philosophy and how do you feel about becoming an Honoree?
I think it is a great idea and am honored to be remembered for whatever part I had in advancing the field of what I called resource management.
What attracted and motivated you to join the healthcare supply chain management field when you did?
My concern about the way supply management was viewed in the hospital management hierarchy and my attempts to improve the status and professionalism through publishing and speaking. I belonged to both societies and was honored to be given a lifetime membership in one of them.
My experiences in working with supply management led me to making close friendships and admiration for those working in the field.
For what one contribution would you like to be most remembered? 
Probably for bringing the handling of sterile supplies within the hospital out of the dark ages and into the modern world.