Michael McCurry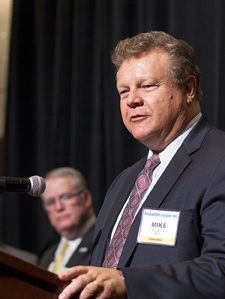 Leading-edge, pioneering accomplishments befitting a Hall of Fame-level career:
Mike McCurry was one of the co-founders of ROi, Mercy's supply chain division. As COO, McCurry centralized purchasing through an internal group purchasing organization, created the Consolidated Services Center (CSC) warehouse, began distribution from the CSC and installed warehouse management software that's since become industry standard for CSC operations in many providers that have adopted this model.
He served for two years as CEO of ROi, providing leadership for supply chain, group purchasing and performance consulting. During his tenure, Mercy Meds, Mercy's medication administration program, was implemented. It prevents 178,000 potential medication events and 17,800 adverse drug events per year.
McCurry then moved on to become Mercy's CIO. In this role, he guided 900 co-workers to support business transformation efforts, including the unification of many systems across Mercy, the consolidation of supply chain systems and implementation of Mercy-wide clinical and revenue applications.
With the exception of three years when he served as CIO, supply chain has directly or indirectly reported to McCurry, even before he came to Mercy. In addition to helping found ROi and pioneering its supply chain successes, as Mercy's current COO, all of supply chain ultimately reports to him so that he maintains oversight of this critical part of Mercy's operations. He also maintains his connection to ROi through service on their board.
For several years, McCurry concurrently served as president of Mercy Hospital St. Louis and regional president of Mercy's East Communities. This role placed him in charge of over 1,400 beds and more than $1.5 billion in revenue. This is the largest single region in all of Mercy. Previous roles with Mercy included vice president/CIO, during which time Mercy's IT division established new benchmarks for system and network availability to support 24/7 availability of key patient care and business systems.
Innovative thinking that contributed to the advancement of the profession:
Before his career at Mercy, McCurry was a pioneer in Supply Chain Automation and was responsible for implementing an XT IBM based system as early in 1984 for the automotive industry and building materials.
At Mercy, McCurry helped create a supply chain model that was truly integrated and included management of the entire system from contracting through use. This provided better clinical engagement and product decision making, enhanced service at the unit level and lower cost.
He also helped make supply chain an essential part of organizational strategy, constructed a best-in-class consolidated service center that would route most of Mercy's supply chain needs through a central location, and focused on proactively managing customer expectations by collaboratively defining what great service looks like. Programs like Mercy Meds, the organization's life-saving medication administration program, were unique for their time and paved the way for similar technology to be used in other health systems.
McCurry's leadership was vital as ROi moved to become its own business entity, providing services to companies outside of Mercy. He helped unify elements of the business to move from a holding company to an operating company.
Here's the impact so far:
Financial:
ROi's Value Report shows $39 million+ in savings annually.
Quality:
Because of Mercy Meds:
178,000 potential medication events and 17,800 annual adverse drug events are averted annually - equivalent to savings of $14 million on litigation and treatment costs.
Medication administration is completed in 1/3 less time.
Pharmacists make 15,000 pharmacy interventions per month, which represents hard-cost savings of more than $2.7 million per year.
Service:
Control of transportation shortens order cycle to 12 hours or less, reduces hospital inventory by 38 percent and eliminates 3,000 stockouts per week.
Improved shipping accuracy by 50% and increased labor productivity by 20 percent.
Demonstrated ethical standards and integrity:
McCurry is a highly ethical leader and man of great integrity. He is an active Baptist minister who regularly preaches at True Hope Church and a community leader within his hometown of Boliver, MO, and the greater southwest Missouri area. As a Mercy leader, he works with the Sisters of Mercy to help create a culture of leadership that not only works together but also takes time to celebrate together. He is a strong advocate of the Mercy mission and a living example of our culture for our co-workers.
Hallmarksof leadership:
McCurry has been a leader in helping ROi become a commercial entity that supports other providers while also generating income for Mercy. He has directly led or approved key decisions leading to the implementation of many ROi programs, i.e., Mercy Meds medication administration, centralized pharmacy compounding, custom pack manufacturing, and a rep-less OR support model for spine products. He also consolidated eight materials management systems into one and was the first to install TECSYS as a large scale warehouse management system, which is now an industry standard for such provider-based applications. Mercy is also one of the top providers in electronic commerce, which has been highly supported by McCurry's supply chain and systems leadership.
McCurry made the ROi model happen and set it up for success. Twelve years later, ROi has been among the top 10 global supply chains in healthcare as ranked by Gartner for six straight years. In 2014, ROi ranked No. 6 and received the highest Gartner analyst ranking given to a provider. He also committed to making the CSC a success. Today, it guarantees next-day delivery and industry-leading service levels on stocked items for both Mercy and other health care partners.
As CIO one of his greatest achievements was overseeing the construction/opening of the Mercy Data Center, built specifically to support Mercy's hospitals. It is designed for 24/7 availability, with fail-safe features to withstand a variety of natural events, power or water interruptions.
McCurry's career progression at Mercy and diversity – from ROi COO and CEO to Mercy CIO and COO – always with an eye toward supply chain, shows his commitment to leading this industry at the top levels. While many people lose their supply chain connection once they advance to the C-suite, McCurry is an active board member for ROi while serving as Mercy's ministry COO. He's active in strategic and tactical decision making and gives his support through leadership and through his help securing financial investments.
McCurry was one of the first to present at the Supply Chain Management Institute on the ROi model. He is a well-respected leader in supply chain and a key reference point for people interested in getting into the integrated supply chain arena. He continues to lead or participate in conversations with other providers on the strategic importance of supply chain and how the ROi model may help them advance their organizations strategic goals.
McCurry has been with Mercy for 27 years.
2009-Present: Executive Vice President and Chief Operating Officer
2010-March 2012: Regional president of Mercy's East Communities
2010-2011: President of Mercy Hospital St. Louis
2006-2009: Vice president/Chief Information Officer
2004-2006: President of Resource Optimization & Innovation (ROi)
1988-2004: Operational roles (director of purchasing, director of materials) at Mercy Hospital Springfield
Pre-1988: Executive supply chain positions with a large regional building materials supplier and O'Reilly Auto Parts
Focus on mentoring:
McCurry hired Vance Moore and prepared him for advancement in ROi. Moore was subsequently promoted to vice president, then COO, then President of ROi. In recent years he became senior vice president, operations, for Mercy. When McCurry was CEO of Mercy Hospital St. Louis, he cultivated relationships among the supply chain team and helped hospital leadership understand the ongoing importance of supply chain.
McCurry has proven to promote leaders from supply chain into some of the most influential roles in Mercy. Much of this success can be attributed to his leadership, direction and promotion of supply chain as strategic and essential to our success. He is also active in groups for Catholic COOs, where he emphasizes the value of supply chain.
Professional influence and advocacy:
McCurry is a strong and consistent voice in ROi and continues to make time for the organization while serving as Mercy's COO. He is one of two integral parts of the whole when it comes to supply chain leadership and making ROi/Mercy's successes known. He is very humble and prefers to remain in the background, so President and CEO Lynn Britton generally gets credit for the success of ROi and Mercy's supply chain efforts, but Britton honestly agrees that any recognition should be shared equally with McCurry as progress has been and continues to be a solid team effort.
McCurry has always advocated that supply chain is a strategy, not a department, a case he continues to make as a member of the C-suite at Mercy. He frequently speaks to organizational leaders of all levels at leadership and meetings, reminding them of this crucial part of Mercy's infrastructure. Further, supply chain became integrated under his leadership. His ideas and vision helped shape the model that led to the success of ROi today. In addition, over the life of the company, McCurry has secured more than $20 million in investments to support ROi and our supply chain activities.
His knowledge of supply chain includes all divisions and areas of responsibility. His entire career – with the exception of three years as Mercy CIO – has been tied to supply chain. He began in purchasing and worked his way up to not only head ROi, but pioneer its invention and the models that make it distinct from other supply chain organizations. Additionally, he continues to be highly engaged by serving on ROi's board. He has been and continues to be a key element of Mercy's supply chain success. He maintains a clear picture of how the parts work together to form the success of the whole, a vision few supply chain leaders can claim.
McCurry's role in supply chain has been consistent, with a long-term focus and a progressive vision. His career progression reflects this and he has been recognized for his leadership abilities with Mercy and by his peers. The success of Mercy's supply chain could not have happened without him. He was a key operational leader in establishing many of the activities that are signature services of ROi today and continues to be a positive influence on supply chain within Mercy.
In His Own Words…
What do you think about Bellwether League Inc.'s mission and philosophy and how do you feel about becoming an Honoree?
The importance of excellent supply chain in any organization cannot be over-emphasized. I am excited that the Bellwether League has formed to highlight the efforts of men and women who work tirelessly to make sure caregivers have the equipment and supplies necessary to provide life-saving care to those in need. I am honored to be a part of such a noble undertaking and deeply humbled to be recognized.
What attracted and motivated you to join the healthcare supply chain management field when you did?
I literally grew up in Supply Chain. My father helped create a family business focused on supply of automotive products to retailers. Wal-Mart was an early customer at a time when they were not a large customer. I have always been fascinated by the importance, strategically and operationally, that a good supply chain provides.
For what one contribution would you like to be most remembered?
Helping others succeed.
If you were to encourage people – either outside of healthcare or just out of school – to enter healthcare supply chain management and strive to be a future Bellwether League Inc. Honoree, what would you tell them?
That a life well-lived is one that is lived in service to a noble cause, and there is no more noble a cause than to help ensure that the focus of caregivers is on the patient and not the need or want of supplies and equipment.
What is the one industry challenge you would like to see solved in your lifetime?
The elimination of incentives within supply chain that do not ultimately improve the product, the price or the service.
How important is effective and innovative supply chain management during tough economic times?
Any business experiencing a downturn will look first at its costs. A good supply chain is often a means of survival and should be part of a why they thrive.
In two sentences or less, what defines healthcare supply chain leadership?
The selection and empowerment of team members, the effective vision for their work and the removal of barriers to their success.
If you traveled back in time to when you just started in healthcare what would you tell yourself?
You have picked a noble cause. Don't Quit!