Foster G. McGaw (1897-1986)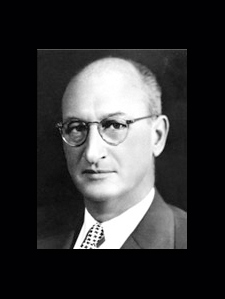 If there were a list of most frequently mentioned leaders and titans in the healthcare supply chain industry, Foster McGaw certainly would be on it, if not perched near or at the top. His name remains a marketed brand and his quotations and business philosophies are used by many companies within and outside of healthcare as benchmarks. Personally and professionally, he cultivated a stellar reputation by demonstrating ethics and selflessness through his customer focus and philanthropic efforts.
McGaw created one of the leading and most influential medical/surgical product suppliers in the nation when he principally founded and was the guiding force behind American Hospital Supply Corp. in 1922 on his 25th birthday, eventually growing it into a multinational business with sales exceeding $3 billion in 1984. McGaw was highly regarded for his "imaginative marketing strategies" in driving success and growing the company but also was remembered for being "rather slow in developing an understanding of the importance of the role of financial management," something he mastered over time.1
McGaw began his sales career six years earlier at 19, very shortly after graduating high school and quickly displayed a salesmanship mastery that he was able to convince his employer to send him out on the road.
McGaw represented "a loosely defined sales territory of 'all the doctors in Iowa, Minnesota, and North and South Dakota'" for Huston Brothers Co., a Chicago-based surgical supply house.
"Within a year McGaw became the top salesman representing the company. McGaw's forte was his mastery of the art of the soft sell. He had a seemingly unique ability to gain the trust and confidence of his customers and was able to establish long-term relationships based on mutual respect." 2
To move from town to town in 1916 McGaw jumped freight trains.3 He left Huston Brothers to serve in the U.S. Marine Corps near the end of World War I and was stationed in Guantanimo Bay, Cuba, where he earned stripes for his desk-based bureaucratic skills.4
After finishing his military tour he returned to Huston Brothers for a while before he was recruited by a fellow salesman to join Colonial Hospital Supply Co. The two tried unsuccessfully to purchase Colonial from its owner.

"From this new position he saw an industry fraught with inefficiency and corruption. He sensed a future for the burgeoning commerce in medical supplies, were it rationalized and cleansed of unsavory practices. He likewise realized that that future lay increasingly with the network of hospitals spreading rapidly throughout the country, rather than with individual doctors who had until then comprised the bulk of the medical supplies market. Thus he conceived of a service industry that would assure the efficient distribution from a central repository of diverse medical goods produced by different manufacturers, an idea not entirely new then but still inchoate in its realization. This service, however, was by itself not sufficient: it needed to be prosecuted efficiently, at reasonable cost, and with ironclad integrity. In emphasizing these elements, Foster McGaw would project his personal values onto the nascent industry."5
By establishing strict ethical guidelines for selling to hospitals and insisting on a high level of quality and service, McGaw shaped the hospital supply industry and helped create the standards under which it operates today. Under his direction AHSC grew during the course of the 20th Century from a small distributor of hospital supplies into a giant dominating a field that, for the most part, did not exist until McGaw invented it.
In addition to his activities as a businessman McGaw also was a renowned philanthropist, donating more than $100 million in funds to a variety of institutions from Chicago and Evanston hospitals and Presbyterian welfare organizations to major universities. Along with his concern for education, he was deeply engaged with other social and political issues of the day. Early during the Great Depression, when his company was in infancy and before he had made his fortune, McGaw declared his intention to get rich and then give most of his money away. He proclaimed himself to be "only God's steward" in the managing of his own financial interests, and sought to highlight work designed to "create actions that develop results."
In 1985, American Hospital Supply Corp. merged with Baxter Travenol Laboratories to form Baxter Healthcare Corp. McGaw served as AHSC's president from 1922 to 1946 and then chairman from 1946 to 1970. He retired as chairman of the company in 1970, but continued to work as its honorary chairman until 1985. In 1996, Baxter International spun off the core pieces of AHSC as Allegiance Healthcare Corp., which was acquired by Cardinal Health Inc. two years later.
1 Frederick D. Sturdivant, "The Financial Education of a Marketing Entrepreneur," University of Texas 
2 IBID
3 Foster G. McGaw (1897-1986) Papers, 1885-1986, Northwestern University Archives, Evanston, IL
4 IBID
5 IBID
Another Perspective…
Foster McGaw personally interviewed Brien Laing, Bellwether Class of 2009, a sales representative position at American Hospital Supply Corp. and hired Laing to carry a bag for the southeast region in the Atlanta area.
Laing fondly recalls his former boss here:
"Foster McGaw, American's founder [was] a young Marine home from World War I who realized hospitals were not served well by their present vendors and he started his company to correct these omissions. By the way, later in his life he commissioned a young Northwestern graduate student to write the history of how he developed his company. While the book is out of print (Growth Through Service: A History of American Hospital Supply Corporation, by Frederick D. Sturdivant), it is available in the Northwestern University Library system. 
"Foster McGaw and Baxter's founder William Graham were very close friends. Both of these men worked on Baxter products together, and there was some ownership shared between them. This led to American's ownership of the Don Baxter Company of California, and the joint research led to the World War II production of blood-drawing bottles containing ACD solution, which extended the life of a bottle of fresh blood on the battlefield to more than two weeks. This saved thousands of military and civilian lives.
"Mr. McGaw had many strong beliefs, such as having a young potential employee as a guest [Laing] in his home BEFORE he offered that person employment.  He taught us to put the customer at the head of our organization chart, and he believed so deeply in sharing his wealth, that as he was nearing his last years, he set aside enough money to comfortably take care of his family, and the rest he gave away. Today his beneficial actions stand for all to see throughout the Presbyterian Church, Northwestern University, Loyola Hospital etc."