Mark M. McKenna (1948-2011)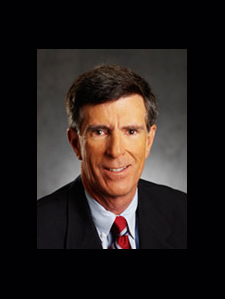 As the second and longest-serving president to date of one of the nation's largest group purchasing organizations in terms of annual purchasing volume, Mark McKenna brought growth, with order and stability to Novation during a turbulent period in GPO history. McKenna deftly guided Novation during his tenure, overseeing membership and program expansion and diversification, as well as advocating and defending group purchasing on Capitol Hill and within the healthcare industry.
Advancing the Profession/Industry Influence – Bellwethers challenge the norms, push the envelope and raise the bar. Examples include serving as a mentor either within his or her individual organization or on a national, regional or local level outside of his or her individual organization; producing and presenting internal training sessions for the C-suite and/or clinicians and physicians on supply chain management; pioneering new concepts and ideas that may become reality; influencing those up and down the corporate hierarchy on the benefits of and promotion of optimal and sound supply chain management principles and techniques.
Mark McKenna assisted in founding and providing funding to the Health Sector Research Consortium (HSRC) at Arizona State University, an organization that conducts original research and represents all sectors of the healthcare supply chain, including manufacturers, distributors, providers and group purchasing organizations. The Consortium's vision was to represent the entire supply chain and conduct original and meaningful research benefiting the advancement of the profession. The first meeting was held in 2004 with a handful of supporters.
One of the more robust and collaborative projects was launched in 2006 on supply chain metrics. HSRC provided the seed money for this project, which involved developing a benchmarking and performance measurement tool, called SCMetrix.
SCMetrix subsequently was spun off and is now a joint venture between ASU and the Association for Healthcare Resource & Materials Management (AHRMM).
HSRC also explored additional areas, including the centralization of the supply chain function in 2007 and physician preference item management in 2008.
Work Experience – Minimum 25 years of service within the healthcare supply chain (including a hospital or non-acute care facility, manufacturer, distributor, GPO, consulting or service company, university or news publication).
McKenna has more than three decades of experience in the manufacturer, distributor and provider-owned GPO industry segments. He spent 19 years before his retirement in 2006 with VHA Inc. and Novation.
1998-2006: Novation LLC, CEO (1999-2006)
1987-1998: VHA Inc., senior vice president, supply chain management; vice president, medical-surgical program
1981-1986: Imed Corp., director, product management, clinical services and marketing
1979-1981: American Hospital Supply Corp., McGaw Division, senior product manager
1975-1978: Johnson& Johnson, Patient Care Division, sales representative.
Work Performance – Specific accomplishments and achievements in their respective organizations, including relationships with executives, clinicians, physicians and staff, quality management, expense management measures, committee involvement and management leadership.
Under McKenna's watch, Novation experienced eight consecutive years of growth in operating income with a compounded annual growth rate of 12 percent from 1999 to 2006. McKenna also implemented Innovative approaches in delivering cash incentives directly to GPO members by focusing on both participation and commitment. These efforts resulted in favorable contract pricing and annual cash incentives directly to members of $250 million. He also researched and implemented a unique approach to clinical markets resulting in a robust and industry-leading clinical preference contracting program.
In 1987, McKenna worked to differentiate the value of VHA's private-label program, called VHA PLUS (Prices Lowered Utilizing Standardization), primarily in the areas of commodity medical/surgical products and generic pharmaceuticals. Through the assistance of a private labeling consulting firm and VHA members, VHA PLUS eventually developed into the Nova PLUS brand that has generated double-digit savings through improved product standardization and utilization for more than 20 years.
In the early 1990s, McKenna helped develop and launch the VHA OpportUNITY program that targeted standardizing the procurement of contracted product in return for best pricing and cash rebates. As a result, this program generated more than $1 billion in committed volume with more than 7 percent-10 percent price savings and cash rebates for participants. Today, this program continues in the form of discipline-specific standardization programs with high membership adoption.
In 1998, McKenna assisted in the formation of Novation by merging VHA's and University HealthSystem Consortium's purchasing programs. In fact, McKenna considers this the "most challenging yet the most rewarding" accomplishment of his career because the two programs operated under such differing philosophies. VHA followed a request-for-proposal (RFP) model; UHC followed a public competitive bid model. While both were effective for their respective organizations, a merger would require a cohesive plan to execute. Novation adopted the UHC model, largely because most of their members required the public bid model and because it offered certain transparent advantages that would serve the organization well over time even though it presented cultural, operational and organizational challenges.
Professional Activities – Minimum 10 years of active association participation (e.g., office holder, committee chair or contributor, organizing and running meetings, mentoring others) on the national, regional and local level; performed a minimum of 5 speaking engagements (national, regional, local, facility) and published at least 5 times (including writing an article or being interviewed by the trade media) during career. 
Chairman, Health Industry Group Purchasing Association (HIGPA), 2003-2004
Board member, HIGPA, 2004-2006
Board member, Health Sector Research Consortium, Arizona State University, 2004-2006
Board member, Universal Hospital Services, Edina, MN
Board member, Suture Express, Lenexa, KS
Board member, Systagenix Wound Management, London, England
Advisory Board member, The Beryl Companies, Bedford, TX
Board member, The Med Group, Lubbock, TX
Past Board member Sterilmed Inc., Maple Grove, IL
In addition to past and current Board service McKenna represented the group purchasing industry before the United States Senate Judiciary Committee's Subcommittee on Antitrust, Competition Policy and Consumer Rights in 2002 and 2004, testifying how GPOs offered providers cost avoidance, choice and overall savings from well-executed contracts.
In His Own Words…
What do you think about Bellwether League Inc.'s mission and philosophy and how do you feel about becoming an Honoree?
Shining a bright light on the accomplishments and contributions that supply chain management delivers to the healthcare system is refreshing as well as much needed. Although the profession is gaining appropriate recognition for both strategic and operational contributions we continue to struggle to gain a seat at the executive table and the universal support required to fully realize our full potential.
I am humbled by the company I find myself included in the Class of 2010.
What attracted and motivated you to join the healthcare supply chain management field when you did?
In 1987 when I joined VHA the field was just starting to gain momentum and held great promise as a force to reduce cost and increase efficiency. DRGs lead the way to a more cost-focused environment and an opportunity to make a difference in delivering on the promise held in group  purchasing behavior and performance. Automated order entry systems gained adoption and opportunity abounded for the practical application of supply chain management.
For what one contribution would you like to be most remembered? 
Relentlessly pursuing meaningful and measurable gains in product and service standardization. In the early 1990s we pursued a product strategy that rewarded providers and suppliers to focus on standardization, passing 100 percent of the gains onto participants who committed to the program. This standardization program allowed all supply chain management players to gain value and reduce cost while increasing efficiency.
If you were to encourage people – either outside of healthcare or just out of school – to enter the supply chain management field and potentially qualify to be a future Bellwether League Inc. Honoree, what would you tell them?
Select a field where you can truly make a difference. I believe that supply chain management allows for contributions that can be measured in both quantitative and qualitative terms.
What is the one industry challenge you would like to see solved in your lifetime?
The merger of clinical and business outcomes into a cohesive collaborative force that improves the quality and cost of care in measurable terms that is shared across the supply chain.
How important is effective and innovative supply chain management during tough economic times?
It is imperative that we capitalize on the No. 2 cost behind labor. The innovations are there for the taking and given where the cost curve is headed we have no choice but to forge innovations in supply chain management.