William M. McKnight (1929-2012)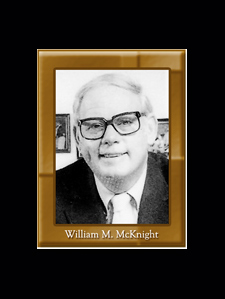 Advancing the Profession/Industry Influence – Challenging the norms, contributing to the thought process, pushing the envelope in terms of moving the profession/industry forward. Examples include serving as a mentor either within his or her individual organization or on a national, regional or local level outside of his or her individual organization; internal inservices for the C-suite on supply management; pioneering new concepts and ideas that may or may not become reality; influencing those up and down the corporate hierarchy on the benefits of and promotion of sound supply management.
Launched Medical Products Sales magazine in 1969 as the first publication to target the distributor sales representative. Over time, MPS also became the leading publication reaching distributor sales executives, replacing two other magazines reaching that segment.
Launched three other magazines, one of which targeted supply chain management professionals and continues to be published today –Healthcare Purchasing News.
Launched the HPN Expo trade show during the 1980s.
Launched the Healthcare Manufacturers Marketing Council (HMMC) in 1986, an association of senior-level marketing and sales executives from medical product manufacturers.
McKnight brought healthcare supply chain management into prominence, inaugurating a publishing niche that continues to this day. At least a half-dozen trade magazines in print today owe their very existence to him paving the way.
Work Experience – Minimum 10 years of service within the healthcare supply chain (including a hospital or non-acute care facility, manufacturer, distributor, GPO, consulting or service company).
Served as a sales rep for American Hospital Supply Corp. in the San Diego/Las Vegas metropolitan areas where he learned how distributor sales reps influenced market share.
He had worked in hospitals for several years before that and had been enrolled in Northwestern University's pre-med program.
A friend of his father William Sr. purchased Hospital Management, a magazine from Crain Communications that targeted hospital administrators, and hired Bill to sell advertising out of the New York office.
Promoted to vice president of sales for the publishing firm in 1964 and moved back to Chicago.
Became involved in a three-facility, private-pay nursing home chain with his father and a third investor to reach and serve affluent residents of Chicago's North Shore.
In 1969, McKnight launched McKnight Medical Communications with about $40K.
MPS started publishing in 1970 and within several years it became the official magazine of the American Surgical Trade Association (ASTA), which is now the Health Industry Distributors Association (HIDA). MPSreplaced ASTA's own publication.
After MPS, McKnight founded three other publications – Purchasing Administration (now Healthcare Purchasing News), Today's Nursing Home(now McKnight's Long-Term Care News) and Pharmaceutical Salesman(now Pharmaceutical Representative).
Established and hosted trade shows (HPN Expo) for hospital materials management professionals and nursing home administrators and directors of nursing.
Work Performance – Specific accomplishments and achievements in their respective organizations, including expense management measures, committee involvement and management leadership.
Served as a distributor sales rep.
Invested in and operated a small nursing home chain.
Started four different magazines, two of which focused on the healthcare supply chain. Three remain in publication today, each with different publishers.
Sold McKnight Medical Communications to Medical Economics Co. in 1986 but stayed on for another three years before retiring from publishing.
Launched the HMMC in 1986, and remained with the organization for seven years before retiring completely.
Professional Activities – Minimum 5 years of active association participation (e.g., office holder, committee chair or contributor, organizing and running meetings, mentoring others) on the national, regional and local level; performed a minimum of two speaking engagements (national, regional, local, facility) and published at least twice (including writing an article or being interviewed by the trade media) during career.
Became a "personality" in the industry by attending shows, accepting speaking engagements, meeting with materials managers, salespeople and CEOs on a regular basis.
Launched and hosted the HPN Expo trade show in the 1980s.
Wrote editorials for MPS and HPN.
Launched HMMC in 1986.
In His Own Words
What are your thoughts about the mission and philosophy of Bellwether League Inc. and how do you feel about becoming part of the organization as an honoree and inductee?
I think anybody who knows me understands how I feel about the industry.
What attracted and motivated you to join the healthcare supply chain management field when you did?
I have always been involved in the healthcare industry since my first plan to become a physician. But by the time I had completed my pre-med studies at Northwestern, I had begun to reconsider my thoughts about practicing medicine and decided to follow a general business career in the healthcare industry, and chose publishing in the industry. It took me several years to develop the ideas for Medical Products Salesman magazine where I saw a need.   
For what one contribution would you like to be most remembered?
I would like to feel at least one contribution was to honor sales representatives, and not only the medical products field, but also the sales representatives [with the] old designation 'pharmaceutical detail men or women' – hencePharmaceutical Representative.
If you were to encourage people – either outside of healthcare or just out of school – to enter the supply chain management field and potentially qualify to be a future Bellwether League Inc. honoree, what would you tell them?
I would encourage men and women to enter any field where salesmanship is needed.