Carl P. Meyer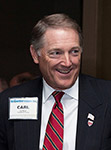 Status: Active
Career span: 32 years (in healthcare supply chain); 7 (outside of healthcare)
Current title: Executive Vice President, The Wetrich Group
Innovative, leading-edge, pioneering accomplishments befitting a Hall of Fame career:
Strategic sales as a consultant: In his current role as Executive Vice President of The Wetrich Group, Carl Meyer was crucial to the growth and eventual sale of his client, Black Diamond Video (BDV), which was a small company – representing about 10 percent market share holder with an innovative technology – that did not have the knowledge of how supply chain contacting could assist its growth. Because of this, BDV passed on an request-for-information opportunity with Premier Inc. that had opened this area for the first time as a standalone category. Recognizing relationships would be a first-order need to re-instill confidence and value for both parties, Meyer worked creatively with Premier senior staff to outline the benefits that BDV would deliver to the Premier membership. He was given an opportunity to participate late in the process and complete an RFP in less than two weeks to be considered in the same timeline as the other participating vendors. Because of Meyer's relationships and his ability to articulate the unique offerings that BDV could offer the Premier membership, BDV ultimately was awarded a multi-source agreement.  Within six months of this agreement, Meyer also negotiated an agreement with MedAssets for BDV.  These awards and the growth that came from them was a prime reason that led to the purchase of BDV by STERIS Corp., while also greatly expanding the utilization of BDV's products.
National accounts and distribution working for an OEM: While at BSN Medical as the Vice President of National Accounts and Distributor Relations, Meyer expanded the medical/surgical supply distribution channel to their acute and primary care locations by more than 289 percent. BSN ran approximately 10 percent of its sales through distribution and GPO arrangements prior to Meyer taking this role. The acquisition of Johnson & Johnson's splinting and casting division moved the dial closer to 30 percent. Meyer convinced the company of the value of selling through GPOs and using the national distribution channel ultimately to benefit the customer – in terms of substantially lower purchase order-to payment cost – and for the company – in market growth as a trusted supplier. This growth moved the sales through contracts and distribution to exceed 90 percent of all sales, and positioned BSN as the supplier of choice among the major med/surg distributors in both acute care and primary care market segments, and major IDNs across the country. Meyer also pioneered, developed and implemented a process improvement program for monitoring the "gray market" and identifying and eliminating sources of product diversion that ultimately improved patient safety (ensuring product was properly handled for temperature requirements, etc), and at an affordable price point for his provider customers.
E-commerce: While at Neoforma, Meyer was a regular speaker on the topic of e-commerce.  In fact, many in the industry would say he was an evangelist for the implementation of e-commerce in the healthcare supply chain. He was the lead Subject Matter Expert on The Value of E-Commerce Study written by Arthur Andersen and he negotiated the signing of Consorta to Neoforma's first Data Cleansing Agreement. In helping to shape the healthcare supply chain e-commerce space, Meyer set a personal performance goal of recruiting 75 Novation members to use Marketplace@Novation, which was powered by Neoforma. Meanwhile, Wall Street expectations were low for meeting the target achievement. In fact, one analyst quipped that "it was likely that pigs would fly before this goal would be achieved." The result? Nearly 300 Novation members (298 to be precise) began using the service, a performance return of 397 percent. Footnote: Meyer was presented with (and stills has) the Neoforma "blue commemorative pig" that was presented to Neoforma for the accomplishment.
Distribution: At General Medical Corp. (later acquired by McKesson Corp. in 1997), Meyer was a District Manager and spearheaded negotiations and implementation of several Optima just- in-time agreements. The most notable was Sarasota Memorial in 1993 when Carl was running the Tampa Distribution Center with full P&L responsibility and leading a team of 80 reports.   As VP of Integrated Healthcare Systems, Carl negotiated GM's first every Agreement with UHC and later as VP of National Accounts negotiated a 3-year $1.2 Billion Med/Surg Distribution Agreement with Premier. Carl was a speaker on behalf of General Medical and McKesson at numerous industry events on a number of topics that always tied back to optimizing the supply chain.
Focus on mentoring, education, and/or advocacy to advance other supply chain professionals and executives, and the profession as a whole:
Meyer was nominated for the Jana Quinn Inspirational Award in 2015 presented by Professional Women in Healthcare. The award is presented annually to healthcare industry leaders who exemplify being a role model, mentor/advisor and an inspiration to others. Meyer was nominated by Anita McKinley, who at the time was the Vice President of Sales and Contract Administration at NDC. Meyer had mentored McKinley through a number of personal and professional areas  that helped her to deliver value to her customers and company.
Meyer consistently has been recognized as a Supply Chain industry expert, interviewed and quoted in several industry publications, including:
Healthcare Purchasing News (HPN)
Hospitals & Health Networks
The Journal of Healthcare Contracting
Repertoire Magazine
StratCenter.com
Meyer has spoken and participated in more than 20 industry events demonstrating his industry insights and expertise as a sought-after Supply Chain thought leader, mentor and teacher. Speaking events, council and task force participation and awards include:
Mercy National Purchasing Annual Meeting – General Medical
Convatec National Meeting – The Impact of Capitated Healthcare – GM
Novation National Meeting – The Value of E-Commerce in Healthcare – Neoforma
Numerous Novation Regional Meetings – E-Commerce – Neoforma
Panelist at a Federation of American Hospitals meeting – E-Commerce– Neoforma
Panelist Fall 2012 IDN Summit – GPO impact in Healthcare – BSN Medical
Moderator – several HMMC panels between 2004-2012 – BSN Medical
Hire Heroes USA Pacesetter Award Recipient – 2008;                         
HMMC Board of Governors, 2004 – 2010, Secretary 2009 – 2010
National Accounts Counsel, Founder 2007 – present
HIDA Acute Care Advisory Council, 2005 & 2007
HISCI Vendor Credentialing Task Force, 2009 – 2012
Federation of American Hospitals Tradeshow Advisory Council 2012
SMI participant, 2010 – 2012
HIGPA Expo Advisory Council 2006
National Accounts Forum, 2004 – present
HIDA Trade Show Advisory Council, 2008 – 2014
Creator 100 Holes for Our Heroes benefiting Hire Heroes USA, 2007 – present
Presenter – GPO Update – HIDA Executive Meeting – The Wetrich Group
Demonstrations of leadership:
Thinking outside the box: Meyer took a vastly different approach of shared savings when proposing the conversion of non-contracted products to alternative clinically acceptable products as a solution to a UHC committee requesting the standard cost-plus on all contract and non-contracted products. Meyer was able to secure General Medical's first-ever UHC agreement for med/surg distribution. This creative approach, which was fought hard by the committee, provided a very simple formula for sharing the savings that would be brought to the provider by the distributor. As an example, if the provider was buying Bandage A for $100 a case and the contracted cost plus 10 percent, the purchase price was $110 a case. If the distributor were to identify a clinically acceptable alternative with a cost of $80 a case, they would end up losing $2 a case in margin as the purchase price would be $88 ($80 X 10 percent = $88), yet the distributor's cost remained the same and the case weight and height was the same.
Instead, Meyer proposed and eventually contracted with UHC a unique shared-savings model. As an example, when a new product was identified by the representative (who was now incented to find lower cost items), the original margin of $10 was applied to the new base cost ($80 for an adjusted cost of $90) so that the distributor was not losing margin, but being incented to finding savings. The difference between the old purchase price of $110 and the new adjusted cost of $90 was then split based on a negotiated split, typically 50/50 but sometimes as high as 80/20 in the providers favor. Using the 80/20 split the new purchase price became $94 with the provider saving at least 15 percent and the distributor rewarded with an additional $4 in profit per case.
Interestingly, one of the committee members became quite irate during Meyer's presentation and stated forcefully that he "was making it difficult on him to determine what distributor his hospital would be selecting moving forward." Meyer's response was simple: As a committee member his duty at that time was to select the best offering of distributors from which UHC members could select based on their needs and that the decision for his hospital should be made at a later date once his committee duties were complete. Calling a member out in front of his committee demonstrated courage and showed Meyer's desire for what was the right thing to do instead of the easiest.  In the end, the member agreed and did vote for General Medical at the committee level (but took the flat cost-plus that the competitor was offering at the time for his hospital).
Leadership within the Industry: Meyer developed the National Accounts Council with Scott Holes and Ed Gravell in 2016. The NAF has hosted 13 Annual Meetings for 2.5 days in late August. The NAF brings together National Accounts Leaders with the heads of Supply Chain and GPO Executives and has five formal learning sessions as well as five informal learning sessions. Past Supply Chain leaders have included Tom Lubotsky, Bruce Mairose, Mike Gray, Rick Salzer, Rick Meier, Bruce Radcliff and Lisa Fohey. Every major GPO has supported this event with representatives, including Ed Jones, Michael Berryhill, Mark Miriani, Dave Edwards, Kevin Gray, Les Popiolek and Dale Wright, among others. This event is designed to facilitate the transfer of knowledge in a casual environment in which the participants learn from not only the presenters, but from each other.
Council leadership: Additionally, Meyer served on the Board of the Healthcare Manufacturer's Management Council from 2004 to 2010, serving as Secretary in 2009-2010. He played a key role in re-shaping the former Healthcare Marketing Management Council into an organization that more accurately reflected the organization and the needs of the members to better understand the impacts of supply chain, med/surg distribution and GPOs on healthcare businesses.
Leadership in community: In 2007, Meyer created "100 Holes for Our Heroes" benefiting Hire Heroes USA. This event has had two driving principals: To bring awareness to and raise funds in support of the amazing work that Hire Heroes USA does in supporting our veterans as they transition into the job market when they have completed their service to our country. During the past 11 years, Meyer has played at least 100 holes on every 4th of July (playing 180 holes in 2017).  This event has raised more than $765,000, while generating significant local, regional and national press coverage via print, radio and TV stories. Over this time, Hire Heroes has grown from a four-person organization that placed 37 veterans in its first year at a cost of roughly $7,000 per placement, to an organization with more than 100 employees in six offices, and with more than 750 volunteers that has placed more than 29,000 veterans. In 2018, Hire Heroes assisted 304 veterans with 521 unique requests for assistance. Each year the cost-per-placement has been reduced to now just below $1,000 per placement. Hire Heroes USA now has placed more than 30,000 veterans. Hire Heroes USA is the highest-rated veteran's employment transition charity in the country earning a Platinum rating from GuideStar and a Platinum rating at 98.23 from Charity Navigator.  Meyer received the Pacesetter Award in 2008 in recognition of his efforts. 
Additionally, Meyer served on the Marketing Board for the USO of Wisconsin and is currently on the Advisory Board of VetsNet, a Veterans resource advisory service in Milwaukee.
Innovation in practice:
Meyer's strong desire to serve is centered on a foundational belief to recognize and understand his clients' changing needs and challenges. This sets him apart as a Supply Chain industry leader. For example, when Meyer toured one hospital, he noticed a huge trash compactor taking up an entire dock bay. Meyer asked what it was; the Supply Chain leader shrugged and said it was his albatross for recycling cardboard boxes and that it cost him more than $70,000 a year. Meyer quickly recognized his company had a need for used boxes for small and re-packed orders and saw an opportunity that would yield reciprocal gain. He increased deliveries to three times a week, built three durable bins (recycling power table boxes and pallets) and agreed to take any and all boxes that they would accept. This allowed his client to eliminate more than 80 percent of its expense while at the same time delivering time establishing a low-cost supply of boxes to meet his company's expense management goals.
Meyer assisted in the re-branding of the name, message and focus while on the Board at HMMC. In turn he was then asked to take on the President's role at the end of his tenure on the Board, but respectfully declined due to other obligations and commitments at that time.
While at General Medical in Tampa, Meyer was instrumental in delivering the SunHealth Central and Southwest Florida sole source med/surg distribution contract. The largest member, Florida Hospital, would not agree to convert as they felt that General Medical could not support them as well as their current distributor Owens & Minor. Allegiance, when notified of not winning the award, took the Ethicon and Bard lines to list price. Florida Hospital, with no advanced notice shifted these two lines. To say the least, it was a mess and quite the challenge. Because Florida Hospital had zero usage data at the time, General Medical created a process to dramatically improve the service levels. At the time of the initial conversion, and with no usage data, the fill rates were well below 50 percent. The process improvement that Meyer and his team created for Florida Hospital would place its order on Monday morning, the distribution center would then pull and sequester what was locally stored in the Tampa distribution center. He would then order for overnight delivery those items that they needed to complete the order. Upon receipt they married up the products for delivery early Wednesday morning to Florida Hospital's distribution center. This led to a first delivery fill rate in excess of 98 percent, which at the time, for suture products was well above the industry goal of 95 percent. This turned into a very positive relationship and over time, the business eventually migrated to General Medical.
Managing professional relationships and services:
While at Xerox in Boston, Meyer spent quite a bit of time in the mid 1980s training a young buyer at Brigham and Women's Hospital on how to use a Memorywriter to populate all the common data for purchase orders to their top suppliers. At the time, this was a huge breakthrough, and the hospital standardized on this approach. Fast forward to 1987 when Meyer worked at General Medical, he was surprised on his very first call at Froedtert Medical Center in Milwaukee to see this person he had trained years earlier and who became his key daily contact. She, in turn because she trusted Meyer, helped him as he learned the new business.
Meyer always has been a believer in life-long learning and that you can learn something from everyone. This includes one's competitors, who are not that "son of a gun," but are like himself, trying to put food on their table, get the kids through school and hopefully fund a vacation here or there and their retirement. One of Meyer's biggest competitors at BSN medical was Scott Holmes from 3M Health Care, and he has become one of his best friends (co-founder of NAC), and today a colleague at The Wetrich Group.
Meyer has had the opportunity to coach and mentor many of the hundreds of the direct reports that he has managed over his diverse career. On top of that, the NAC as well as the National Account Forum (NAF is a smaller group of which Meyer has been a part of for 15 years) have provided unparalleled opportunities for him to learn from industry leaders and peers. Through these two organizations, he has had several opportunities to coach and mentor many up-and-coming professionals in our industry.
Commitment to ethical and moral standards and integrity:
Meyer strives every day to engage everyone with whom he meets with a positive, upbeat approach and outlook and to learn something new. When dealing with business challenges, Meyer always has taken the approach of what is the right thing to do in the situation because he believes that if you follow this rule, things will usually work out to everyone's benefit.
While playing in a golf tournament a number of years ago, Meyer and his golf partner had won their flight and made it into the playoffs. His partner was a casual golfer with a 34 handicap and was not very knowledgeable about the rules of golf. The playoff was an alternate shot. Meyer had chipped onto the green, and his partner marked the ball. When it can time for him to putt, Meyer indicated the line of the putt and the force needed. As the ball rolled toward the hole, Meyer noticed a Pinnacle logo on the ball. The problem was that they teed off with a Titleist and in the rules, one must play the same ball. Although they could have won the tournament, Meyer felt compelled to do the right thing and approach the Pro to disqualify his team.
IN HIS OWN WORDS…
What are your impressions about Bellwether League Inc.'s mission and philosophy, and how do you feel about becoming an Honoree?
Bellwether League provides a service to the Healthcare Supply Chain industry through identifying and acknowledging those whose service and contributions are worthy of recognition, that in turn, identifies for up-and-comers those traits, skill sets and a vision to have as a foundation in building their careers.
What attracted and motivated you to get involved in the healthcare supply chain management field when you did?
Hit a glass ceiling at Xerox and was looking to move into healthcare, when I had the opportunity to take a friend's job, to learn the business and then move into management roles.
For what one contribution would you like to be most remembered?
Personally – creating 100 Holes for Our Heroes benefiting Hire Heroes USA and helping get 400 veterans jobs over the past 11 years, through raising awareness of this outstanding charity and the amazing work that they do, as well as raising over $775,000 in direct support of their efforts.
Professionally – starting the National Accounts Council, which this year will host the 13th Annual Meeting, which is designed to provide a casual environment to learn and network with the presenters and attendees. Over the past 12 years over 120 different professionals have participated, with less than a handful who have attended each year. This diversity of attendees and presenters has proven to be a dynamic and highly educational forum as well as an outstanding networking event.
If you were to encourage someone – either outside of healthcare or just out of school – to enter healthcare supply chain management and strive to be a future Bellwether League Honoree, what would you tell him or her?
If you are committed to providing your employer with outstanding work, every day, then your career is unlimited in Healthcare Supply Chain.
What is the one industry challenge you would like to see solved during your lifetime?
Appropriate Value Analysis – Today, there is way too much time spent on products that have been in the market for decades and are clinical equivalents. If your GPO has awarded a sole source [contract] on a commodity category, there is no rational reason for another review by the Value Analysis team.
What do you feel are some of the things that the healthcare supply chain does that's right – for the patient, for the organization and for the profession … and why?
Effective just-in-time programs that optimize the skill sets of the suppliers to have the right products at the right place in the right quantities at the right price, delivering world-class care for the patient, while optimizing the Supply Chain and delivering the highest level of care, while at the same time delivering the lowest appropriate cost to the provider.
In two sentences or less, what defines healthcare supply chain leadership?
Creating a team and environment that is willing to challenge the status quo to continually look to improve the support to physicians and departments, so that they can deliver the highest level of patient care, utilizing a logical and efficient process-based approach.
If you traveled back in time to when you started in healthcare what would you tell yourself?
Never burn a bridge, no matter how tempting, and always put your customer's needs first, and you will always succeed.