G. Gilmer Minor III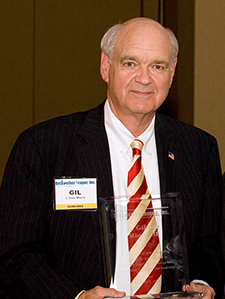 Advancing the Profession/Industry Influence
Gil Minor III grew up in the healthcare supply chain industry. He is the fifth generation of George Gilmer Minors and the fourth generation to lead Owens & Minor. He is one of the most influential and respected leaders in our industry.
As a young boy, his father would take him to Owens & Minor's warehouse where he would ride the conveyor belts from the third floor to the first. His father explained to him that the conveyor system always moved the boxes forward, never backward, because it was key that the company always move forward. Gil Minor never forgot that lesson.
Gil joined the company in 1963 upon graduation from The Virginia Military Institute. He worked and became familiar with all positions in the office and warehouse. During this time he spent hours with O&M teammates to get a sense of what worked, what didn't, and what needed to be improved. Always a great listener, he took these ideas and suggestions and formulated his plans for the future. These plans paid off handsomely and, under Gil's leadership, the company continued to move forward, pioneering many new concepts, including the Activity-Based Costing method for pricing distribution services, Low Unit of Measure/Stockless services, and many other innovations.
Gil always stressed that a company should reinvent itself every three to five years. Because of this belief, Owens & Minor has made changes and taken the necessary steps to ensure that its reputation of being the most efficient, low-cost healthcare supply distributor in the industry is intact. Most important however, is his philosophy: "Be honest, always, and know that there is no right way to do a wrong thing."
Work Experience

Gil Minor has been with Owens & Minor his entire work life. From the day he started in 1963 until his retirement in 2005, a career spanning 43 years, he consistently perpetuated his passion and never-say-die attitude for the business. That same spirit and passion exists today in his position as chairman and retired CEO. He was determined that Owens & Minor would be the leader in healthcare supply chain management, a goal that was realized.
Work Performance 

In his career, Gil Minor has worn many hats and worn them well. In 1970, he headed up Owens & Minor's Cardinal Drug Centers, a merchandising program for independent drug stores. This highly successful program helped these independents compete with national chains. His next position, in 1978, was operations manager for the entire company where he was responsible for many innovative concepts. And in 1980, the board appointed him President and COO. This was followed by his promotion to President and CEO in 1984 and to Chairman and CEO in 1994. 
During this period of time his personal beliefs of team, honesty, integrity, humility, and determination, have permeated and left a lasting imprint on the organization. 
There are both tangible and intangible ways to measure Gil's impact on the organization. At the top of the list would be his focus on the company's culture, which includes operating the business with integrity and the highest ethical standards, treating teammates with respect, and taking care of customers. Because of this undying commitment, the company's market growth soared to new heights. When Gil Minor joined the company in 1963, revenues approached $12 million. When he retired in 2005, that number had climbed to $4.5 billion.
Professional Activities

During his business career, Gil Minor has served on numerous corporate, community and state-affiliated boards. His longest tenure is the Owens & Minor Board that he joined in 1980. This is followed by his 12 years as a member of the board of directors of Sun Trust, Inc., Atlanta, Georgia.
One of Gil's greatest interests is education and he currently serves on the Virginia Common-wealth University School of Business Foundation. He is also very active at Longwood University in Farmville, Virginia, where he has given numerous presentations on business with a particular emphasis on ethics. In 2009, Virginia Governor Tim Kaine appointed him to the State Council of Higher Education for Virginia Board, and in 2010, he was appointed by Virginia Governor Bob McDonnell to the Governor's Commission on Higher Education Reform, Innovation and Investment.
These are great accomplishments, but he is most proud of his idea to create Owens & Minor University. The mission of the University, started in 2003, is to create a learning culture that educates, develops and empowers Owens & Minor teammates to be the very best. The University continues to grow and in 2009, there were 55,000 course completions. Although retired, Gil makes it a point to talk with teammates attending classes.
Gil served as a member of the Board of Trustees for the Virginia Health Care Foundation and was president from July 2003 – June 2005.
Over the years, Gil has received many awards, to include the United Negro College Fund's Flame Bearer of Education Award, the Ernst & Young Entrepreneur of the Year Lifetime Achievement Award, the B'nai B'rith National Healthcare Award, the Greater Richmond Business Hall of Fame award, and the Thurgood Marshall College Fund Award of Excellence. One of his most prestigious awards occurred in 2001 when he was named Virginia Industrialist of the Year. 
Gil has been interviewed and appeared in many trade journals. He has spoken to healthcare organizations throughout the country where his messages are well-received and taken to heart. Kind, generous, decisive, knowledgeable, humble and determined to succeed is what this great leader is all about.
In His Own Words…
What do you think about Bellwether League Inc.'s mission and philosophy and how do you feel about becoming an Honoree?
I am very honored. This is a great organization, and I am incoming in with a great group of individuals.
What attracted and motivated you to join the healthcare supply chain management field when you did?
I was struggling with grades in early high school. After a serious talk with my Dad I gave my future a lot of serious thought. Going into the family business was the right thing for me. It required a lot of focus and effort. The son of the boss has to work harder to show they can do it and are worthy.
For what one contribution would you like to be most remembered? 
Building on and maintaining O&M's reputation for teamwork, honesty, integrity and trust. Building bridges between healthcare supply chain partners, and providing the value of the distributor every day.
If you were to encourage people – either outside of healthcare or just out of school – to enter the supply chain management field and potentially qualify to be a future Bellwether League Inc. Honoree, what would you tell them?
Healthcare is a growth industry, and there are lots of opportunities to get involved and make a difference. People coming in have a chance to build the future and work through the challenges of reform and growth. Supply Chain will have a huge impact on that.
What is the one industry challenge you would like to see solved in your lifetime?
Establishing trust between supply chain partners. It must be earned. But each partner has to recognize that the others have their own objectives and priorities. The common denominator is that each one has to be efficient and either save something or make a profit, and there is nothing wrong with that. Working together to achieve those goals is the best model.
How important is effective and innovative supply chain management during tough economic times?
Supply chain will be an engine; it will support care provided and drive the bottom line.