Sara I. Mobley (1929-2014)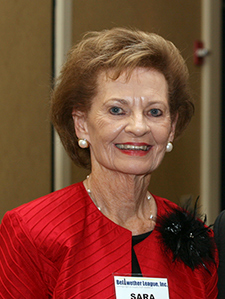 Work Experience – Minimum 10 years of service within the healthcare supply chain (including a hospital or nonacute care facility, manufacturer, distributor, GPO, consulting or service company).
Orlando (FL) Health
Clerk Typist (1949-1951)
Acting Purchasing Director (1951)
Director of Purchasing (1951-1976)
Corporate Director of Materials Management (1977-1978)


Winter Park (FL) Memorial Hospital
Director of Materials Management (1978-1982)
Assistant Administrator, Materials Management (1982-1986)
Vice President, Materials Management (1986-1992)
Retired, 1992
Work Performance – Specific accomplishments/achievements in their respective organizations, including expense management measures, committee involvement and management leadership.
Beginning as a clerk-typist, then acting director of purchasing, Sara Mobley rose through the ranks in supply chain management beginning with a position in purchasing and advancing to vice president over a 41-year healthcare career.
A recognized leader in the field among his peers throughout the Southeast and nationally.
Successfully developed cost savings programs (before Prospective Payment) in concert with focus on patient care.
Develop a well-deserved reputation for being an excellent negotiator with integrity beyond reproach.
One of the first female national leaders in healthcare supply chain management.
One of the first supply chain professionals to become a member of senior management.
Professional Activities – Minimum 5 years of active association participation (e.g., office holder, committee chair or contributor, organizing and running meetings, mentoring others) on the national, regional and local level; performed a minimum of two speaking engagements (national, regional, local, facility) and published at least twice (including writing an article or being interviewed by the trade media) during career.
Became active in AHRMM (then called ASHMM – American Society for Healthcare Materials Management) in the mid 1970s.
Member of the American College of Healthcare Executives – one of the first healthcare supply chain leaders to achieve that distinction.
Instrumental in the formation of two local AHRMM Chapters:

The Southeastern Chapter of AHRMM – held officer positions including president for a four-year term.
The Florida Chapter of AHRMM – held officer positions including president for a four-year term.

AHRMM Board of Directors – served for two terms in the late 1970s.

AHRMM President – 22nd  President of the Association 1983-1984.
Advancing the Profession/Industry Influence – Challenging the norms, contributing to the thought process, pushing the envelope in terms of moving the profession/industry forward. Examples include serving as a mentor either within his or her individual organization or on a national, regional or local level outside of his or her individual organization; internal in-services for the C-suite on supply management; pioneering new concepts and ideas that may or may not become reality; influencing those up and down the corporate hierarchy on thebenefits of and promotion of sound supply management.
Known for advancing the profession through example and mentoring – a number of individuals have gone on to bright careers in the profession.
Well regarded for her supervisory and negotiating skills; was able to achieve significant savings for her institutions in the era before Prospective Payment.
During Sara's AHRMM presidency some notable achievements were:  1) development of criteria for certification for AHRMM, 2) development of programs to get supply chain "out of the basement," 3) expansion of the number of state and local chapters.
Mobley exemplifies the type of individual that should be honored by induction into Bellwether League Inc. She "accidentally" found her way into healthcare supply chain management and excelled by demonstrating significant competence.  She worked hard her entire healthcare career, advancing the profession and mentoring those around him.  She was very active in local, state, and national materials management for the good of the profession. Her dedication and commitment to our industry is something to be admired!
Mobley enjoys her retirement in Orlando, FL, since 1992. However, she remain active in the community including positions with the following organizations:
Rotary Club, Lake Buena Vista, FL – first female member
Crime Stoppers, Orlando, FL – Board Member
University of Central Florida, Town and Gown Committee, member
Florida Executive Women, former board member
In Her Own Words
What are your thoughts about the mission and philosophy of Bellwether League Inc. and how do you feel about becoming part of the organization as an honoree and inductee?
I am honored to be included as an honoree and inductee in this organization. The League provides leadership to new and established executives and emphasizes the importance of being a mentor – a role I was honored to provide to many of my colleagues during my career.
What attracted and motivated you to join the healthcare supply chain management field when you did?
With only a high school education, I was afforded the challenges and opportunities to advance from a clerical position to that of vice president. I was able to meet my goal of providing the right item at the right time and at the right price. Simply stated, this describes the role of the supply chain.
For what one contribution would you like to be most remembered?
I would like to be remembered as a person who was always willing to accept new challenges and responsibilities; my ability to establish strong, honest relationships, via good communication, within the hospital environment at all levels, other healthcare organizations and outside vendors; to be ever mindful of my role in the fiscal viability of my organization while keeping first-class, quality patient care as my ultimate goal. I would also like to be remembered as someone who rose from a clerical position to that of vice president of materiel services and subsequently earning acceptance as a member of the American College of Healthcare Executives, an honor historically bestowed only to those with advanced college degrees.
If you were to encourage people – either outside of healthcare or just out of school – to enter the supply chain management field and potentially qualify to be a future Bellwether League Inc. honoree, what would you tell them?
Be willing to begin at any level available, learn all aspects of your department and its relationship to all other hospital departments, both clinical and non-clinical. Build a strong support team, listen and learn from them and give them the opportunity to excel in their areas of expertise. Be open to organizational changes and the ever-changing landscape of healthcare in general. Never lose sight of the importance of honesty and good mentoring – both giving and receiving.
What is the one industry challenge you would like to see solved in your lifetime?
Affordable, quality healthcare for every American citizen.
How important is effective and innovative supply chain management during tough economic times?
Extremely. Always accept your role in making sound fiscal recommendations and decisions for your department and all other hospital departments.