James C. Olsen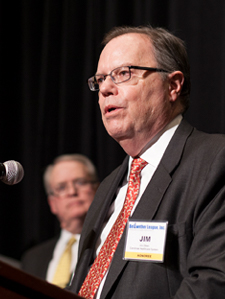 Leading-edge, pioneering accomplishments befitting a Hall of Fame-level career:
Jim Olsen has had a long and varied career in healthcare supply chain, starting with part-time jobs during high school. He has held positions in investor-owned hospital systems, a healthcare insurance company, and at Carolinas HealthCare System, a not-for-profit Integrated Delivery Network (IDN).
During his tenure at Humana, Olsen was responsible for chairing the user committee that developed a single system-wide materials management information system (MMIS). The Humana system was used for some of the first computer-to-computer electronic data interchange (EDI) transactions with American Hospital Supply, Abbott Laboratories and other suppliers. The system was later adopted by Galen, Columbia, and Columbia/HCA, each of them successor companies to Humana. In addition, Olsen developed and implemented end-user teams for the selection and standardiza­tion of clinical and non-clinical products at a time when this concept was relatively new to the industry.
Starting in 1997, Olsen was responsible for developing Supply Chain strategies and infrastructure for Carolinas HealthCare System (CHS). This began with the development of clinical user committees and contracting functions, and progressed to include physician teams utilizing costs and patient outcomes to select physician preference items. This further developed into the Clinical Optimization program. Carolinas Shared Services (CSS), the regional group purchasing organization Olsen developed at CHS now serves 43 acute care hospitals and more than 900 other locations. Olsen also currently chairs the Strategic Advisory Committee for Premier. CHS was one of the first members of Premier's Large Integrated Delivery Network (LIDN) group that was created to gain the benefits of sole-source contracting across several IDNs.
The goal of Carolinas HealthCare System's Clinical Optimization program is to increase value, where value is equal to quality and patient experience, divided by the cost. This program evaluates at the costs and outcomes associated with the patient's hospital stay, and also can be used to identify the impact of devices, drugs, and interventions on clinical outcomes. This correlation between products and outcomes has been the missing link needed for true improvement in healthcare. Olsen serves on the steering team for this effort; and Supply Chain is an active participant in the individual clinical teams to address utilization and cost.
Optimizing the utilization of blood products was a part of a broader effort to optimize processes across surgical service lines. This involved analyzing current utilization vs. benchmarks, then managing to the benchmark.
In addition, Olsen leads the Supplier Diversity Program for Carolinas HealthCare System. Since its incep­tion more than 10 years ago, the program increased its purchases to more than $91 billion in 2012 from $11 million in 2001. The Carolinas Minority Supplier Development Council and Premier Inc. both have recognized the program.
Through Premier Olsen has advocated at the national level for a variety of healthcare supply chain issues, including Unique Device Identifiers, Physician Payment Sunshine Act and Biosimilars, with legislators and regula­tors.
Innovative thinking that contributed to the advancement of the profession
Olsen played a major role in developing new processes and thinking on how electronic medical records can boost supply chain efficiencies and strategies. When an organization makes an investment in an EMR, it's indirectly a boost for supply chain because supply chain now has data on physician-preference items showing the costs, outcomes and readmission rates associated with those products, he said. Carolinas facilities always have been able to make a strong case for supply chain IT upgrades. When supply chain needed a data warehouse for supply information for all of its hospitals, Olsen's group was able to demonstrate that it would provide a four-fold return on investment.
Demonstrated ethical standards and integrity:
Olsen has always demonstrated the highest ethical standards within the material management/supply chain profession. Through his consistent commitments to honesty, fairness, integrity, and loyalty he has earned the trust, confidence and respect of his employers, employees and peers. He and his employees have always maintained all internal and external (suppliers) communications and information in confidence. He has been responsible for the corporate compliance for materials management for more than a decade. Integrity is best judged by Olsen's actions and reputation throughout his 30-year career. He adopted high professional standards of code and conduct early on.
Hallmarks of leadership:
Olsen developed the process Carolinas HealthCare System followed to identify opportunities in purchased services contracting, whether negotiated or bid for replacement services. He implemented a system to monitor those services ensuring that his team attain their quality and financial targets. His ability to understand the relationship between data analytics and success in changing products, based on cost and quality outcomes, has been an important part of expense management and quality measures for Carolinas HealthCare System.
Striving to identify cost savings to be able to help patients regardless of their ability to pay was a goal and necessity for Carolinas HealthCare System so Olsen's team looked at physician preferences and found gaps. They could get at cost, but not outcomes. Working with Premier's QualityAdvisor program Olsen found they could benchmark their outcomes against those of peer patient care organizations and could compare CHS' performance against that whole database of hospitals, to identify cost-effectiveness variations across a number of hospitals larger than the CHS system, and to do comparative effectiveness to drive improved outcomes at lower cost.
While at Humana, Olsen developed end-user teams for selection and standardization of clinical and non-clinical products. This was new and innovative to the industry at that time. During his terms at Humana, Galen, and Columbia Olsen selected and implemented one materials management information system for organization-wide use. He implemented a user-based design approach, then had materials management implement it across the organization rather than IT, which was an innovative approach.
His experience includes the following:
Senior Vice President, Materials Resource Management, Carolinas HealthCare System: 2013-present
Senior Vice President and Chief Operating Officer, Carolinas Shared Services: 2004-present
Vice President, Materials Resource Management, Carolinas HealthCare System: 1997-2013
Vice President, Materials Management Systems, Columbia/HCA Healthcare Corp.: 1994-1996
Vice President, Materials Management, Galen Health Care-Columbia Healthcare Corp.: 1993-1994
Vice President, Materials Management, Humana Inc.: 1991-1993
Focus on mentoring:
Olsen increased productivity within the CHS Materials Resource Management department through a mentoring process in order to provide attractive career paths and decreasing staff turnover. He actively participates in national, regional, and local organizations as a speaker and mentor, enabling newer supply chain professionals to learn from highly experienced leaders. He has mentored individuals who are now leaders in healthcare systems, including David Boyce, Vice President, Carolinas HealthCare System; Mike Grannan, Vice President, Kindred Healthcare; and Greg Hostettler, Senior Vice President, LifePoint Hospitals.
Professional influence and advocacy:
Olsen is a member of the Board of Directors and Executive Committee of the Heineman Foundation of Charlotte, and is responsible for the International Medical Outreach Program for Carolinas HealthCare System. His participation in CHS' humanitarian efforts with the International Medical Outreach program has resulted in the opening of comprehensive intensive care units, pediatric intensive care units, operating rooms, cardiac catheterization labs and echocardiography labs in Guatemala, Honduras, and other Central American countries. One project, in the city of Quetzaltenango, Guatemala, equipped the hospital's first ICU through the donation of more than 14,000 pounds of equipment, including ventilators, patient moni­tors, stretchers and patient beds. These programs ensure that the equipment will be operating correctly, the users trained and a foundation for long-term success is established, before any equipment is donated.
In His Own Words…
What do you think about Bellwether League Inc.'s mission and philosophy and how do you feel about becoming an Honoree?
I agree with the Bellwether League's mission and philosophy. I am humbled to be counted among the many honorees for whom I have the highest respect. There has been enormous progress in healthcare supply chain management, and that progress must continue and accelerate if we are to meet the healthcare needs of people in the future.
What attracted and motivated you to join the healthcare supply chain management field when you did?
My mother is a nurse; and I had spent most of my life around hospitals, so I knew the value of good healthcare. I did not believe I could be an excellent caregiver, but I believed that through supply chain I could learn to support excellent caregivers and reduce unnecessary cost.
I had just graduated with a degree in economics. At that time, healthcare had no relationship to rational economics. I thought I would be able to contribute by bringing an economics perspective to healthcare.
For what one contribution would you like to be most remembered?
A continuous, long-term emphasis on value – not just cost. Value is the sum of quality (patient outcomes), service, and cost.
If you were to encourage people – either outside of healthcare or just out of school – to enter healthcare supply chain management and strive to be a future Bellwether League Inc. Honoree, what would you tell them?
Recognize that others have a point of view and respect them, don't just dismiss them.
Leave your ego out of it. It should always be about what is good for the patient and your organization, not for you. If you are humble and do a great job, people will try to prove you are good.
Always be learning. Something as simple as pronouncing a medical term correctly will give you credibility with others.
Surround yourself with intelligent people, people with high integrity, who give a damn about their work for the organization and for patients. These people should be a combination of those to whom you report, those who are your peers, and those who report to you.
What is the one industry challenge you would like to see solved in your lifetime?
Healthcare financing is the biggest challenge. In order to accomplish anything meaningful in healthcare financing, the effectiveness and appropriate use of various healthcare resources must be well defined and kept current with the state of the art.
How important is effective and innovative supply chain management during tough economic times?
While it is always vital, effective and innovative supply chain management is indispensable during tough economic times. It is the difference between careful surgery and indiscriminate cutting.
In two sentences or less, what defines healthcare supply chain leadership?
Providing patients with the most effective healthcare outcomes using the least amount of resources. The outcomes must be measured in terms of the quality and length of life.
If you traveled back in time to when you just started in healthcare what would you tell yourself?
You will never be bored.
While it will be enormously stressful at times, it is worth it.
In difficult times, listen carefully, take a deep breath, then respond.
Remember what your mother told you: Always be polite and respectful – it pays off in the end.