Richard A. Perrin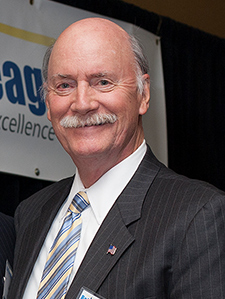 Advancing the Profession through Performance
Dick Perrin served as the first President of the Health Care Materials Management Society (HCMMS) to foster educational programs for supply chain operations. As President and Past President of HCMMS he oversaw and participated in the development of the industry's first certification program for resource and materials management professionals.
As Director of Materials Management, Massachusetts General Hospital, Perrin developed leading edge state-of-the-art provided vision for MGH PAIR system – Purchasing, Accounting, Inventory Reporting, including use of optical character recognition capabilities for patient charge capture ("SUMS" Supply Utilization Management System) for procedure costing analysis and revenue enhancement.
Perrin provided vision and direction to developing Value Analysis and Product Standardization activities at Massachusetts General Hospital, guiding the structure and operations of a multi-focused program with the Executive Standards Committee supported by Intensive Care Standards, OR/Surgical Services Standards, Medical Surgical Standards, Research Community Standards and Laboratory Standards subcommittees. These committees included participation by clinical leadership and physicians in developing product and operations standards.
Perrin participated in the development and operational support activities conducted by the Large Hospital Buying Consortium to achieve enhanced contracts for supplies for participating member organizations. He served as a consultant and participant in Board meetings for C+R+O+S+S in evaluating programs and developing strategies for future growth and support of this group purchasing organization's services and contract offerings. C+R+O+S+S subsequently became Catholic Materials Management Alliance (CMMA), and then Consorta, which now is part of HealthTrust Purchasing Group.
. 
Perrin served as Chair for the Healthcare Supply Chain Standards Coalition for industry leadership fostering development of supply chain data standards for enhanced operations. He served as Chair and subsequently Co-Chair for the Healthcare Information Management Systems Society Supply Chain Special Interest Group (1999-present), fostering industry interaction and participation in educational programs affecting supply chain activities (e.g., Identifying Opportunities to Integrate Unique Device Identifiers (UDIs) in the healthcare delivery system). He serves as a Board Member for the Chesapeake Regional Tech Council (since 2004) in guiding educational programs and activities for regional IT companies. He also serves as Board Member for the Mid-Atlantic Healthcare Materials Management Society (MASHMM) for Communication and Educational activities contributing to this AHRMM Chapters selection as the first and subsequent four-time awards of Platinum Chapter status and provides support for Chapter website and on-going operations (http://www.mashmm.org/). 
Perrin previously has served as member of the editorial board for Health Care Materials Management Journal. He is a frequent speaker at regional and national events on impacts of resource and supply chain management activities on finance and quality management. He serves as the program co-chair for the HIMSS/AHRMM Preconference Symposium at HIMSS each year.
Perrin has been Chair and facilitator of the Healthcare Supply Chain Standards Coalition, completed Board participation and support to C+R+O+S+S and CMMA, facilitated development of Best Practices for Materials Management operations for Catholic Health Care Alliance (CHCA) Senior Leadership and CHCA members and served as a member of the Governance Committee for Chesapeake Regional Tech Council to foster CRTC's educational and networking programs.
Perrin has been and continues to be instrument in contributing corporate, personal and private financial funds to support the success of organizations fostering educational activities, financial and operational performance (e.g., HCMMS, ASHPMM, HIMSS, MASHMM). He also participates in organizational leadership activities (including facilitating activities of Healthcare Supply Chain Standards Coalition leading to development of GS1 Healthcare Users group, and HIMSS Executive Information Systems Steering Committee providing guidance to future educational program development and leadership in fostering specialty advisory committees in activities affecting Meaningful Use, implementation of ICD-10, and enhanced patient care standards).
Perrin served as Deputy Program Director overseeing the creation and implementation of the Central Processing & Distribution (CPD) system software in 68 government Department of Defense (DoD) Medical Treatment Facilities (MTFs) worldwide. System subsequently provided the foundation for the DoD Defense Medical System Standard System (DMLSS) used to manage logistics operations in all of the DoD's MTFs today.
His consulting activities have included analysis of operations, provision of recommendations, and implementation of approved recommendations for operations in academic medical centers (e.g., Ohio State University Hospital, Loyola University Medical Center, Georgetown University Medical Center, National Institutes of Health, University of Maryland Medical System (UMMS), etc.) , integrated healthcare delivery systems (e.g., UMMS, Johns Hopkins Health System, Grant-Riverside Medical Center/Ohio Health, etc.). He has provided leadership to professional services teams providing Initial Outfitting and Transition services to multiple DoD MTFs, including sourcing support, procurement, equipment calibration, testing, installation and training for multiple facilities serving the nation's war fighters, wounded warriors and their families (e.g., San Antonio Military Medical Center, Fort Meade Kimbrough Army Medical Center Surgical Services and OR renovations,  U.S. Army West Point Keller Army Community Hospital, Fort Stewart Soldier & Family Care Clinic, Fort Benning Sullivan Blood Donor Center, etc.).
Work Experience
1964-1968, served as orderly, respiratory therapy assistant, nursing unit assistant
1969-1975, served as Unit Manager, Inventory Manager, Purchasing assistant Director, New England Deaconess Hospital
1975-1985, Director of Materials Management, Massachusetts General Hospital
1980-1985, independent management consultant in healthcare supply chain management
1985-2000, Founder and President, Healthcare Concepts Inc., supply chain management consultants to providers and industry
1996-present, Founder and President of AdvanTech Inc., supply chain management consultants to providers and industry, including information technology systems development and integration for government and commercial logistics and healthcare industry operations.
Professional/Humanitarian Activities
HCMMS first president and founding member
Honorary Life Time AHRMM member
Advanced Member, Health Care Financial Management Association. 
Member American Standards Committee on Electronic Data Interchange (X-12.3 Committee) on Purchasing/Order Entry, Traffic/Distribution, Receiving and Inventory Control from 1989-1984
Charter Member, American Society for the Advancement of Medical Informatics
HIMSS member 1993-present
MASHMM member to present
CRTC Board Member – 2004-present
Speaking Engagements
"Healthcare Purchasing Via The Internet: How To Make It Work To Your Advantage," September 10, 2000, Healthcare Industry Distributors Association, Annual Meeting, Orlando, Florida.
"Innovative Approaches For IV Medication Administration - Linking Supply Chain Management To Patient Safety And Medication Administration," February 14, 2005, Healthcare Information Management Systems Society Annual Conference, Supply Chain Management Special Interest Group, Richard Perrin, Moderator.
"Trends In The Industry - Mmis Vendors & Emerging / Evolving / Existing Scm Standards - Moving Industry Standards Forward!"  February 26, 2007, HIMSS Annual Conference, Supply Chain Management Special Interest Group, New Orleans, LA, Richard A. Perrin, Chairperson and Moderator.
"The State Of Supply Chain Standards In Healthcare - Beyond the Hype, What's Really Happening?" August 13, 2007, AHRMM Annual Conference, Passport to Success, San Diego, California, Richard Perrin.
Articles and publications (selected examples – usually publish 1-2 articles per year)
"Impact of Automated Information Systems on Logistics Activities in Medical Treatment Facilities," Matthew P. Gustat and Richard A. Perrin,Proceedings:  Third Annual Congress on Healthcare Informatics, Amsterdam, Netherlands, June 1983.
"Determining the Effectiveness of the Standardization Process," Richard A. Perrin,  Hospital Materiel Management Quarterly, pp. 39-48, August 1983
"Information Technology," Chapter 18, Richard A. Perrin, Central Service Technical Manual, published by International Association of Healthcare Central Service Materiel Management, 2003 and subsequent revisions, pp. 329-348.
"RFID & Bar Codes - Critical Importance in Enhancing Safe Patient Care," Richard A. Perrin and Ned Simpson, Journal of Healthcare Information Management, Fall 2004, Vol.18, Number 4, pp. 33-39.
"Achieving the Promise of e-Commerce - Part I," Richard A. Perrin and Karen Conway, Healthcare Purchasing News, April 2005, Volume 29, Number 4, pp. 58-62.
eBusiness in Healthcare: From eProcurement to Supply Chain Management, Editors: Ursula Hübner and Marc A. Elmhorst (Oct 11 2007), Health Information Series - Chapter 7 - Evolution of e-Business in Healthcare, co-authors Karen Conway and Richard A. Perrin, Publisher Springer-Verlag, International, Ltd.
In His Own Words…
What do you think about Bellwether League Inc.'s mission and philosophy and how do you feel about becoming an Honoree?
The Bellwether League was founded to recognize those who had contributed to moving healthcare supply chain and logistics forward in support of enhanced quality of patient care and financial management. As such it is an incredible honor to be selected as an honoree by the Board of Directors and nominating committee. The recognition by a group of individuals highly regarded for their individual contributions to the healthcare supply chain is humbling to say the least.
What attracted and motivated you to join the healthcare supply chain management field when you did?
The road of life is full of many forks. I had the opportunity to join the staff of the New England Deaconess Hospital as a Unit Manager and was asked to provide support to reorganizing operations in the store room to better support the patient care units. Following success in those efforts, I was moved into purchasing to assist with operations in that area as well. I joined the International Material Management Society to learn more about logistics and was asked to participate in a committee that was forming a healthcare section. Based on our early success and recognition of the need for education programs, we formed the Health Care Material Management Society, and I served as National President for the first three years. Our activities convinced me of the continuing need for strong educational programs in the field to provide insights and knowledge to others in the discipline. 
For what one contribution would you like to be most remembered?
Providing guidance and contributing to developing the initial certification in healthcare materials management as part of our HCMMS activities. This program later was transferred to AHRMM and today continues to be refined as a foundation for ensuring knowledge and education for AHRMM's members. 
If you were to encourage people – either outside of healthcare or just out of school – to enter healthcare supply chain management and strive to be a future Bellwether League Inc. Honoree, what would you tell them?
A key perspective shared with us by the dean of students at the Boston University School of Management was to participate with professional organizations to ensure awareness of current standards, gain knowledge and to network with peers in your industry. Over the years, I have counseled others to do this as they graduated from the educational programs and entered the industry. Today, this is as important as ever. Participation with professional organizations is critical to maintaining knowledge and perspectives on industry trends and best practices.
What is the one industry challenge you would like to see solved in your lifetime?
We have been working on the development and implementation of information standards for the healthcare industry for many years. These continue to evolve and with the recent regulations passed by the HITEC Act and the FDA and the promulgation of Meaningful Use for electronic health records we are now moving closer to implementing the global identification standards as part of the Unique Device Identification regulations and the related use of AutoID standards (bar coding and RFID) that will enable significant enhancements in supply chain management. These standards will contribute to enhanced healthcare for our nation's diverse population with enhanced abilities to track items and initiate recalls when necessary, develop best standards and protocols for care and link patient records to multiple providers using inter-operability to reduce redundant and unnecessary duplication of tests.
How important is effective and innovative supply chain management during tough economic times?
Industry performance is dependent on continued evolution of systems and procedures to achieve optimum benefits both during good times and bad. Innovations in supply chain activities today are largely through the use of information systems to enhance operations but these must be carefully planned and structured to achieve benefits. In two sentences or less, what defines healthcare supply chain leadership? Healthcare supply chain leadership is defined as effective communication of the vision and mission of the organization to meet on-going patient care requirements in the most effective manner for quality and financial performance coupled with organization to meet the defined objectives and followed by evaluation of results achieved and adjusting organization and processes to further enhance performance.
If you traveled back in time to when you just started in healthcare what would you tell yourself?
Always take time to identify, study and reflect on best practices as they can be applied to both general and specific situations. Seek to make contributions to our society that contribute to the well being of your fellow countrymen.