Tom Pirelli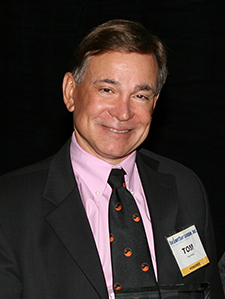 Work Experience – Minimum 10 years of service within the healthcare supply chain (including a hospital or nonacute care facility, manufacturer, distributor, GPO, consulting or service company).

Tom Pirelli, 60, is the founder and Executive Director of the Arial Foundation, a charitable organization dedicated to working with kids, handicapped individuals and poor families.  Tom and his wife, Jane, set up their private Arial Foundation in 1996. From 1981 to 1996, Tom was the Chairman and CEO of Enterprise Systems, Inc., a healthcare software firm based in Wheeling, IL that Tom founded in April, 1981. From 1975 to 1981, Tom was a Director of Information Systems for American Hospital Supply Corporation.
Work Performance – Specific accomplishments/achievements in their respective organizations, including expense management measures, committee involvement and management leadership.
After graduating from Princeton in 1969, Tom worked as an Information Systems Consultant in Princeton, NJ for 6 years before relocating to Chicago to work for American Hospital Supply Corporation.
From 1975 to 1981, Tom was a Director of Information Systems for American Hospital Supply Corporation. During that time, Tom was a founding member of the Healthcare Industry Bar Code Council (HIBCC) that developed standards for bar code use in healthcare.
Tom founded Enterprise Systems, Inc., a healthcare software firm based in Wheeling, IL  in April, 1981. Enterprise Systems became a public company in 1995 (NASDAQ:ESIX) and was acquired by McKesson in 1997. Enterprise Systems was one of the first companies to offer personal computer business systems for use in hospitals, starting with Apple II computers, followed by IBM PCs. Enterprise Systems was one the first companies to install a local area network in a hospital.
Enterprise was the first company to integrate touch screens and bar code scanners for tracking hospital supplies with its innovative TouchScan product, with hospital installations starting in 1994.
Tom served on the Board of Holy Family Hospital. He served on the original Health Level 7 (HL7) Committee that developed the first data interchange standards for healthcare.  Enterprise Systems was an early supporter of standards for exchanging data between healthcare business partners.
From 1998 until 2008, Tom served on the Advisory Board for the FIRST organization (founded by Dean Kamen of Segway fame). Tom taught robotics classes, and sponsored robotics teams for middle school and high school students. Tom's Arial Foundation sponsored the FIRST LEGO Robotics competition for the Chicago Public School system for two years, involving more than 1,000 middle school students in an educational, fun competition.
Tom takes his FIRST Robotics teams to Ensenada, Mexico every summer to build high tech Arial Homes.
Tom currently serves on the Board of Clearbrook, a charitable organization which cares for 600 mentally handicapped children and adults in northwest Chicago suburban communities. Tom is also on the Board of Saje Technologies, a company which provides voice controlled environment and entertainment control systems for handicapped people.
Tom works closely with two high schools in the Chicago area, Deerfield High School and Chicago Hope Academy. Chicago Hope is a private inner city school in one of the poorest neighborhoods of Chicago. Since the school has no athletic fields, Tom recently completed a major renovation of a dilapidated, drug infested Chicago Park to turn it into four baseball fields and a new football/soccer field for use by the Chicago Hope teams and neighborhood kids.
The Arial Foundation created The Arial Home Initiative, an ambitious project whose goal is to be responsible for the construction of one million new homes for poor families around the world over the next 10 years. The key element in this goal is the establishment of highly automated, local manufacturing plants in the poverty stricken areas of Third World countries. Tom's work in this area is explained on the Arial Home web site at: www.arialhome.org.
Advancing the Profession/Industry Influence – Challenging the norms, contributing to the thought process, pushing the envelope in terms of moving the profession/industry forward. Examples include serving as a mentor either within his or her individual organization or on a national, regional or local level outside of his or her individual organization; internal inservices for the C-suite on supply management; pioneering new concepts and ideas that may or may not become reality; influencing those up and down the corporate hierarchy on the benefits of and promotion of sound supply management.

Tom Pirelli was the Founder, Chairman and CEO of Enterprise Systems (ESI) and the marketing and business genius behind ESI. A 24/7 salesman and market leader and innovator, his contribution to the healthcare supply chain industry was driven by his "supply chain application software." ESI during the 1980s and 1990s was considered the standard of the industry. His information system brought a new discipline and more efficient way of doing the business of supply chain in hospitals. His user group meetings were the supply chain event of the year and were always well attended.
In His Own Words
What are your thoughts about the mission and philosophy of Bellwether League Inc. and how do you feel about becoming part of the organization as an honoree and inductee?
I am honored to be one of the Inductees into the Bellwether League. The 21 years that I was involved in healthcare supply chain management were the highlight of my career. I enjoyed working with all of the professionals in our industry and watching them progress in their careers. The period of my involvement, from 1976 until 1997, was a time of rapid evolution in supply chain techniques and there was great innovation.
The introduction of personal computers into the field changed all the rules and made it possible for supply chain management to become a highly sophisticated part of the healthcare delivery system. By honoring past contributions to the profession, I believe the Bellwether League will encourage new people entering the field to achieve even higher levels of professionalism, innovation and excellence.
What attracted and motivated you to join the healthcare supply chain management field when you did?
I was first hired into the healthcare industry by American Hospital Supply Corp. in 1976. Coming from the computer software industry, I was dismayed at how much of the work of supply chain management was being done manually, with no computer support at that time. I was attracted to the challenge of bringing automation and information system standards to the field.
My first ever automation project for American Hospital Supply Corp. in 1977 was to program an Apple II computer to pretend it was a purchasing person keying an order on a Teletype into American's ASAP system. Since the Apple computer could type much faster and more accurately than a human being, the process of placing a purchase order became much easier and less error-prone. This may have been the first instance of two computers communicating to each other over a phone line using what later became known as electronic data interchange (EDI).
For what one contribution would you like to be most remembered?
The company I founded in 1981, Enterprise Systems, was the first to offer personal computer software specifically tailored to the needs of healthcare supply chain professionals. Although our use of Apple II computers was scoffed at by mainframe [information systems] people at the time, it set the stage for a revolution in how hospitals use computers. It also led the way to increased use of EDI, [significant] improvements in supply chain efficiency, just-in-time inventory control, and paved the way for the HIBCC and HL7 standards. Looking back, I am proud that I was able to withstand the early criticisms and setbacks to play a role in those innovations.
If you were to encourage people – either outside of healthcare or just out of school – to enter the supply chain management field and potentially qualify to be a future Bellwether League Inc. honoree, what would you tell them?
There is no limit to the good you can do by helping to make the supply chain process more efficient. The Internet has changed all the rules once again and you can create entirely new processes that will result in the lowest cost ways of getting products from the manufacturers to the consumers. This will help keep the costs of healthcare down at a time when rising energy costs are hurting everyone.
What is the one industry challenge you would like to see solved in your lifetime?
Although the industry has come a long way in the use of standards, proprietary interests on the part of competing vendors have limited the amount of savings that could be achieved. A stronger, more militant group of industry professionals could insist on increased adherence to industry standards that would lower costs and operational complexities for everyone.