Jane R. Pleasants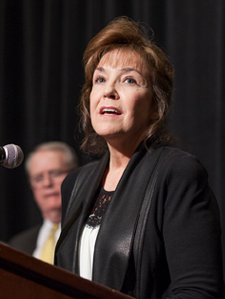 Leading-edge, pioneering accomplishments befitting a Hall of Fame-level career:
Jane Pleasants has worked in healthcare supply chain for the last 29 years. She began her healthcare supply chain career at 69-bed Gordon Hospital in Calhoun, GA. It was only a year, but she was bitten by the supply chain bug and never looked back. She moved to Vanderbilt University for nine years, University of Rochester and Strong Health System for three years and finally settling in at Duke University Health System for the last 16 years. No one should be fooled by her quiet, professional demeanor. Pleasants has not only been an advocate and leader for the profession, she has helped move the discipline to heights enjoyed today.
Some of her accomplishments to date are:
At Vanderbilt she implemented the nation's second low-unit-of-measure stockless program at a hospital, something very innovative at that time.
She also co-developed supply chain automation technology with Enterprise Systems Inc. while at Vanderbilt where numerous new applications were piloted and implemented, the most innovative being Touchscan, a technology for managing stents and pacemakers in the cath lab.
At two different times, she successfully integrated and sustained large academic medical centers, teaching hospitals, community hospitals and physician practices into centralized supply chain operations. She installed centralized procurement operations and materials management information systems and created central value analysis functions. Very few in the nation have implemented a centralized procurement operation for a university and health system combined – they usually are separate. Pleasants did this starting from a blank sheet of paper and created the model in place today that is high-functioning and very successful.
At Duke she implemented a self-contracting model at the health system for both pharmaceuticals and medical supplies. Duke is one of the few organizations that have been without a GPO since its inception (16 years) while receiving many third-party validations that their pricing is more favorable.
Cost reduction activities led by her supply chain organization have achieved between $10 million and $28 million year-over-year during her tenure of 16 years.
Each organization where Pleasants has worked has benefited from her leadership, creativity, and driven style to make those operations the best they could be – models of efficient and state of the art supply chain operations.
At Vanderbilt, Pleasants:
Reduced inventory and automated supply delivery through stockless and low unit of measure
Moved the organization into automation in supply chain operations
At University of Rochester and Strong Health System, she:
Integrated a standalone purchasing, accounts payable and finance system to enable electronic data interchange
Automated procurement at the desktop
Developed university-wide furniture guidelines
Combined supply chain operations for academic, research and medical center enterprise
At Duke University and Duke University Health System, she:
Achieved year-over-year multimillion-dollar cost-reduction programs
Created and maintained health system value analysis governance structures for contracting and product standardization
Utilizes spend analytics tools for assessing cost per case, linking procurement and chargemaster to reduce costs in utilization
Moved all Duke entities into one integrated materials management information system
Sourced and purchased $130-million of equipment for the new Duke Medicine Pavilion and Cancer Center
Led the sourcing, contracting and procurement process for the furniture and equipment portion of the Duke Kunshan University campus near Shanghai, China.
Innovative thinking that contributed to the advancement of the profession
Pleasants was able to break through the barrier that had been in place for many years (but largely remains in place today) that a teaching hospital and a university can be managed from a supply chain perspective in a single/central way. Most organizations have had to put up with duplication of services simply due to tradition. Reducing duplication of activities surely achieved economies of scale as two supply chain departments (hospital and university) were combined into one. Exact numbers are not readily available.
She worked with an early leader in supply chain information systems to co-develop software that advanced supply chain operations.
She implemented a low-unit-of-measure stockless program, the second one in the nation at a hospital, leading the way for a different way of thinking about medical supplies and distribution.
She is one of few supply chain leaders who recently completed sourcing, contracting, and purchasing activities in a foreign country (Shanghai, China) while continuing to run a busy supply chain operation in the USA. This effort shows supply chain leaders do have the expertise to perform globally.
Demonstrated ethical standards and integrity:
Pleasants is an admired leader at Duke and recognized as an individual of high ethical standards. She has had to win over world-class physicians and clinicians in her approach to cost reduction as well as consolidation of services. She could only have accomplished the things she did and served as long as she has at this world-renowned organization by being held in high esteem. Most teaching organizations around the country routinely turn over their supply chain leaders in a rapid fashion. Anyone who knows Pleasants would attest to her character, warm charm and accommodating nature, all while being a savvy businesswoman knowledgeable of all facets of the healthcare supply chain business. She makes people feel at ease no matter the setting, topic of discussion or level of individual.
Hallmarks of leadership:
Pleasants has served on and led a number of national committees with organizations such as AHRMM, SMI and Academic Teaching Hospital organizations. She was on the founding board of Strategic Marketplace Initiative (SMI) and helped shape the direction of the organization to what it is today. She also has led a number of committees at SMI to change the way IDNs and suppliers do business – changing practices for the betterment of the industry. She would not have been able to do her job and be there so long at Duke and her other organizations without the skills to lead and change the organizations in the way she did.
Focus on mentoring:
Duke has an administrative fellow program in which some of the brightest young graduate students in the country are chosen to participate. As part of their orientation and as a mentor, the fellows shadow Pleasants for several weeks (and in certain instances – months) to learn about supply chain. While most of these fellows will become hospital administrators, she spends a lot of time sharing with then the importance of supply chain, the importance of the supply chain officer being close to the "C" suite, and the best practices in supply chain so that whatever hospital they end up leading in their career, they will have an extremely positive view of the value of the supply chain.
Fuqua (Duke's business school) offers a healthcare management degree. As part of that program, students are permitted to choose areas they wish to learn more about. Pleasants has mentored and shared supply chain best practices with more than 50 students during her time at Duke. Although they might not choose supply chain as a career, they do have a sense of the value of supply chain and the important role it should have in any health system due to the time they shared with her.
Professional influence and advocacy:
Jane Pleasants is a "quiet leader" – listening to her peers, gaining their insights, and deciding what is best for her organization. She may use an idea from someone; she may adapt that idea to her situation; or she may just go the other direction. She is never afraid to take a stand and lead by example – creating leading edge solutions to her special environment. Her peers in the academic world look to her for guidance and creativity. The academic healthcare setting is not like the community-based setting. Still, Pleasants knows this world extremely well and has had great success where others have struggled. Certainly, she serves as a leader in the healthcare supply chain industry and does so from a position of confidence and humility, effectively convincing peers of her supply chain convictions in the most professional and knowledgeable way without criticizing or demeaning another person's position or idea.
Much of her work during the last four years has been in moving supply chain best practices internationally. Frequently throughout the year, she hosts a cohort of international visitors (doctors, administrators, supply chain leaders) for a supply chain day. The most recent group came from Kazakstan. The intent of the program is to educate globally best practices in healthcare and most importantly, supply chain. The supply chain module is one of the most sought-after activities in the global program, particularly by Asian countries.
Pleasants also has been very active in the Unique Device Identification (UDI) initiative. The FDA came to Duke and requested that Duke provide feedback on the various methodologies being recommended by the device companies. She engaged SMI to assist, and under her leadership, they were able to simulate at Duke the four methods being recommended by the device manufacturers. She assembled surgeons, operating room staff, nurses, materials managers, sterile processing personnel to participate in the educational process. And this represents the second best practice request of Duke by the FDA related to supply chain. The other best practice related to the product recall process. The FDA refers people to Duke routinely. For further information, see the article in the December 2009 issue of Academic Medicine (an AMA Journal) titled, "Blending Technology and Teamwork for Successful Management of Product Recalls," which describes their process.
Jane Pleasants clearly demonstrates a masterful knowledge of healthcare supply chain management. She has merged supply chain operations in the university/academic setting and the hospital setting – not once, but twice. She has transformed multiple organizations from the supply chain "dark ages" to high-performing state-of-the art systems. She has also developed supply chain systems in the non-acute market for the healthcare organizations for which she has led. Her negotiating skills are evident in the cost-reduction activities she has led over many years – not to mention negotiating with world-class physicians on a daily basis.
And she's far from finished. After being asked how long she expected to continue her healthcare career, she answered, "There is still a whole lot more that I would like to tackle!"
In Her Own Words…
What do you think about Bellwether League Inc.'s mission and philosophy and how do you feel about becoming an Honoree?
The Bellwether League's mission to publicly acknowledge professionals in the healthcare supply chain is very special and unique – particularly so if you are one of the individuals receiving such an honor! However, it is especially noteworthy because it elevates the healthcare supply chain and raises the level of awareness of executive leadership in our organizations of the major contributions our supply chain teams make every single day.
I am humbled and honored to be acknowledged along with peers for whom I have the utmost respect and admiration. They have accomplished much in their careers and raised the bar of professionalism in our industry.
What attracted and motivated you to join the healthcare supply chain management field when you did?
I had a child born with serious health issues and spent many hours in the hospital. While I had never considered healthcare supply chain as a possible career (I was a teacher), I decided then if I were to make a career change, it would be in healthcare as I connected on so many levels with the mission of caring for families and patients.
For what one contribution would you like to be most remembered?
That I raised the level of expectation and appreciation of senior executives and physicians such that Supply Chain is considered to be a critically important partner with them in impacting the cost and improving the quality of care we give to patients.
If you were to encourage people – either outside of healthcare or just out of school – to enter healthcare supply chain management and strive to be a future Bellwether League Inc. Honoree, what would you tell them?
Become really good at the "blocking and tackling" aspects of the supply chain because it is that solid infrastructure, with no weak links, that will power your supply chain innovation and enable you and your team to deliver best-in-class service to those who provide the care for our patients. Search for best practices and never be afraid to embrace and lead change.
What is the one industry challenge you would like to see solved in your lifetime?
Comprehensive adoption of data standards throughout the entire supply chain.
How important is effective and innovative supply chain management during tough economic times?
Those times are when we have the best opportunity to really shine and show the value we can bring to our organizations. If you take advantage of those difficult times to step up and lead, your team will quickly become one of the most critical and important contributors to the success of your organization. What a terrific place to be!
In two sentences or less, what defines healthcare supply chain leadership?
At the very core of leadership, you influence all levels of your organization by creating and articulating a vision for your supply chain and then engaging people to participate with you in achieving that vision.
If you traveled back in time to when you just started in healthcare what would you tell yourself?
Always make decisions with the underlying motivation to do what is best for your caregivers and your patients
Be sure that anything you say or put in e-mail would reflect positively on you and your company or health system if it ended up on the front page of the local paper
Always ask the question, if this money was mine, is this the way I would take care of it?
Don't succumb to shortcuts
Embrace high ethical standards – always