Paul B. Powell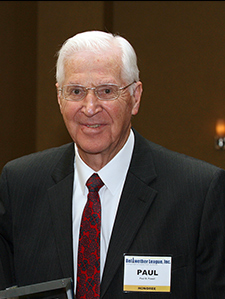 Advancing the Profession/Industry Influence – Challenging the norms, contributing to the thought process, pushing the envelope in terms of moving the profession/industry forward. Examples include serving as a mentor either within his or her individual organization or on a national, regional or local level outside of his or her individual organization; internal inservices for the C-suite on supply management; pioneering new concepts and ideas that may or may not become reality; influencing those up and down the corporate hierarchy on the benefits of and promotion of sound supply management.
Paul Powell originally worked for American Medical Inc., (AMI) when it was acquired by Humana. He became one of the first major proponents of bringing industrial procurement practices to healthcare organizations, and his pioneering work made Humana a leader in contract terms and pricing. It was part of what made the for-profit chains so much more efficient than not-for-profit hospitals.
His pioneer work included a significant push for standardization of products throughout the entire Humana system. Currently, this is a goal that many, if not most, non-profits fail to achieve. He instituted sole-source contracting, which, along with standardization, proved to be powerful negotiating tools. He formalized and organized the bidding process and developed rigid policy manuals and processes that were implemented at all Humana hospitals.
Powell's philosophy on standardization at Humana back in the 1970s and 1980s is commonplace today:
One supplier for any product
One catalog number for each item
One item in a similar product grouping that would suffice for a broad functional need
Where practical, all ordering to be conducted through Humana's central computers to the supplier's central computer. 
Powell was an early advocate of the concept of health systems partnering with key suppliers to achieve defined goals and objectives collaboratively. He was a skilled negotiator and a pioneer of electronic catalogs and computerized purchasing data management.
Powell's philosophy on supplier relationships at Humana back in the 1970s and 1980s is commonplace today:
Respect supplier's need for profit and emphasize the need to make the relationship streamlined and economical.
Recognize that while all suppliers are expected to bid competitively major savings come through the party relationship.
Encourage/take advantage of supplier talent/knowledge to improve product usage and distribution process.
Arrange to meet with all sales personnel so understanding of program takes place – not just another contract.
Conduct regular review of product usage/support with suppliers.
Have one sales contact for each supplier who represents all of its product divisions.
Issue one monthly invoice for all Humana hospitals and clinics that includes a summary of each hospital's purchases.
Work Experience – Minimum 10 years of service within the healthcare supply chain (including a hospital or non-acute care facility, manufacturer, distributor, GPO, consulting or service company).
1961-1972 – Served as director of purchasing for United Air Lines. Purchased supplies, services, computers, ground equipment and management stores in major cities. Daily balancing of dinnerware, etc. at various flight kitchens, caterers, etc. Heavy distribution duties and computer knowledge required.
1972-1974 – Served as vice president of operations for InFlight Services Inc. Managed plant to build projectors, placement of major films on 33 airlines and placement and management of service centers around the world.
1974-1991 – Served as senior vice president of material management for Humana Inc. Purchased expendable supplies, capital equipment, staging/installation of equipment in new hospitals, refurbished and modified. Also responsible for computer acquisitions, material management in hospitals and a major role in capital equipment budgeting.
Work Performance – Specific accomplishments and achievements in their respective organizations, including expense management measures, committee involvement and management leadership.
Achieved between $20 million and $25 million in savings each year.
Set a goal for corporate purchasing staff to obtain a 4-to-1 savings ratio over departmental expense.
Professional Activities – Minimum 5 years of active association participation (e.g., office holder, committee chair or contributor, organizing and running meetings, mentoring others) on the national, regional and local level; performed a minimum of two speaking engagements (national, regional, local, facility) and published at least twice (including writing an article or being interviewed by the trade media) during career.
Served as chairman on several occasions of the Federation of American Hospitals and was the main speaker three times.
Participated in many supplier marketing meetings.
Published many articles in purchasing periodicals.
In His Own Words
What are your thoughts about the mission and philosophy of Bellwether League Inc. and how do you feel about becoming part of the organization as an honoree and inductee?
If Bellwether League Inc. can raise the required level of professionalism in the selection of material management personnel and promote multi-disciplinary skills, it will make a major contribution to the healthcare industry. It is good to be remembered and be part of a movement to raise enthusiasm, and promote talent and [industry] contributions. I am proud to be a part of it.
What attracted and motivated you to join the healthcare supply chain management field when you did?
I saw a rapidly growing industry – for-profit hospitals – that needed structuring to provide desired economies. This presented a personal opportunity.
For what one contribution would you like to be most remembered?
Proving to hospital administrators and healthcare suppliers that a highly structured acquisition process was in their best interest.
If you were to encourage people – either outside of healthcare or just out of school – to enter the supply chain management field and potentially qualify to be a future Bellwether League Inc. honoree, what would you tell them?
The material management profession requires more multi-disciplinary skills and the opportunity to use them than most business fields. Presenting a broad management picture and giving examples of challenge are the current economic need. The growing annual cost of healthcare is a major opportunity to show talent.
What is the one industry challenge you would like to see solved in your lifetime?
Greater participation of doctors in the use and cost of healthcare supplies and equipment. Challenging their personal preferences based simply on past usage – acquaint them with acquisition, inventory and distribution cost. Present government pressure on [the American Medical Association] may be a golden opportunity.
How important is effective and innovative supply chain management during tough economic times?
Absolutely vital and splendid opportunity to reduce cost without sacrificing the availability and quality of healthcare.