Samuel G. Raudenbush (1931 - 2016)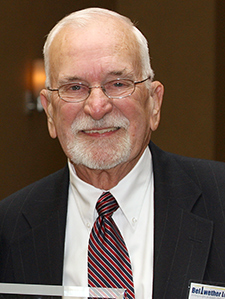 Work Experience – Minimum 10 years of service within the healthcare supply chain (including a hospital or nonacute care facility, manufacturer, distributor, GPO, consulting or service company).
Lankenau Hospital, Philadelphia, PA

Director of Purchasing (1961-1964)

St. Christopher's Hospital for Children, Philadelphia, PA

Director of Purchasing (1964-1966)

Pottstown Memorial Medical Center, Pottstown, PA

Director of Purchasing (1966-1971)

Pottstown Memorial Medical Center, Pottstown, PA

Director of Materiel Management (1971-1990)
Administrative Director, General Services (1990-1995)
Retired, Oct. 20, 1995
Work Performance – Specific accomplishments/achievements in their respective organizations, including expense management measures, committee involvement and management leadership.
Steadily rose through the ranks in supply chain management beginning with a position in purchasing and advancing to administrative director of support services during a 34-year healthcare career.
A recognized leader in the field among his peers throughout the East Coast.
An early adopter of vendor partnerships between suppliers and hospitals – breaking down adversarial boundaries.
Early responsibilities in materials management were purchasing, stores, receiving, central service, print shop, and patient transportation.
Early leader in transitioning to support services having responsibility for materials management, power plant, biomedical engineering, maintenance shops, central service, laundry, operating room and patient transportation.
Published articles on materials management and OR materials support over many years.
Professional Activities – Minimum 5 years of active association participation (e.g., office holder, committee chair or contributor, organizing and running meetings, mentoring others) on the national, regional and local level; performed a minimum of two speaking engagements (national, regional, local, facility) and published at least twice (including writing an article or being interviewed by the trade media) during career.
Became active in AHRMM (then called ASHMM – American Society for Healthcare Materials Management) in the mid 1970s.
Instrumental in the formation of two local AHRMM Chapters:

The Southeastern Pennsylvania Chapter of AHRMM – held officer positions, including president for a four-year term
The Northeastern Pennsylvania Chapter of AHRMM – held officer positions, including president for a four-year term.

Pennsylvania Statewide Annual Conference – Over many years, was instrumental in the implementation and staging of this conference and vendor fair for the advancement of the profession as well as the many attendees – speaker as well.
Statewide Educational Conferences – Instrumental in the planning and execution of numerous educational conferences on various topics in healthcare supply chain management.
AHRMM Board of Directors – served for two terms in the mid 1980s.
AHRMM President – 27th President of the Association 1988-1989.
Board of Directors & Negotiating Committee, Hospital Central Services Cooperation, Allentown, PA – A Tri-State Regional GPO (1985-1995).
Received the Leadership Award (1990) within AHRMM for outstanding achievement in the profession and leadership in the field
Advancing the Profession/Industry Influence – Challenging the norms, contributing to the thought process, pushing the envelope in terms of moving the profession/industry forward. Examples include serving as a mentor either within his or her individual organization or on a national, regional or local level outside of his or her individual organization; internal inservices for the C-suite on supply management; pioneering new concepts and ideas that may or may not become reality; influencing those up and down the corporate hierarchy on the benefits of and promotion of sound supply management.
Known for advancing the profession through example and mentoring – a number of individuals have gone on to bright careers in the profession – a fact that he considers one of his proudest achievements.
An early adopter and implementer of exchange carts (supply and laundry), OR replenishment systems, low units of measure, and materials management staffing in the OR - never afraid to try new things and experiment with unproven ideas and concepts.
One of the first to place a materials management professional into the Operating Room to not only control inventory, but to become a valuable member of the OR staff working closely with nursing as well as surgeons – a model now fairly standard in the industry.
During Raudenbush's AHRMM presidency some notable achievements were; 1) increases in chapters and their membership due to increased recognition, 2) enhanced regional seminars to help members with educational options, 3) creation of Chapter of the Year award, and 4) instituted the Board-Elect positions to better provide continuity within the board.
Raudenbush exemplifies the type of individual to be honored by induction into Bellwether League Inc. He worked hard his entire healthcare career, advancing the profession and mentoring those around him. He was very active in local, state, and national materials management for the good of the profession. His dedication and commitment to our industry is something to be admired!
In His Own Words
What are your thoughts about the mission and philosophy of Bellwether League Inc. and how do you feel about becoming part of the organization as an honoree and inductee?
This is just an outstanding adventure. I feel extremely honored to be a part of this total program.
What attracted and motivated you to join the healthcare supply chain management field when you did?
Realizing corporate America was not exactly suited for me as I was with Goodyear corporate in Akron. I was looking for security, an area of growth and the opportunity to excel.
For what one contribution would you like to be most remembered?
Probably the success of placing a materials management staff member in the operating room and the tremendous success of that program.
If you were to encourage people – either outside of healthcare or just out of school – to enter the supply chain management field and potentially qualify to be a future Bellwether League Inc. honoree, what would you tell them?
Be creative, be honest, be considerate, be a great listener and do the job to the best of your ability.
How important is effective and innovative supply chain management during tough economic times?
Being away from the industry for 15 years, my thoughts of today would be that of great importance and necessity to have an effective supply chain management program for the survival of any healthcare institution.