Earl G. Reubel (1937-2011)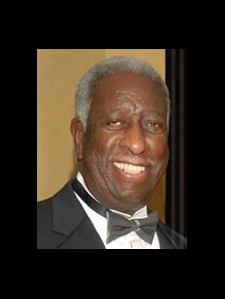 Advancing the Profession through Performance
Earl G. Reubel was the founder, co-owner and chairman of the board for Kerma Medical Products Inc., and the leader in the creation of Kerma Medical Products Inc. some 25 years ago.  Kerma Medical Products Inc. is a pioneer in the industry by virtue of its continuous existence. As a direct result of its creation Reubel introduced an innovative concept of "Supplier Diversity" mentoring.
Reubel's deliberate and tenacious approach was the defining factor in developing this mentoring program that continues in the healthcare industry today. Reubel provided coaching and mentoring to small and diverse suppliers in an effort to support their incremental growth from local to national suppliers. Through Reubel's efforts this mentoring program provides opportunities and leadership to diverse suppliers and small businesses through various business tools in an effort to enhance their contractual experience. He shared his experience, knowledge and wisdom with other supply chain professionals to help them become more successful contributors to the healthcare industry. He was influential in guiding diverse suppliers with his leadership by example. Earl Reubel took a personal interest in developing and growing diverse suppliers.
Because of his steadfast leadership style and commitment Reubel was able to develop and implement "Advanced Financial Agreements" that remains a part of the diverse supply chain process. This was an innovative payment agreement that afforded the diverse companies the cash flow freedom needed to deliver medical products as promised. Without such an arrangement the minority and women owned businesses in the healthcare industry could not have attained the goal of national suppliers.
Reubel standardized the evaluation process within hospitals which is regarded as the "Gold Standard" model when it comes to diversity in supply chain management. Reubel set the bar to specifically nurture, develop and grow diverse suppliers.He was able to incorporate policies and standards that are being duplicated by group purchasing organizations and integrated delivery networks within healthcare today. Reubel has been a champion in growing the number of contracted diverse suppliers in the healthcare supply chain, which has had a tremendous impact on economic development both locally and nationally.
C-suite credibility 
Earl Reubel was a respected leader in the healthcare industry C-suite. His professional acumen, salesmanship, ideas, guidance and achieved outcomes afforded great influences among his colleagues. Reubel's unconditional support and relentless dedication to advocating for diverse companies was essential in establishing relationships that were paramount to an effective healthcare supply chain.
Despite the challenges in the healthcare industry, Reubel acquired insightful knowledge that propelled his ability to be invited into corporate board rooms. Once having gained an audience, Reubel exhibited a confidence coupled with respect and a business savvy second to none. His business acumen provided the trust, integrity and leadership that lent itself to corporate business relationships that are in place today. One of his favorite saying was "utilize your resources."
Putting in action his belief regarding "utilizing your resources," Reubel not only sought after C-suite executives and other administrators but also established relationships with physicians and clinicians. This was done through his community interaction as well as other business relationships. This knowledge and first-hand experiences improves the overall optimal supply chain process.
Mentoring mainstream
To have spent time with Earl Reubel meant you came away changed, one way or the other. His entrepreneurial core, intense high level of salesmanship, and a deep passion and love for the healthcare industry guided him to unselfishly give of his time, his talent and his resources. 
Reubel provided guidance and leadership to those he met in the healthcare industry and in other areas of his life. His demonstrated pursuits for excellence were always evident in all aspects of his life.  Reubel served as a mentor to countless diverse company owners, corporate leaders and family members. His encouragement was to always "improve where you are today and to utilize your resources."
Reubel's presence commanded your attention. His knowledge of the healthcare industry provided thoughtful guidance and leadership. Reubel was a very smart and caring individual willing to give advice.
Financial fidelity
Every Friday Reubel hosted a meeting to discuss and review the cash flow position of the company. Reubel was of the opinion that knowing your position regarding your cash flow to operations within the organization was paramount. And with this type of laser focus, Kerma Medical Products Inc. has been able to obtain significant lines of credit, and loans based on the London Interbank Offered Rate (LIBOR).
Reubel positioned Kerma Medical Products Inc., to provide quality products, priced competitively and delivered on time, while providing excellent customer service. Based on this model, Kerma Medical Products Inc., has been able to increase their product line offering from four to over 15,000 product stock-keeping units and has been awarded multiple contracts with healthcare GPOs. Initially Kerma Medical Products Inc. began with one contract; today, it has more than 15 active contracts with several pending opportunities.
Earl Reubel introduced the spreadsheets and quality controls measures that are modeled by other diverse companies within the healthcare industry.  Guided by Reubel's quality measure standards Kerma Medical Products Inc. has never had to perform a quality recall for any products.
Earl Reubel understood the healthcare industry. He was an excellent and skillful negotiator who knew how to ask questions and he took informed risks.
Reubel was very methodical and forthright with his leadership and guidance of Kerma Medical Products Inc. Oftentimes his guidance was quite direct providing the daily review of the company plans for production and delivery. He would lead with a very firm and direct tone which demanded attention.
Reubel was relentless regarding the financial overview of Kerma Medical Products Inc.  He introduced financial formulas and spreadsheets that tracked the company's accounts payable and receivables daily and his methodical oversight of the company's financials grew the organization on average 30 percent per year.

Further, he was very creative and persistent with forecasting, inventory management and production guidelines to maximize productivity. It was his creativity, innovation, and persistence that drove the vehicle to implement the strategies that have contributed to Kerma Medical Products Inc. operational growth.
Reubel's keen financial guidance and expertise provided the foundation for Kerma Medical Products Inc. success and growth over the years. He was able to implement these rare talents by personally investing in the company, establishing a relationship for pre-payment of receivables, and developing relationships with financial institutions. 
Reubel had the due diligence of reviewing new products, processes, and performing market research prior to offering any products to the healthcare industry. Based on this model to date, Kerma Medical Products Inc. has never had a product turned down due to clinical unacceptability. 
Work Experience
Earl Reubel began to hone his entrepreneurial spirit when he resigned from the military in 1970 and started his own business, HighLife Helicopters, Inc. He began his commercial helicopter business with one helicopter, the first rescue helicopter business in the Pacific Northwest. By 1981, HighLife Helicopters had grown to 22 helicopters with sales of $10,000,000 a year, achieving national notoriety in Black Enterprise and Ebony Magazines, as an up-and-coming business leader to watch. By 1988, Reubel ended his business because it was too capital intensive, and the industry was down by 60 percent. 
In 1989, Earl and his son Joe created Verdan Healthcare, which in turn became the platform for the creation of Kerma Medical Products Inc. in 1991. Kerma Medical Products Inc. began as a manufacturer and a United States Government supplier, and in 1994, Kerma Medical Products, Inc. expanded into the Commercial Medical Products Industry (Hospitals). Kerma Medical Products Inc. has established itself in the healthcare industry as a company that manufactures, assembles, and packages medical products along with providing the delivery of small capital equipment, and is now one of the largest diverse manufacturer/supplier companies in the private sector. Kerma Medical Products Inc. provides medical products to more than 3,500 acute care hospitals in the country as well as government agencies. Today, Kerma Medical Products Inc., now owned by Reubel's son and daughter in-law, continues to grow. Joe and Danielle Reubel firmly believe that this growth is based upon utilizing many of the practices that Earl Reubel initiated.
At his untimely death just two weeks shy of his 75th birthday, Reubel was semi-retired and served as Senior Vice President of Kerma Medical Products Inc. Due to his entrepreneurial foundation, his intense high level of salesmanship and deep passion and love for business, Reubel will always continue to influence, encourage, and mentor his Kerma Medical Products Inc. family and others.
Professional/Humanitarian Activities
After several years of discussion, it was determined that a formal organization was needed if any substantial improvements in the levels of supplier diversity were to be made. Hence, the creation of the Healthcare Supplier Diversity Alliance (HSDA) was formally established in August 2003.  In the development stages of HSDA, Reubel provided intense coaching and guidance in formulating the foundation, vision, and long-term mission of HSDA. HSDA's mission is to lead healthcare supplier diversity by building awareness through education and creating pathways to potential opportunities for historically underutilized businesses and all healthcare supply chain stakeholders.
HSDA has partnered with the Healthcare Supply Chain Association (HSCA) to develop innovative ways of promoting supplier diversity to the industry, provide a platform to represent healthcare support of diverse businesses, and educate diverse businesses on the complexities of healthcare's supply chain. Reubel's legacy continues with HSDA as his daughter Andrea Reubel-Walker serves as an Executive Board member and Secretary of HSDA. His wife, Joyce Kershaw, serves as Co-Chair Emeritus.
A true entrepreneur, all of Reubel's professional career he served as owner, CEO, president or senior vice president of all the organizations with which he was associated.
Annually, Reubel has served as panelist/presenter during the Healthcare Supplier Diversity Symposium, hosted by Owens & Minor Inc. More than 200 enthusiastic healthcare professionals have come together to share their expertise and commitment at the symposium, celebrating its eighth year in 2014.
The annual event, which explores ways to improve the diversity of the healthcare supply chain, provides an opportunity for MWVBEs (also known as diverse suppliers) to meet with supply chain professionals representing major health systems, group purchasing organizations, healthcare manufacturing companies and industry service providers. With an accent on educating, contracting opportunities and networking, the event features panel discussions, innovated speakers and high intensity workshops for the attendees. Reubel was passionately commitment to the development and delivery of this success healthcare industry event.