Warren D. Rhodes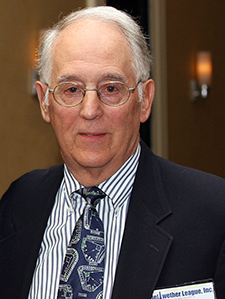 Warren Rhodes began his career as a purchasing agent in 1960 at Evanston (IL) Hospital. After four years in that role he was hired by Central DuPage Hospital in Winfield, IL, as their assistant administrator, shared services. In late 1967 he was hired by the Mercy Health System, comprising the Chicago, Omaha, Detroit and Eastern Mercy Health Systems to head up their collective group purchasing effort. Rhodes formed the first multi-system integrated purchasing organization known as Mercy National Purchasing Inc. where he served as president for 34 years until his retirement.
All 15,000 total acute care beds participated in this enterprise, and it became the model by which all other Catholic healthcare systems in the United States began to develop their group purchasing initiatives. In 1987 Rhodes formed a new corporate structure specifically to be able to manage the purchasing of non-Mercy-owned "for-profit entities" that wanted to join MNPI. This was another first for healthcare group purchasing organizations. At the time of Rhodes' retirement in 2001 MNPI managed more than $800 million in group purchasing volume with a member participation level of 96 percent. This was, at the time, an incredible organizational achievement in the business of group purchasing.
Rhodes also served on the Board of Directors of Mercy Hospital, Aurora, IL, for 25 years. He served as the president of the National Association of Hospital Purchasing Management in 1968 and served as the president of Group Purchasing Group (GPG) in 1985.
Rhodes also served on the Mercy Hospital Iowa Foundation Board, Iowa City, IA. Rhodes gave 41 years of his life to healthcare purchasing, materials management and supply chain management and broke ground on many creative and effective approaches to the group purchasing industry.
Rhodes helped to establish the first Catholic multi-system member group purchasing collaborative known as C+R+O+S+S in the 1990s that was very successful for five years. Based on these achievements, Rhodes' pioneering spirit exemplifies Bellwether-class leadership and business moxie.
In His Own Words
What are your thoughts about the mission and philosophy of Bellwether League Inc. and how do you feel about becoming part of the organization as an honoree and inductee?
I feel this organization, by recognizing those who assisted in the development of supply chain management, can emphasize its importance. I am honored to be an inductee.
What attracted and motivated you to join the healthcare supply chain management field when you did?
Working in hospital administration for a few years I felt the opportunities in materials management and group purchasing were great. For me, the timing was good.
For what one contribution would you like to be most remembered?
Assisting the GPO I was associated with in the development and implementation of committed-volume agreements for high-use supplies, pharmaceuticals and equipment.
If you were to encourage people – either outside of healthcare or just out of school – to enter the supply chain management field and potentially qualify to be a future Bellwether League Inc. honoree, what would you tell them?
The healthcare "industry" is a great field of employment. It appears to have continued growth and work opportunities. Supply chain will always be important as cost-containment pressures increase.
What is the one industry challenge you would like to see solved in your lifetime?
Greater utilization of electronic systems to purchase, invoice and pay for products and supplies.
How important is effective and innovative supply chain management during tough economic times?
[It's] more important than ever. Supply chain management must also closely consider the facts that innovative products, which cost more, may reduce length of patient stay, impact the environment upon disposal and their risk management factors.