Michael T. Rosser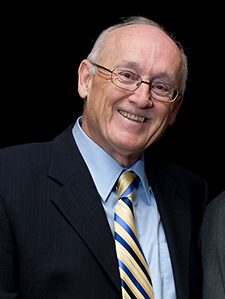 Advancing the Profession through Performance
Mike Rosser is referred to by many Canadian supply chain leaders as, "the Godfather of the modern healthcare supply chain in Canada."
In 1997, Rosser was instrumental in creating Healthcare Materials Management Services (HMMS) in London, Ontario, Canada. HMMS is recognized as the first fully integrated supply chain management shared service in Canada, and has been used as a model by many others across the country.  Rosser has counselled countless groups from across Canada and the United States and has always been available to help anyone who needed advice in building a business case to support this model.
Rosser's interest and focus on the use of automated systems and electronic commerce has created significant operational efficiencies and cost savings at HMMS. Many of these efficiencies, such as e-requisitioning, e-invoicing, auto PO, bar-code scanning and document management have been recognized as leading practices and published for others to learn from.  
Rosser retired from HMMS in 2010, after 38 years of experience working in materials management and hospital support services. Post retirement, he has been providing consulting services and interim leadership for other shared service organizations.
For many years, Rosser has worked and volunteered in Third World countries such as Guyana, (South America) and Haiti, helping to establish supply chain management systems and hospital support services.
He has devoted his entire career to the advancement of supply chain management and continues to share his experience with others through consulting and volunteer work. 
Work Experience:
Rosser's healthcare career began in 1976 as a financial analyst at St. Joseph's Hospital in London, Ontario, and soon after was asked to provide interim leadership in the Purchasing Department. In 1979 he was appointed Director of Purchasing and in the early 1980s was instrumental in establishing a Materials Management Department. In 1994, Mike was promoted to Director of Support Services, responsible for Materials Management, Environmental Services, Biomedical Engineering, Patient Portering, Laundry, Audio Visual and Printing Services.       
In 1997, Rosser is credited as being the chief architect of Healthcare Materials Management Services (HMMS), a joint venture between London Health Sciences Centre and St. Joseph's Health Care, responsible for the consolidated services of Purchasing, Accounts Payable, Inventory Management and Logistics. HMMS grew to servicing more than 20 hospital sites and other healthcare organizations on a regional basis. HMMS is credited for saving more than $60 million through service integration, contract savings and logistical efficiencies.
In 2004, Rosser chaired a provincial e-Supply Chain Project, funded by the Ontario Ministry of Finance, which had the goal of accelerating the widespread adoption of integrated Supply Chain Management through technology and electronic commerce. Over the years he has chaired and participated on countless Provincial and National committees promoting the adoption of supply chain management leading practices.
Work Performance:
Rosser is known as a visionary and leader by senior executives, colleagues, peers and business partners. He is very well respected coast-to-coast in Canada and abroad.
According to the Chief Financial Officer of one of the HMMS partner hospitals, Rosser is a doer – he sees a problem and solves it. He does not sit back and expect others to do the work. It doesn't matter if it is an employee social function, customer request or the need to deliver operational savings; he develops a solution and puts it into action. He was a leader people could always count on to resolve a problem or successfully lead a new initiative.  
Rosser always worked in a manner that won him the respect of everyone he interacted with – vendors and colleagues. He is honest with unquestionable ethics. He cared about the people he worked with and created a very special team environment. 
Rosser would be embarrassed by the reference to him as the "Godfather of supply chain in Canada" and always diverted credit to his team. He has been a mentor to many over the years and focused on the development of his team. He worked tirelessly to improve the HMMS model and clearly understands how to make a materials management system work. He had more than the technical knowledge; he demonstrated exemplary leadership and dedication.

Rosser's notable contributions to the profession and the healthcare industry were demonstrated in his work planning, designing and implementing the Shared Services model at HMMS, which became the icon for all of Canada.
Equally important in a challenging profession like supply chain management, Rosser is known for having and maintaining a great sense of humor.
Professional Activities:
Rosser is a Certified Professional Purchaser (C.P.P.) and has served on countless committees, Boards and task forces over the years. He was a founding member of the Healthcare Supply Chain Network (HSCN), where he currently serves as Past Co-Chair, Provider. He served on the CareNet Board for many years and as Chair was instrumental in amalgamating with GS1 Canada with a renewed focus on healthcare standards and the advancement of electronic commerce.  Rosser served on the Purchasing Management Association of Canada (PMAC) Certification Committee for a number of years, evaluating student pre-board essays.
Education
Certified Professional Purchasers designation (C.P.P.), Purchasing Management Association of Canada
Canadian Institute of Management designation (C.I.M.), University of Western Ontario
General Business Diploma, Fanshawe College
Awards:
Sisters of St Joseph "Award of Excellence"
McKesson Materials Manager of the Year
Government of Guyana "Volunteer Recognition Award"
HSCN Terry Rooney Award for "Healthcare Supply Chain Leadership."Note: this award is the Canadian equivalent to AHRMM's George R. Gossett Leadership Award. See below.
McKesson Vision, Innovation and Performance (VIP) Award
The Terry Rooney Award was established in memory of the late Terry Rooney, a founding Board member of HSCN and President and CEO of CPDN (Canadian Pharmaceutical Distribution Network) which is a consolidated distribution network to hospitals operated by 20 pharmaceutical companies.
Rooney was instrumental in establishing the Leading Practice Committee intended to qualify and publish leading healthcare supply chain practices used in Canadian hospitals. To celebrate his life, HSCN established this award to recognize hospitals and leaders in the Canadian healthcare supply chain with a record of driving meaningful, productive, sustainable and economical change through implementation of leading practices for the purpose of helping patient outcomes and safety.
In His Own Words…
What do you think about Bellwether League Inc.'s mission and philosophy and how do you feel about becoming an Honoree?
I feel very much honored to be inducted into the Bellwether "hall of fame," and without question this is a highlight of my career. Recognizing the supply chain as a critical part of delivering quality patient care is the mission of Bellwether, and I believe this will further strengthen and support our efforts to secure support from C-Suite leaders and clinicians.    
What attracted and motivated you to join the healthcare supply chain management field when you did?
I started my healthcare career as a financial analyst 38 years ago, and it was a temporary assignment in purchasing that exposed me to the exciting world of Materials Management. Once there, and seeing the opportunities, I couldn't go back and was given the opportunity to stay on as Director. I was blessed by good luck more than good career planning.   
For what one contribution would you like to be most remembered?
I think the most exciting contribution that I would like to be remembered for would be the incredible opportunity I was given to create a fully integrated and consolidated supply chain management shared service. Sharing our challenges and celebrating our successes with others over the years was very rewarding.
If you were to encourage people – either outside of healthcare or just out of school – to enter healthcare supply chain management and strive to be a future Bellwether League Inc. Honoree, what would you tell them?
Work hard to develop a network with other supply chain professionals (suppliers and providers), get involved in industry associations and never stop listening and learning from others.
What is the one industry challenge you would like to see solved in your lifetime?
The one industry challenge that I would like to see solved is the full adoption of industry standards and use of electronic commerce by both suppliers and providers. 
How important is effective and innovative supply chain management during tough economic times?
Critically important and only within the last several years in Canada have senior hospital executives seriously turned to the supply chain to be more innovative to realize the operational savings.    
In two sentences or less, what defines healthcare supply chain leadership?
What defines a healthcare supply chain leader is innovation, hard work, networking, teamwork and a keen focus on customer service.
If you traveled back in time to when you just started in healthcare what would you tell yourself?
I would tell myself … not only clinicians and physicians are responsible for delivering quality patient care. Supply Chain Management has an important role to play and what an exciting and interesting opportunity.